The virtual exhibit A Black Presence in Alberta: late 1800s – 1970s was researched and developed by Dr. Jennifer Kelly. It is based on a previous physical exhibit developed by Dr. Jennifer Kelly and produced by Dr. Kelly with assistance from Dan Cui with funding support from Edmonton Heritage Council, Canadian Heritage, and the Social Sciences Humanities Research Council.
The original hardcopy exhibit was displayed in March 2011 and later revised by Dr. Jennifer Kelly and Dr. Alleson Mason in 2019. Hopefully the exhibition will prove useful to youth, educators and anyone with an interest in Black history in Alberta and Canada.
Dr. Jennifer Kelly is a Professor Emeritus, Faculty of Education, at the University of Alberta. Her areas of research are race, racialization, social and formation of African Canadian communities in Alberta. Her publications related to the information on the panels include Our Negro Citizens, Black Canadian, as well as research and co-production of a play, West Indian Diary written by playwright and director Patricia Darbasie.
Dr. Kelly has been active in several African Canadian community groups including the Council of Canadians of African and Caribbean Heritage (CCACH) Living History Group. CCACH has recognized her as an Elder in terms of her contributions to the annual Afro Quiz. In 2012, the University of Alberta African Students Association recognized her for outstanding commitment to the advancement of the African Community in Edmonton. She was also a long-standing member of Alberta Labour History Institute (ALHI).
The Edmonton Heritage Council & Edmonton City as Museum Project are thankful for the opportunity to share Dr. Kelly's work with the larger public as a virtual exhibit. Work on the And Still We Rise: A Black Presence in Alberta: late 1800s – 1970s virtual exhibit was supported by Christina Hardie, Curator of the Edmonton City as Museum Project, Elyse Abma-Bouma, EHC Administration & Program Assistant, and Kobot, website developers for the Edmonton City as Museum Project.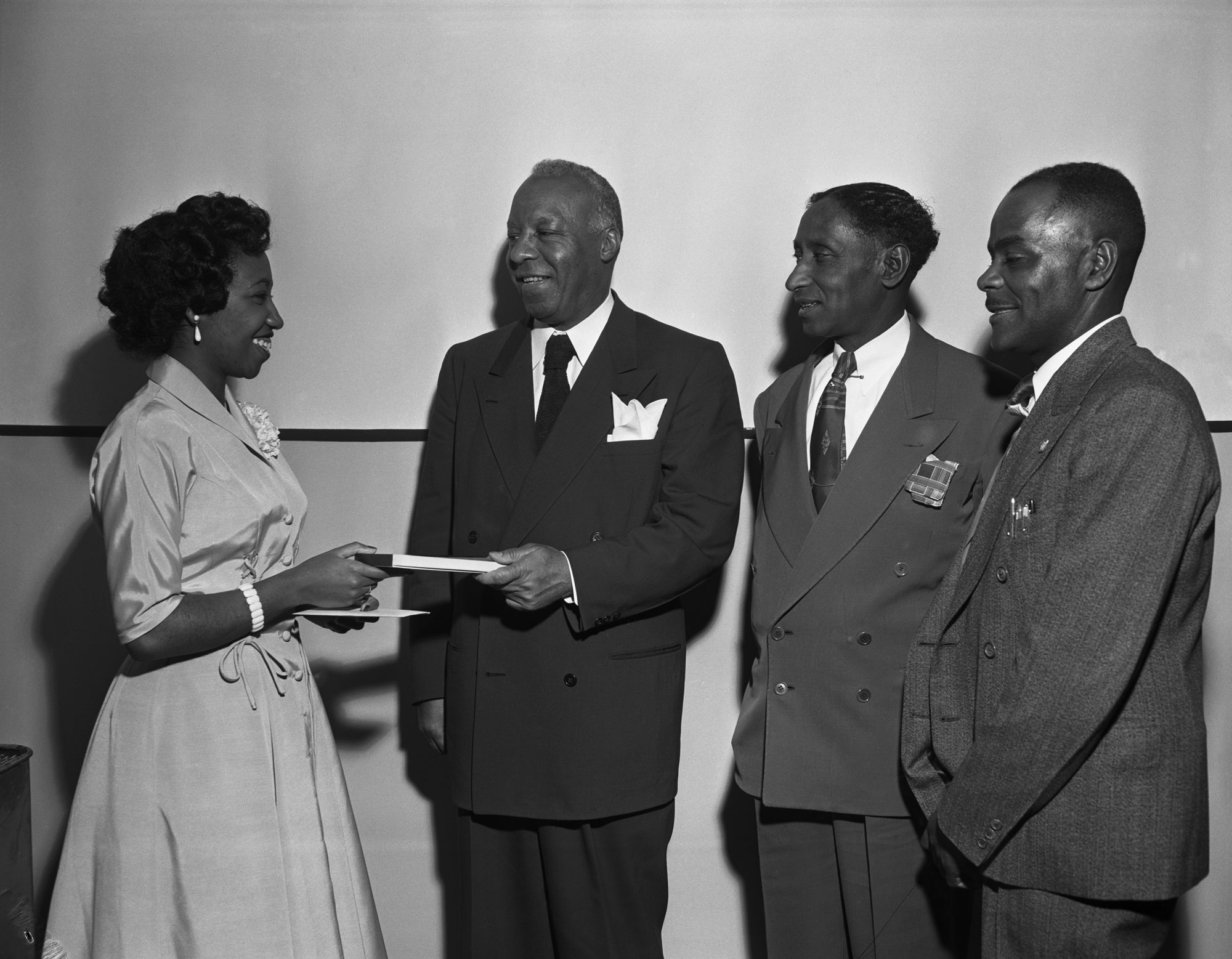 Violet King, the first Black woman to go to the legal bar in Canada and the second woman in Alberta, receiving a gift from A. Philip Randolph, President of the International Brotherhood of Sleeping Car Porters. Also present are Bennie Smith and Roy Williams. Image courtesy of Glenbow Archives, Archives and Special Collections, University of Calgary, NA 56000-7757A.