Read Part 1: The Beginning, Part 2: A Flashback to Flashback, Part 3: The Long-Running & Part 4: The Expanding Scene.
Many venues made brief appearances in Edmonton's queer bar scene. From 1983 to 1985, Stepping Out operated on the main floor of the historic Dorchester Building at 10357 – 109 Street.
Cafe Paradiso opened in the fall of 1991 at 10334 – 108 Street. Despite acquiring the music library of Flashback, the place never attracted the same crowds and closed a few months later.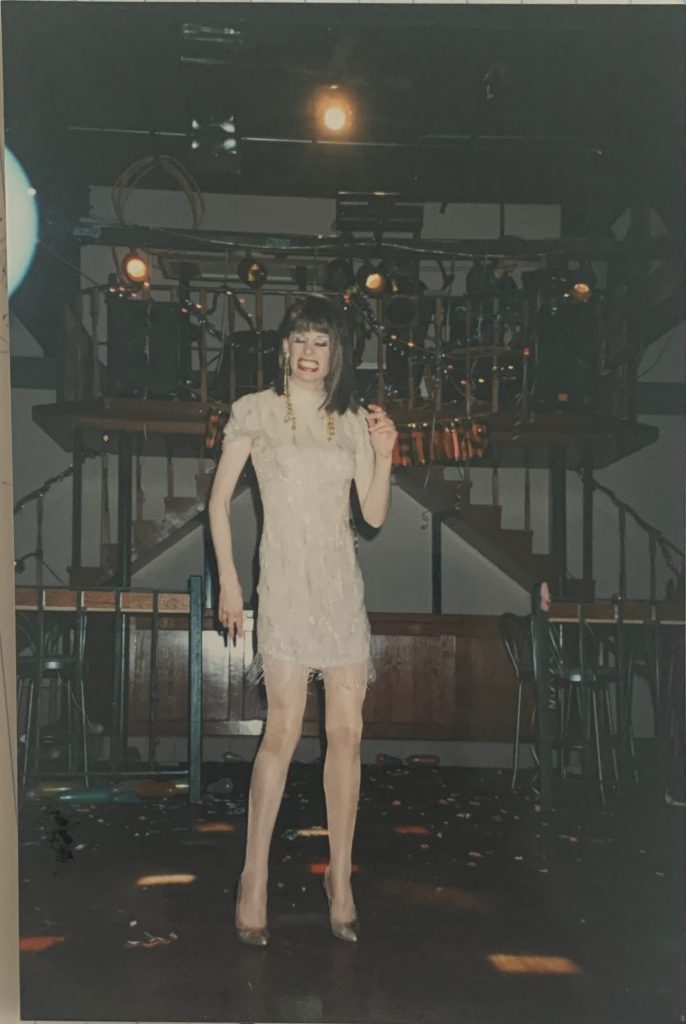 Queenz Empyre operated from November 4, 1995, until sometime in 1996. It was located in the north end of a building at 10155 – 112 Street.
Outlasting the first attempt at a gay bar on Whyte Avenue (Club Aquarius), Chicago opened its doors at 10838 – 82 Avenue. Featuring a wide range of entertainment- from drag shows to live bands- this bar was open around 1995 to 1996.
Gay bars outside the downtown area were rare, but one attempt was made in 1999 to open a lesbian-focussed space on Calgary Trail. Precinct 55 lasted a few months before closing its doors.
Next door to where Flashback had been located for many years and in a space known at that time as the Foxie Lady Lounge, Fly Bar opened at 10314 – 104 street. Operating between 2001 and 2002, they looked to cater to a more sophisticated gay crowd though they never really achieved this goal.
In the spring of 2005, Dennis Cambly (the owner of Pride Video on the second floor of 10121 – 124 Street) made his entry into the gay bar scene with DiNovi's Martini Lounge. This venue occupied the front quarter of the second floor. Dennis wanted an intimate space with a limited number of seats. Sadly, the lounge was short-lived: a bylaw banning indoor smoking was implemented on Canada Day of that year, leaving many seats empty and the business ultimately unviable.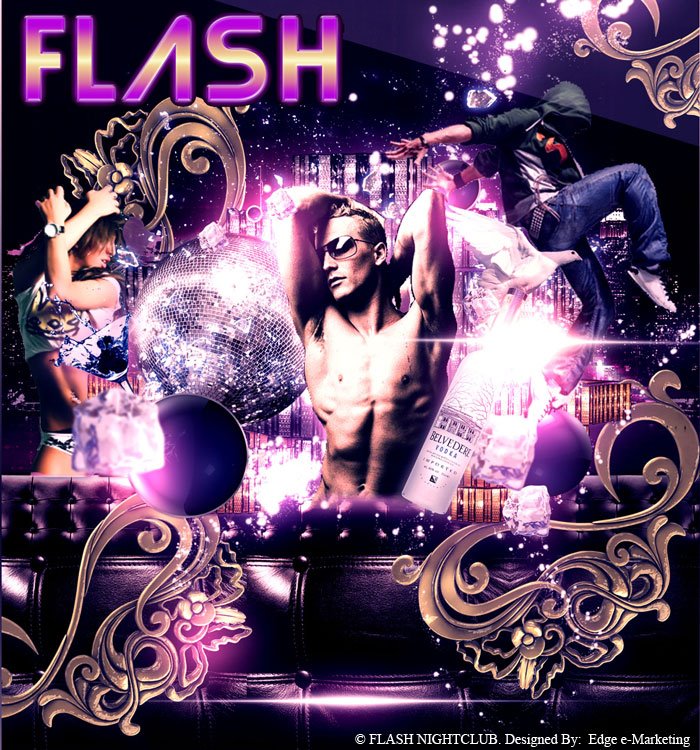 Flash Nightclub made its entry onto the scene in 2010. Operating at 10026 – 105 Street, they played host to many events and sizeable crowds. However, business waned, and they closed in the Spring of 2013.
In May of 2013, Jeannine B. (one of the managers of Flash Nightclub) took her skills up to the fourth floor at 10740 Jasper Avenue and opened Upstares Ultralounge. The strenuous hike up four floors proved to be more hassle than the community was willing to undertake, and that business closed October 26, 2013.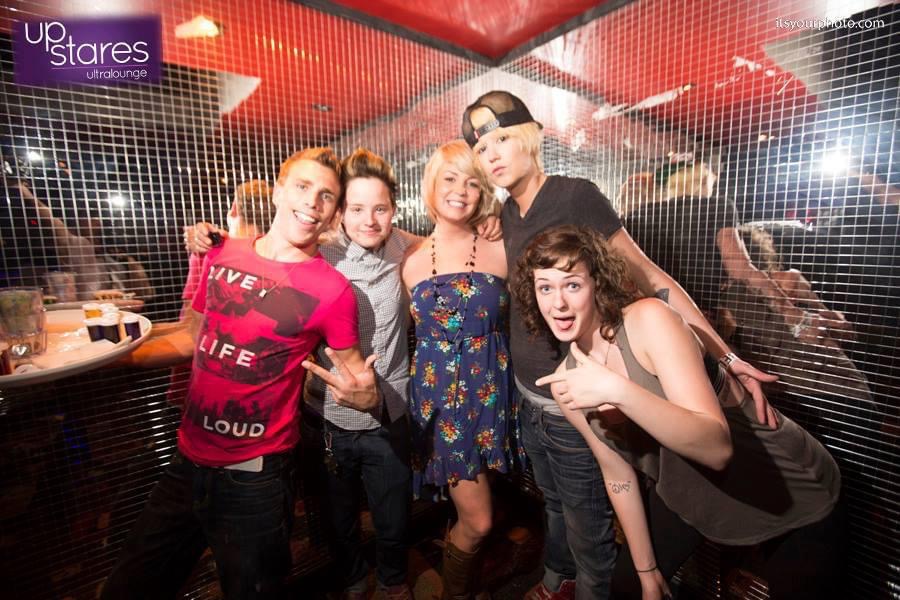 When Woody's Pub closed in the summer of 2016, Lisa R. bought the assets of the pub. After several weeks of renovating the bar, she opened Mama's Gin Joint at 11723 Jasper Avenue on August 12, 2016. Mama's featured karaoke nights and weekend shows, but the business closed after less than eight months in operation on March 17, 2017.
Left: logo for Mama's. Image provided by the authors. Right: logo for Pink Noiz. Image provided by the authors.
Making an even briefer appearance of only three weeks was Pink Noiz Ultralounge, which opened at the beginning of Pride week in June 2018 in a space located at 14220 Yellowhead Trail.
Another location home to two different gay bars was the basement space at 10220 – 103 Street. The Steakboard Restaurant and Boiler Lounge (a straight establishment) served up fine dining and live entertainment from June 1973 until closing in 1998. Then, after a stint as a dance club popular with the rave and punk crowd, Play Nightclub took over the space in 2008 (filling a void in the community following the closure of The Roost.) It was a popular dance spot for a while, but it closed on August 14, 2010, after a decline in business.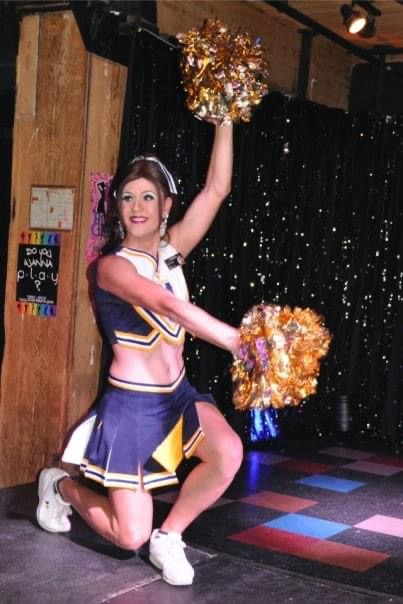 Evolution Wonderlounge
After being host to a couple of straight clubs, the space once occupied by Play was taken over by new owners in the summer of 2013.
The family-owned and operated Evolution Wonderlounge opened September that year. At first, they attempted to offer a daily happy hour experience. But, the hassles of downtown parking combined with their basement location, shifted them to focus solely on entertainment and dancing.
The exploding popularity of the TV show RuPaul's Drag Race led Evolution to hold many events featuring RuGirls, as well as other celebrity guests ranging from porn stars to reality TV stars to guest DJs. Entertainment legends like Lady Bunny, Amanda Lepore, and Leslie Jordan have also performed at Evolution Wonderlounge.
In recent years, Evolution has also spearheaded a community street festival during Edmonton's Pride Week, as a downtown alternative to the crowded Whyte Ave beer gardens, and as a way for local LGBTQ community groups to raise much-needed funds. With the recent dissolution of the Edmonton Pride Festival Society, Evolution had planned on expanding this event in 2020 before the COVID-19 pandemic forced its cancellation.
By 2017, Evolution was the only gay bar in Edmonton, and it remains that way in 2020. Many factors played a role in the closure of so many queer spaces in Edmonton, from the proliferation of cruising sites and apps to increased social acceptance. There had always been those rare "straight" spaces that were "gay-friendly," from John Reid's Rebar to spaces like the now-closed Empress on Whyte. But in the last five years, this has become increasingly common. In Edmonton, Darrin Hagen's Guys in Disguise brought drag shows into the mainstream. More recently, venues all over the city have begun capitalizing on the popularity of drag. Pop-up events like Fruit Loop also provide alternatives to queer space for nights out.
At the time of publication, the lights have just come back on at Evolution. Ongoing restrictions around COVID-19 leave a very different feel, but what feels the same is the celebration of queer space and art, and the incredible community support which is what will keep Edmonton's last gay bar alive and thriving.
Read Part 1: The Beginning
Read Part 2: A Flashback to Flashback
Read Part 4: The Expanding Scene
Ron Byers & Rob Browatzke © 2020