Same-sex relations have been a part of life on the expansive prairies since time immemorial. Some Indigenous Nations have long recognized Two-spirited people, and when Europeans arrived with the fur trade in the mid to late 1800s, same-sex relations were tolerated among the mostly male population compared to the settler society of the 1900s.[1]Connections could be made at a local tavern (perhaps the Edmonton Hotel?) where alcohol-fuelled desires were satisfied during encounters with lowered inhibitions.
Ideas connected to social purity activism that emerged in the 1890s began impacting how society was expected to think, and as the Second World War began, so did the persecution of gay men. [2] This persecution impacted how folks seeking same-sex relations could connect. It was becoming difficult to meet other gay men, and Edmonton-based law enforcement were increasingly charging individuals with crimes such as gross indecency, buggery, and possession of obscene literature. As a result, private gatherings became the standard way to connect. But even these were not safe, as was demonstrated in 1942 same-sex trials in Edmonton. These events are portrayed in Witch Hunt at the Strand by Edmonton playwright Darrin Hagen.
Persecution drove the need to hold "house parties" in private dwellings for the next quarter of a century. [3] This persisted until 1967 when then-Justice Minister and Attorney General Pierre Elliot Trudeau introduced Bill C-150. It wasn't until 1969, with Trudeau as Prime Minister of Canada, that the Bill was finally passed, and same-sex relations between consenting adults became legal.
Bill C-150 opened the doors to the gay and lesbian community in Edmonton, finally allowing for the opportunity to meet others in a "public" place. Throughout most of the 1960s and into the early 1970s, several local hotel taverns had become popular drinking spots for many in the community – places like the Corona Hotel, Royal George Hotel, and the popular King Edward Hotel- better known as the King Eddy. When arriving at the King Eddy, one descended from the lobby to the basement tavern. Many tables were filled with gay men shortly after opening each day.
In the evenings, the back section of the Mayfair Hotel tavern was a haven for members of the gay and lesbian community, often meeting to swill back countless draft glasses, sloshing beer over the terry cloth table covers that were required by the Alberta Liquor Control Board (ALCB) which then dripped down onto the beer-soaked carpet (another requirement of the ALCB.) Here, one could discreetly saunter down the darkened alley and enter the hotel tavern from the discreet back door, opening up to a long room of tables. The ones closest to the back were for the "gays," and this custom was respected by hotel staff and customers alike.
Even with some acceptance from hotel management and staff, discrimination still happened regularly, at times leading to assaults and harassment. There was a push to create safe spaces for gays only, where less intermingling with other populations lessened the chance of abuse. In the fall of 1969, when homosexuals were no longer thrown in jail for their sexuality, a small group of people decided to open a place dedicated to gay and lesbian folk. Wayne Gordon, Judith Jerace, Stanley Hawkins, Roy Wilson, Janet Wilkinson, and Paul Chisholm were the six founders who spearheaded this new era in Edmonton's LGBTQ+ history. In the later part of 1969, they opened the very first gay bar in Edmonton.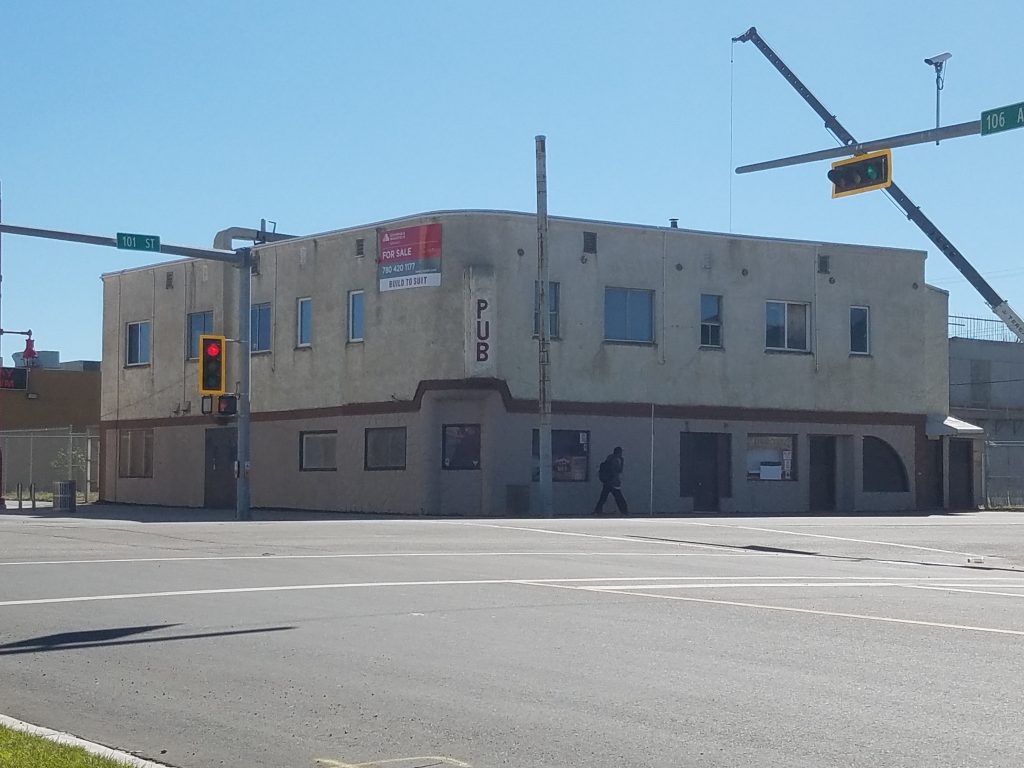 Club 70
Searching for a spot downtown that was somewhat secluded and could easily be adapted to a bar, the group settled on a basement space in a building located at 10593 – 101 Street. In recent years, this place has been known as the Milla Pub and was featured in the annual Pride History Tour hosted by Darrin Hagen and Michael Phair. This historic site was scheduled for demolition in August 2020, which wipes away the beginning of Gay Bar History in Edmonton.
But this first venture was very short-lived. When the landlord found out that gay people were using his building, he promptly put locks on the doors and denied further entry. This left the founders, driven by its initial success, on the hunt for another location. They settled on an old automotive shop located at 10242 – 106 Street. This spot would remain an establishment for the LGBTQ community until the building was finally sold to Latitude 53 Gallery in 2012.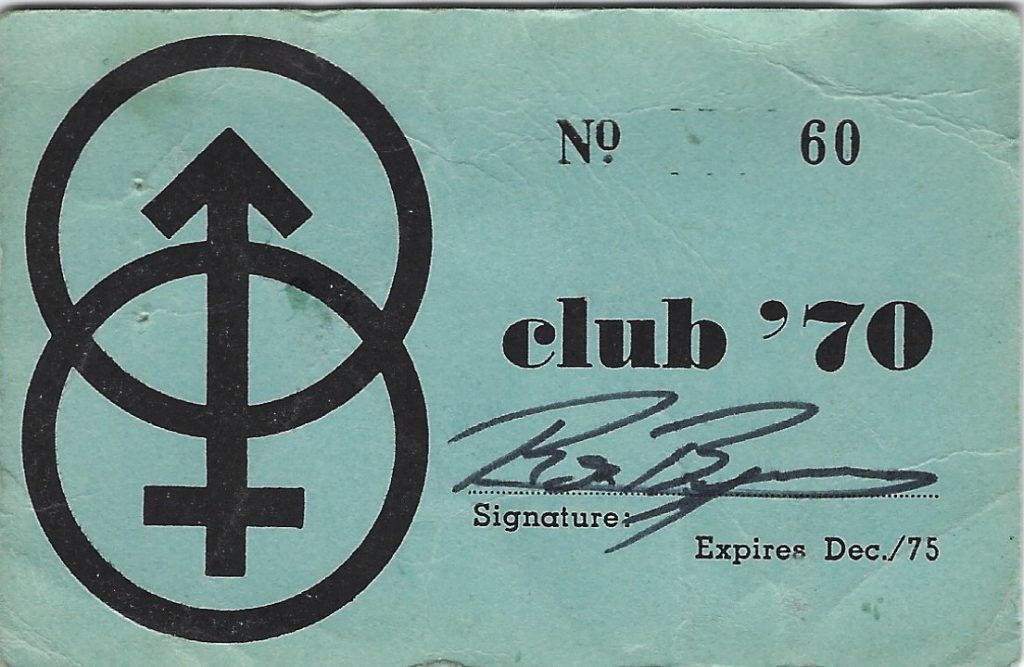 Club 70 was formed with protectionism in mind. As it was to be a safe place for the community, it was founded as a Private Social Club under the Societies Act of Alberta. This meant that everyone coming in had to be a member. Guests were allowed in only if a member in good standing signed them in. If that guest was disruptive or rowdy, then the sponsoring person's membership was likely revoked. This ensured that those using the Club were there for the same reasons. This also meant that to be a member or a guest, one had to be gay or lesbian. No straight people were allowed through the doors other than ALCB inspectors and police. And those rules were very strictly followed and enforced.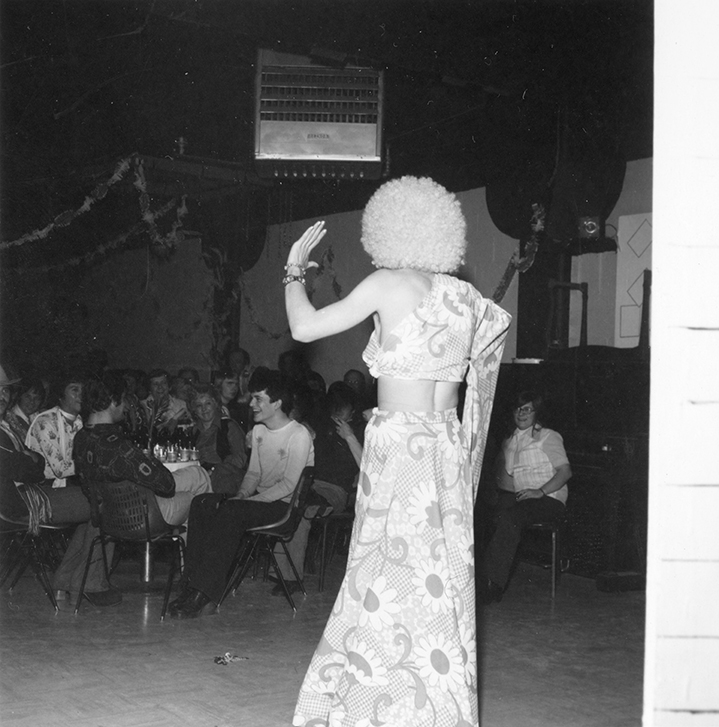 Club 70 initially only occupied the south half of the building. To enter, you would first be greeted in the secured front hallway that ran across the building's front. The dour-looking person monitoring the entry would grill any prospective guests with questions about their purpose for coming, their sexuality, and more- to get "proof" they were gay or lesbian. It was a demeaning process to first-timers already nervous about coming to a gay establishment, but it served to protect the clientele in those early years.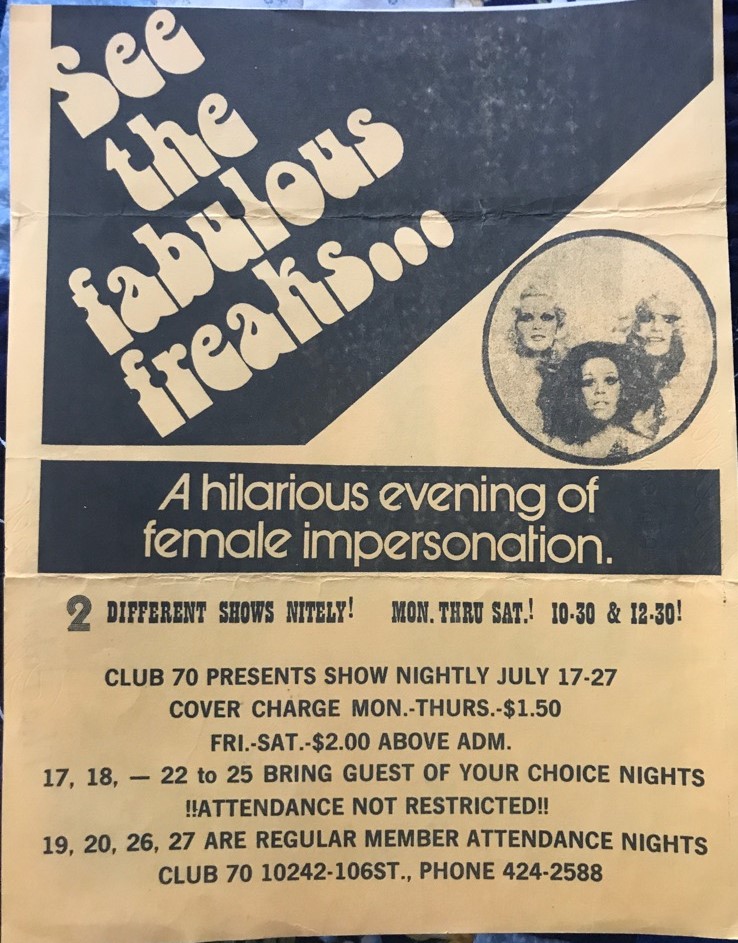 Despite the best efforts to ensure the safety of those coming to Club 70, assaults from "gay bashers" happened many times through the years, and police were often called when fights took place outside. On one hot summer night, the garage door (leftover from when the building had been an automotive garage without air-conditioning) was opened a couple of feet so that cool evening air could filter onto the hot dance floor. A couple of guys, intent on disrupting the "fags" started throwing stones through the door, hitting some people dancing. A couple of club-goers ran out the front door to stop them, among them a lumberjack lesbian who went by the nickname Joey. As police arrived, Joey had managed to subdue the pair, and the police took over. The guys started complaining that Joey had beat them up and that she should be charged. But, as the often-told story goes, the two police officers turned to the two culprits and asked, "do you really want it to be known that a girl beat you up?"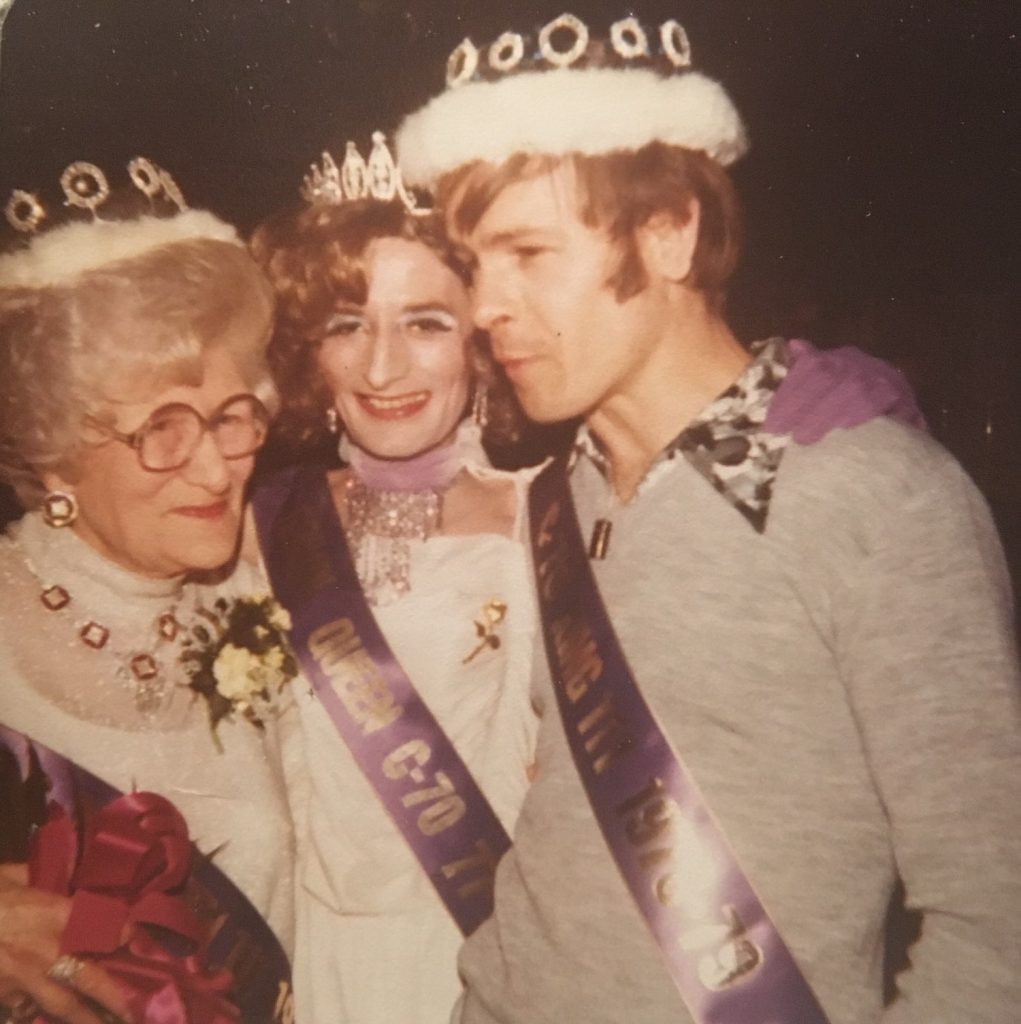 In the mid -1970s, after operating for a few years, some Club 70 members felt that the leadership made it too difficult to gain entry to the club. Things came to a head when an elderly straight lady, Jean Lawson, was denied access to the club. She had become Mother Jean to many gay guys from her daily visits to the King Eddy Tavern, and her exclusion from Club 70 became too much. She was a staunch supporter of the LGBT community for many years and remained so until her death. This prompted five guys to seek a better solution that would afford a more open-door policy. This led to the birth of Flashback, leaving Club 70 to operate in its limited focus for a few more years.
Ron Byers & Rob Browatzke © 2020
Read Part 2: A Flashback to Flashback
Read Part 4: The Expanding Scene
---
[1] Dick, Lyle. 2010. "The 1942 Same-Sex Trials in Edmonton: On the State's Repression of Sexual Minorities, Archives, and Human Rights in Canada". Archivaria 68 (January), 188.
[2] Dick, Lyle. 2010. "The 1942 Same-Sex Trials in Edmonton: On the State's Repression of Sexual Minorities, Archives, and Human Rights in Canada". Archivaria 68 (January).
[3] The term "house parties" is used here to distinguish private gatherings held in private spaces from private gatherings held in public places, such as the Strand Theatre in Edmonton which was raided by the RCMP and Edmonton City Police in 1942.