Exhibition
Edmonton Soldier Stories
Vimy Ridge: We were there
Many young men from Edmonton fought in the First World War. The 49th Canadian Infantry Battalion (Edmonton Regiment) numbering 1200, and 190 men of the 19th Alberta Dragoons, fought at the Battle of Vimy Ridge from April 9 to 12, 1917. One third of the soldiers of the 31st (Alberta) Canadian Infantry Battalion were from Edmonton and also fought in this battle. Many Edmonton members of the 11th Canadian Field Ambulance (Western Universities) worked under enemy fire to bring back wounded soldiers of the 4th Canadian Division.
Here are some of their stories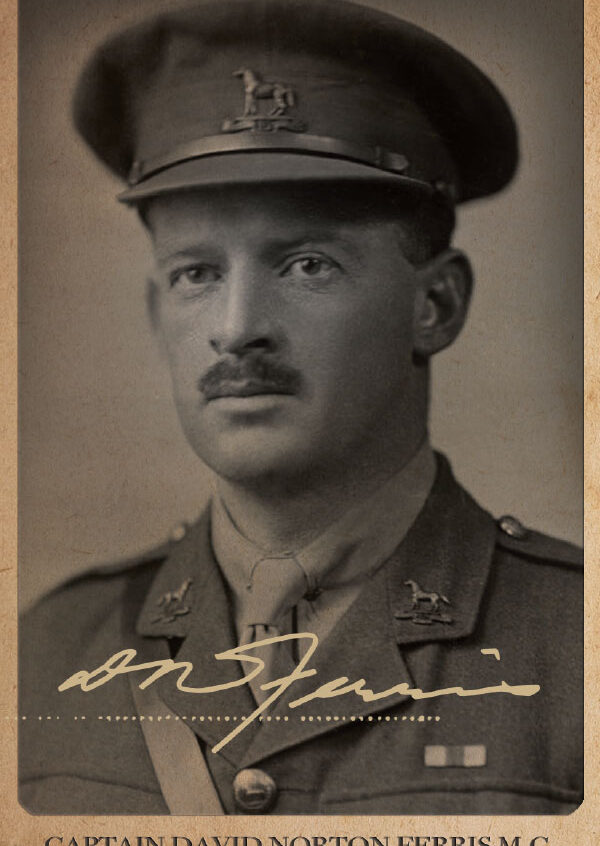 Captain
David Norton Ferris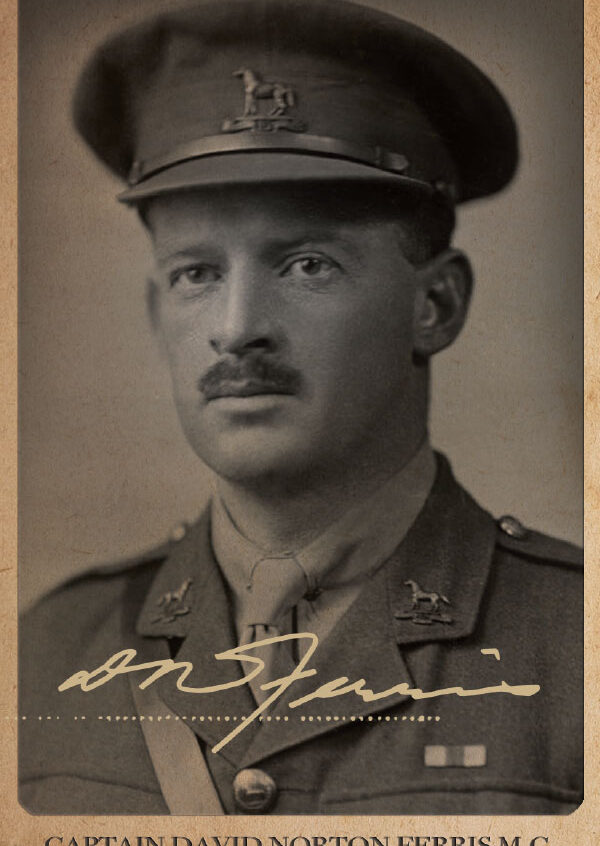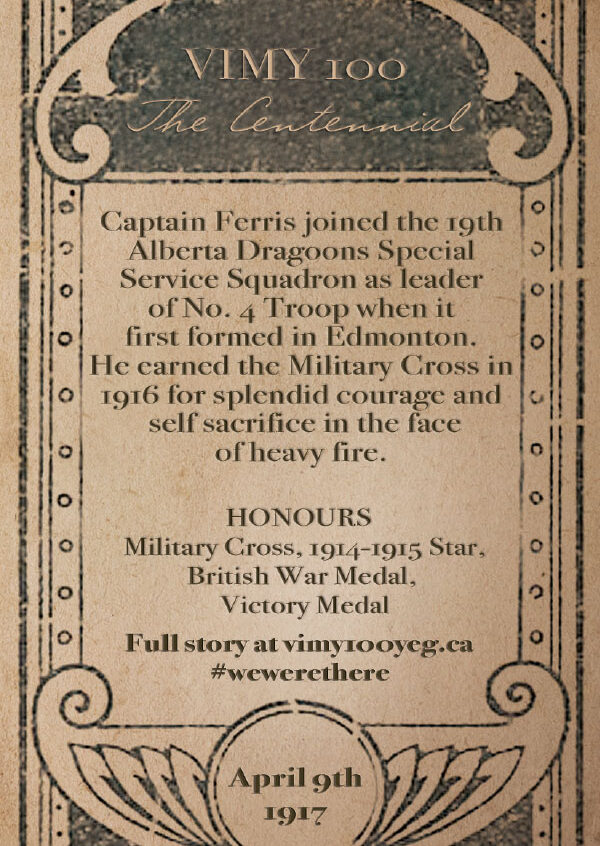 Captain
David Norton Ferris
Honours: Military Cross (1916), 1914-1915 Star; British War Medal; Victory Medal
Prior to the start of War, Ferris worked as a clerk in his uncle's business, Ferris's Financial and Real Estate Brokerage on Jasper Avenue. He had been commissioned into the 19th Alberta Dragoons on May 11, 1912 and he had served for three years part time the Winnipeg Rifles.
When the War began, Ferris was the regiment's Signaling Officer. He joined the new Special Service Squadron of the 19th Alberta Dragoons, as leader of No. 4 Troop, when it formed on August 7 in Edmonton. David was one of five Ferris brothers that served in the CEF. There were 7 brothers total.
On August 26, 1914, the Squadron of 250 soldiers and 210 newly purchased horses left Edmonton for the newly formed training camp at Valcartier, Quebec. The Squadron, along with the First Division Cyclist Company formed the 1st Canadian Division Mounted Troops, landed in France on February 11, 1915. Ferris was one of four lieutenants to go overseas as troop leaders within the Squadron.
On May 1, 1916 the Squadron became A Squadron, Canadian Corps Cavalry Regiment. It was renamed the Canadian Light Horse on March 17, 1917 – just weeks before the Battle of Vimy Ridge.
During the Battle of Vimy Ridge, Ferris commanded a dismounted party of two officers and 90 men from the Canadian Light Horse, plus 30 men from the Canadian Corps Cyclist Battalion. They were in logistical support of the 1st Canadian Mounted Machine Gun Brigade. In June, Norris was promoted to Major backdated to March 1917.
On September 29, 1918, after being wounded in his shoulder, Norris returned to England by hospital ship. While in hospital in London, Ferris became ill with the Spanish Flu, the pandemic sweeping the globe. He finally returned to Canada in April 1919.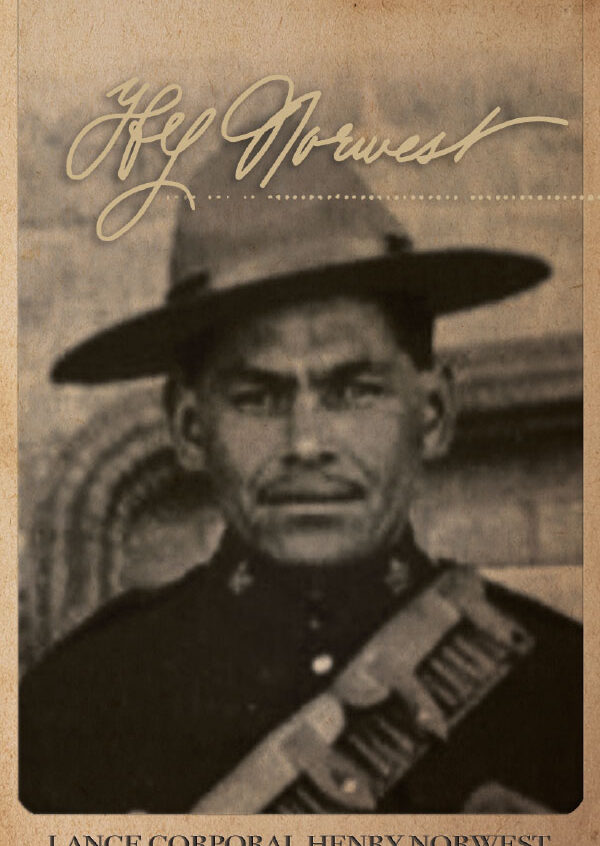 Lance Corporal
Henry Norwest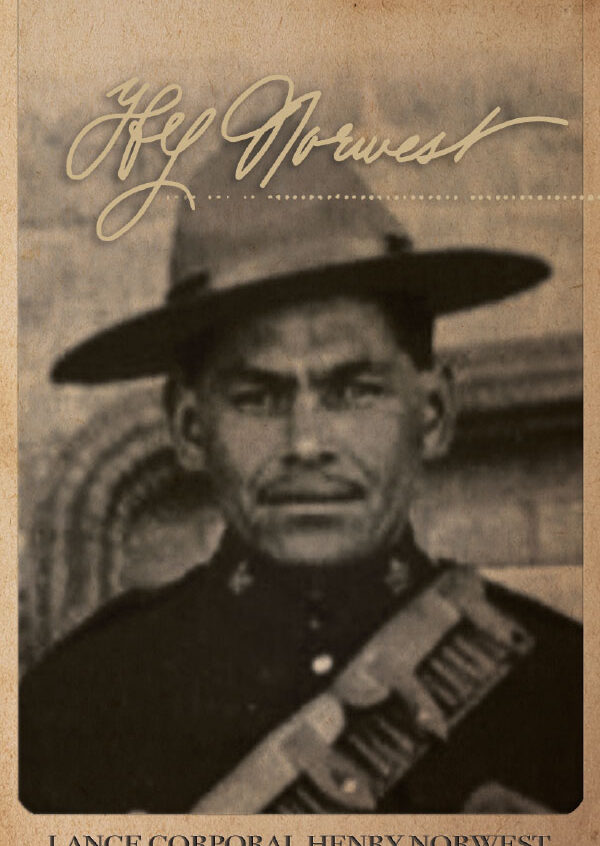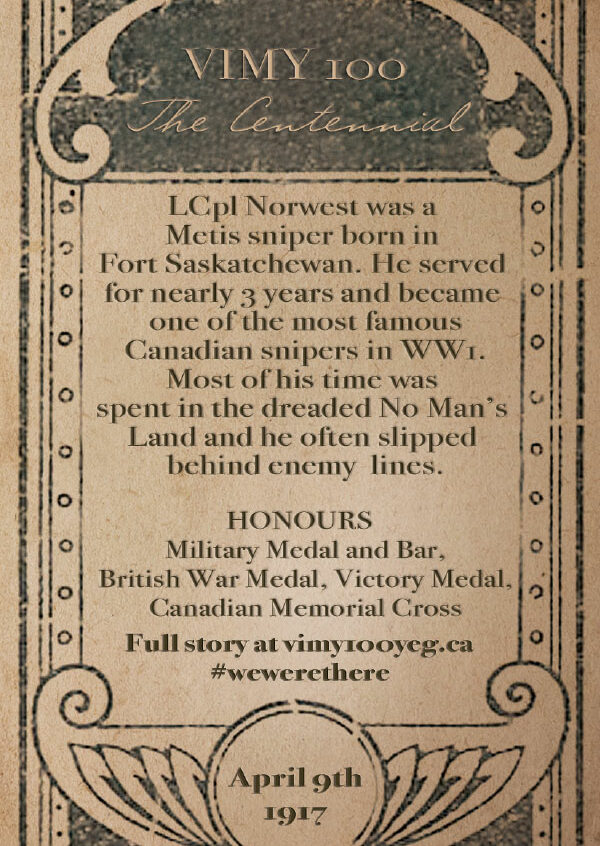 Lance Corporal
Henry Norwest
Honours Military Medal and Bar (one of 830 soldiers of the CEF to be awarded this double honour); British War Medal; Victory Medal and Canadian Memorial Cross
Henry Norwest was Métis of Cree/French origins and born in Fort Saskatchewan. Married and a father to three, Henry was a rodeo performer and ranch hand prior to enlisting in Edmonton.
He served for nearly three years with the 50th Canadian Infantry Battalion and became one of the most famous Canadian snipers in the First War with a record of 115 fatal shots.
According to Veterans Affairs Canada "sniping was a hazardous infantry role. Most snipers worked in pairs, with one partner shooting and the other observing – scanning the surroundings and reporting enemy movements. It is said Norwest possessed all the skills required of a sniper: excellent marksmanship, an ability to keep perfectly still for very long periods and superb camouflage techniques. Much of his time was spent in No Man's Land, the dreaded area between opposing forces. As well, Norwest and his observer often slipped behind enemy lines."
Norwest was awarded the Military Medal after his action in the Battle of Vimy Ridge. His award citation stated that Norwest "showed great bravery, skill and initiative in sniping the enemy after the capture of the Pimple. By his activity he saved a great number of our men's lives."
Only three months before the war ended, Norwest was killed by an enemy sniper. He was buried in the Warvillers Churchyard, Somme, France. Norwest's Ross Rifle is on display at The King's Own Calgary Regiment Museum in Calgary. It is the second of three rifles that he used and was brought back to Canada by his spotter.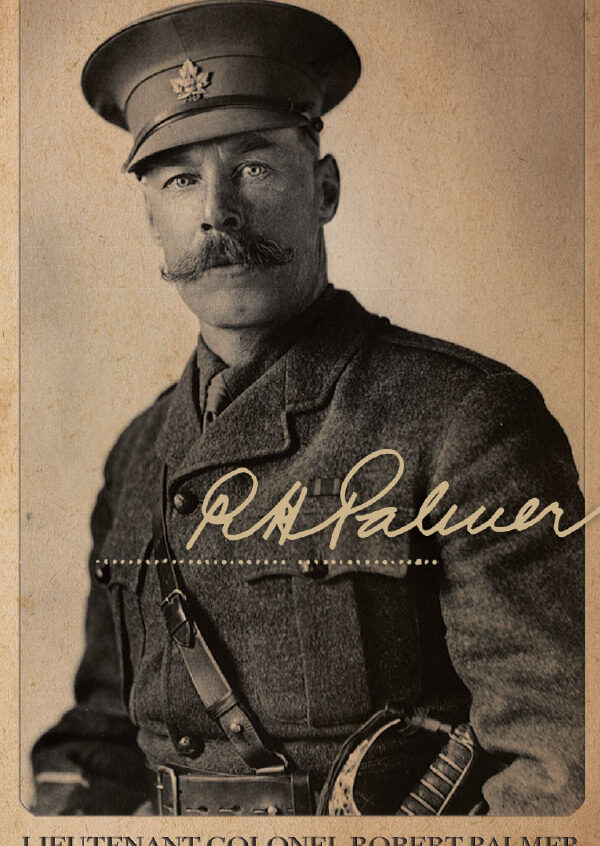 Lieutenant Colonel
Robert Henry Palmer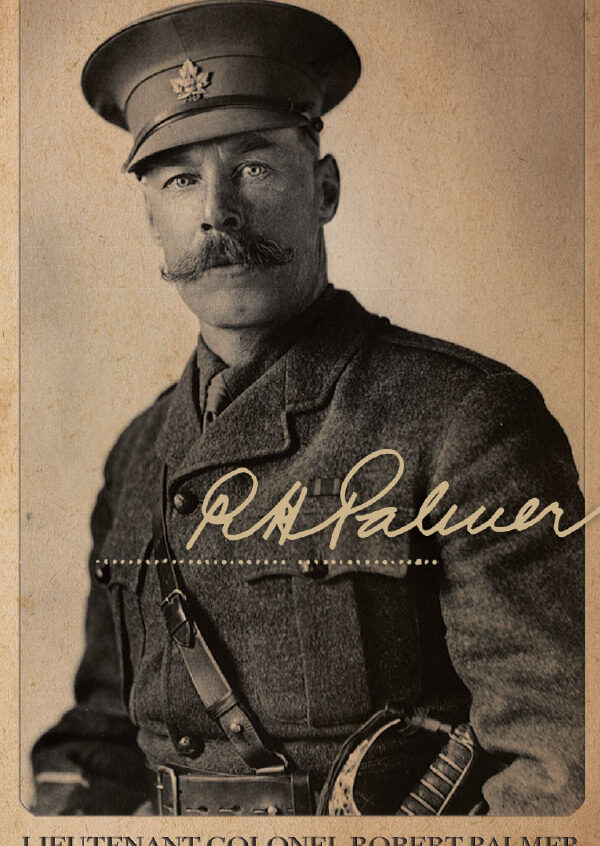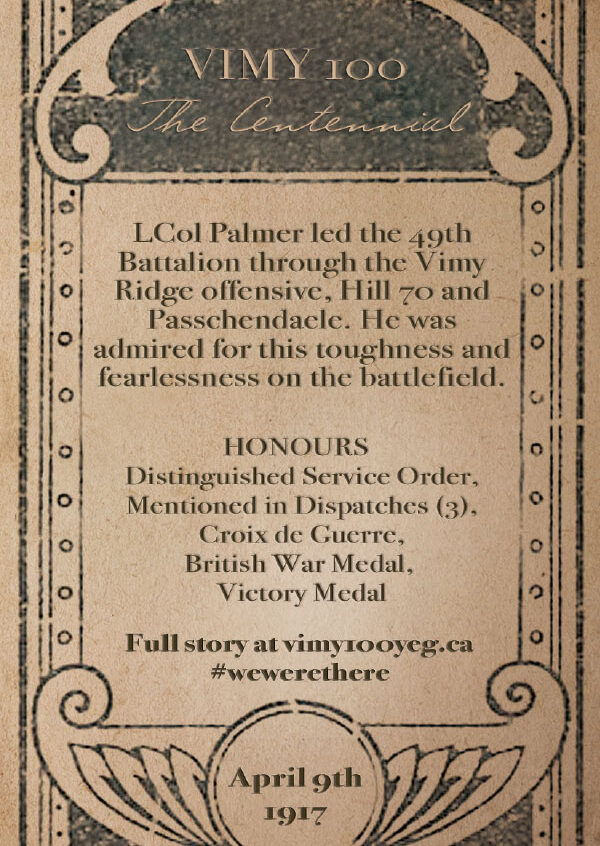 Lieutenant Colonel
Robert Henry Palmer
Honours: Distinguished Service Order (1917); Mentioned in Dispatches (3); Croix de Guerre (Belgium); 1914-1915 Star; British War Medal; Victory Medal
Lieutenant Colonel Robert Palmer, D.S.O.Commanded the 49th (Edmonton Regiment) Battalion from February 14, 1917 until the end of the war. Soldier of the old school, fearless, straightforward, a fighter and a sportsman, sincere with an independency of opinion which frequently got him into trouble with the Staff, especially if it were upon some question that had to do with the welfare of his men—such was the character of the second C.O. of our Battalion. (The Forty-Niner, Jan 1934, 19)
Born in Glamorganshire, Wales on 19 February 1868, he immigrated to western Canada as a young man. He was an original member of Lord Strathcona's Horse and fought in the Boer War. In January 1915, he joined Lieutenant Colonel Griesbach's 49th Battalion as a company commander. Admired for his toughness and fearlessness on the battlefield, Palmer—who had lowered his age by seven years on enlistment—was affectionately known by his men as "The Old Man."
When Griesbach was promoted to brigadier general, Palmer assumed command of the 49th on 14 February 1917. He led the battalion through the Vimy Ridge offensive, Hill 70 and Passchendaele until temporarily relieved by Major C. Y. Weaver in summer 1918. In October, Palmer returned to France to retake command until demobilization.
After the war, he became an Indian agent at Hobbema, near a Cree reservation. On 5 July 1933, he was made an honorary chief, Okeymow Peeswowasis (Chief Thunderchild). Palmer retired to Victoria, British Columbia where he died on 5 September 1947.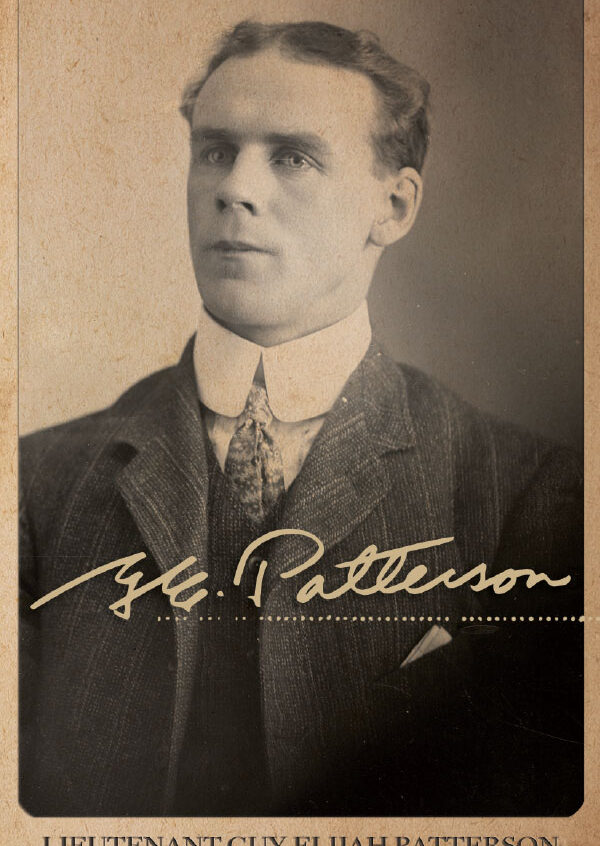 Lieutenant
Guy Elijah Patterson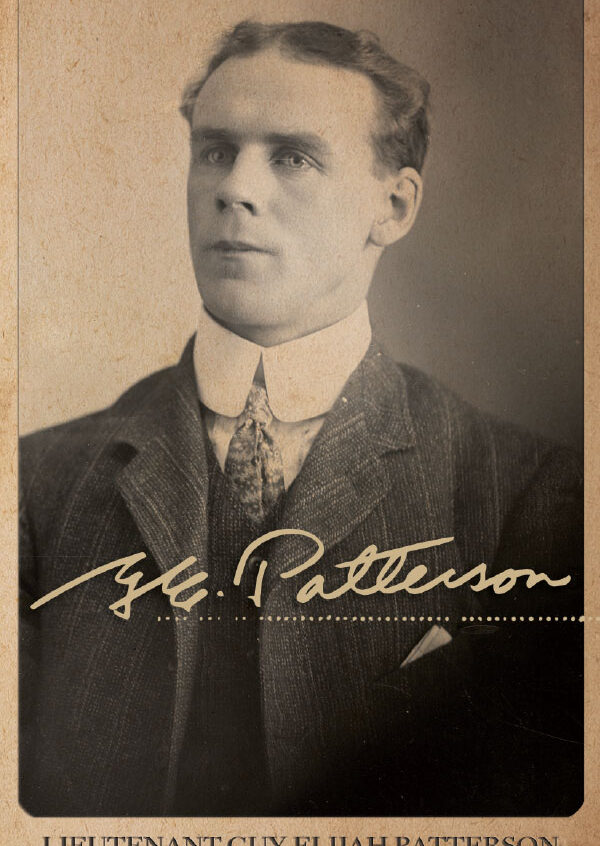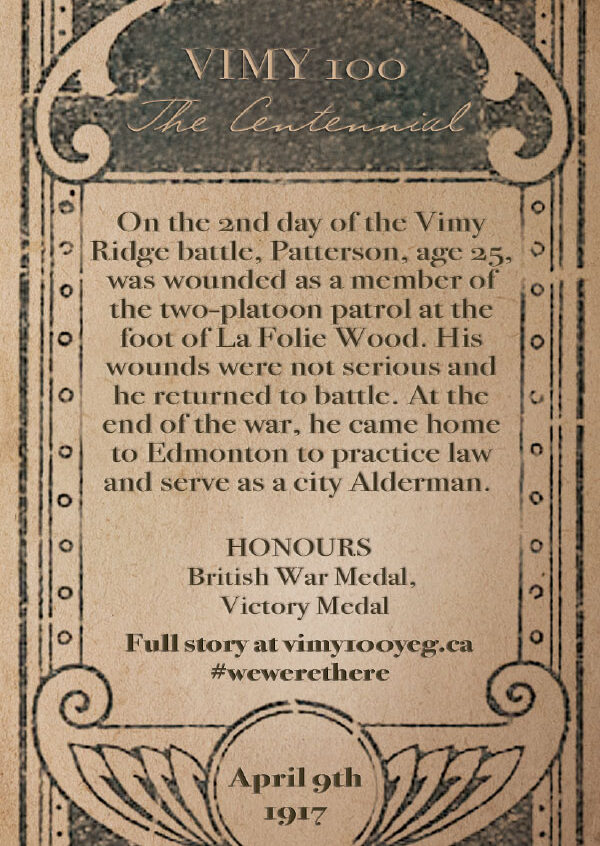 Lieutenant
Guy Elijah Patterson
Honours: British War Medal, Victory Medal
Prior to the War, Guy Patterson was a University student reading law at Robertson (Presbyterian) College in Edmonton. On February 5, 1916, Patterson enlisted as a private with the 194th Canadian Overseas Infantry Battalion. In November of that year, while training in England, he was transferred to the 49th Battalion in France.
On the first day of the Battle of Vimy, Patterson age 25 went forward to reinforce Montreal's 42nd Canadian Infantry Battalion. The next day, Patterson was wounded as a member of a two-platoon patrol at the foot of La Folie Wood. His wounds were not serious and he returned to the 49th on April 27.
At the end of the War, Patterson returned to Edmonton, practiced law and was appointed King's Council in 1937. He served as an Edmonton Alderman both prior and during the Second World War. Guy Patterson died in Camrose in 1976.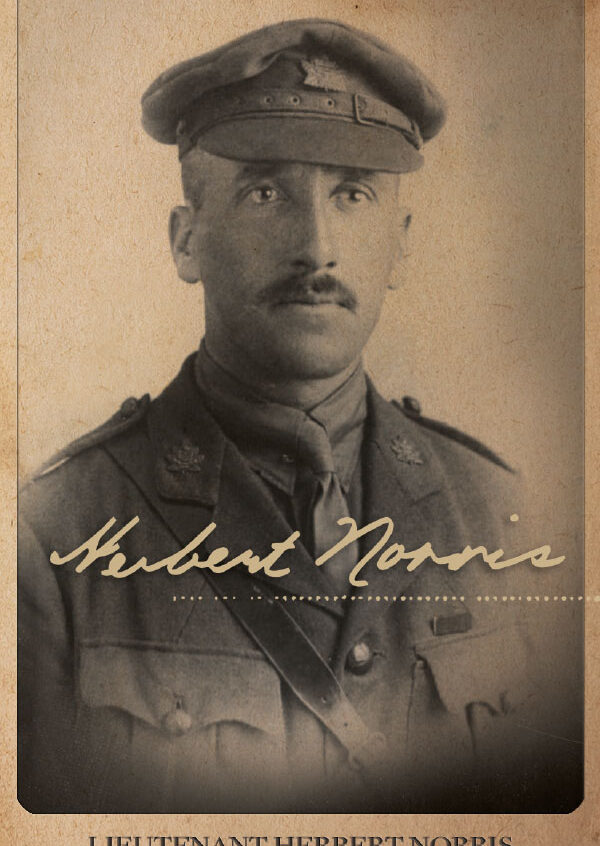 Lieutenant
Herbert Norris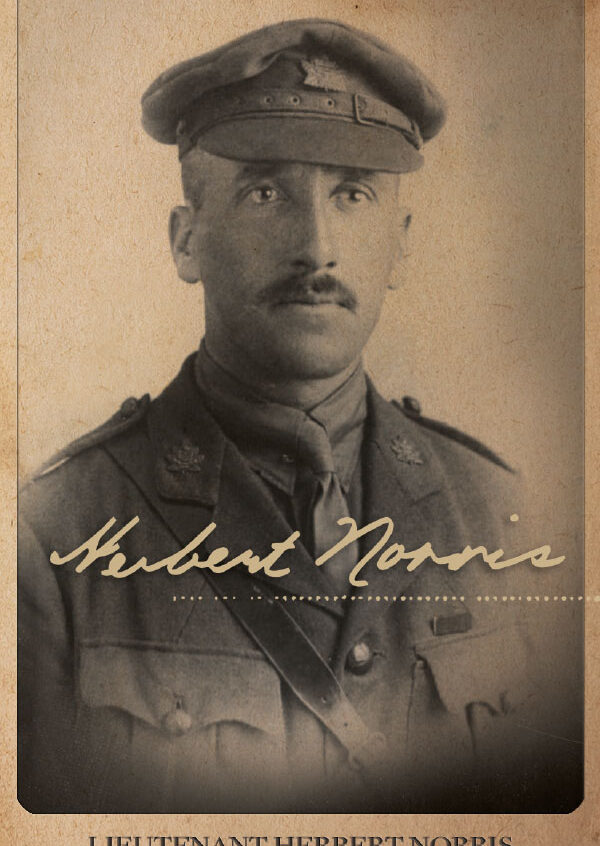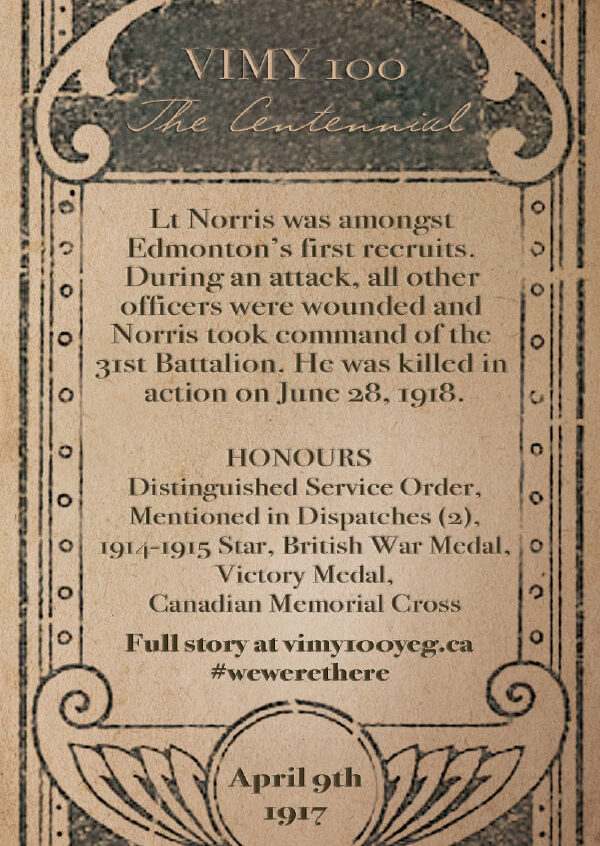 Lieutenant
Herbert Norris
Honours: Distinguished Service Order; Mention in Dispatches (2); 1914-15 Star; British War Medal; Victory medal; Canadian Memorial Cross
Herbert Norris was born in London, England in 1881. He served in the military for the majority of his adult life. Starting at the age of 18, Norris served for two years in the Queen's Royal Regiment in South Africa during the Boer War. He then served 5 years in the 4th Volunteer Battalion in the part-time territorial British Army.
In 1907, Norris came to Canada and lived in Toronto. Sometime in 1914, Norris moved to Edmonton. On November 16 of that year, Norris joined the 31st Canadian Overseas Infantry Battalion as a colour sergeant and was amongst Edmonton's first recruits.
Norris saw much action in the trenches. He proved himself countless times as a capable soldier. In 1916, Norris was awarded a Distinguished Service Order for conspicuous gallantry in action. It was during an operation, all other officers of the 31st Battalion were wounded. Norris took command of the Battalion, and under very heavy fired organized and consolidated the position.
Norris fought with the 31st Battalion at Vimy Ridge for the 4 days of Battle. He was promoted to Captain on November 1917.
On June 28, 1918 while taking part in a minor operation against the enemy line two kilometers south of Arras, Norris was hit in the lungs by an enemy machine gun bullet and was killed instantly. He was 36 years old. He is buried at the Wailly Orchard Cemetery south of Arras.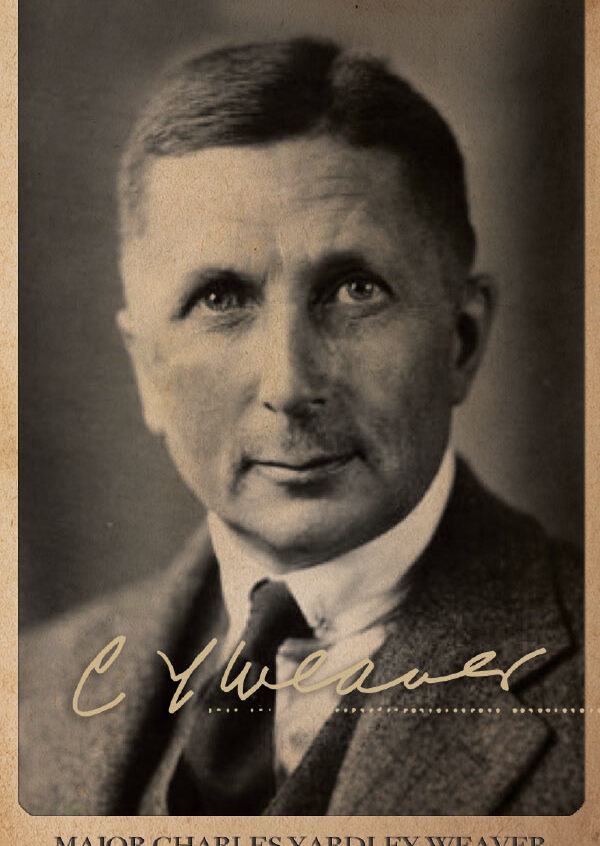 Major
Charles Yardley Weaver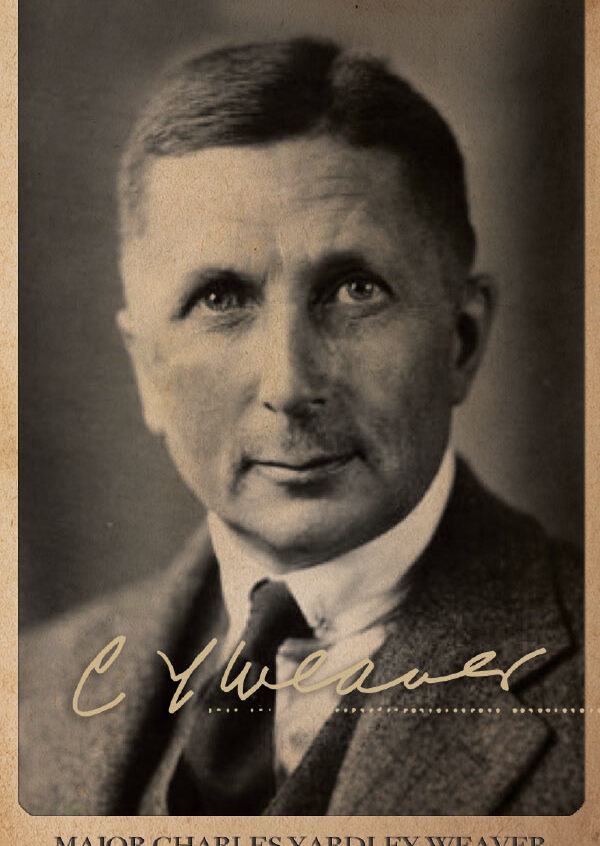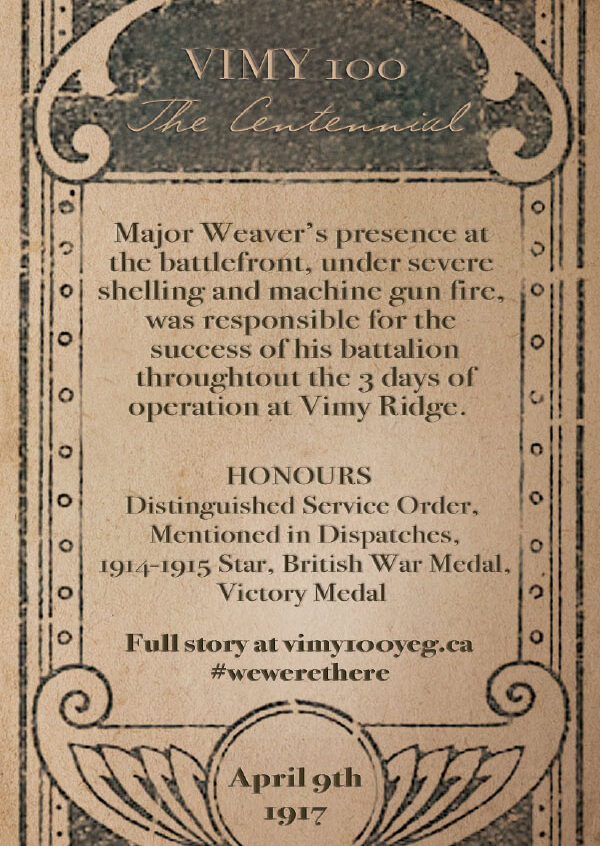 Major
Charles Yardley Weaver
Honours: Distinguished Service Order (1918); Mentioned in Dispatches; 1914-1915 Star; British War Medal; Victory Medal
Before the war started, Charles Weaver was practicing law in Edmonton and had served in the 19th Alberta Dragoons as a commissioned officer. Weaver enlisted with the 49th Battalion and went overseas as Second in Command at the age of 31.
In February 1917, when Lt. Col. Griesbach was promoted Brigadier General and left the 49th Battalion, Weaver moved up to Second-in-Command. His appointment continued through the Battle of Vimy Ridge until the end of war.
He received the award of Distinguished Service Order. His citation reads:
"For conspicuous gallantry in command of his battalion during operations south of the Scarpe between 26th and 28th August 1918. His constant presence in the forefront of the battle under severe shelling and machine gun fire, and his complete grasp of the tactical situation, were responsible for the marked success of his battalion throughout three days' operation."
Weaver returned to Edmonton after the War. He continued his practice of law and took command of the 19th Alberta Dragoons. Weaver followed a political career, from 1921-1923 he was a City Alderman and then became a Member of the Legislative Assembly from 1926 – 1930. He passed away suddenly at the age of 46 in 1930. Weaver Drive and Weaver Point in Edmonton have been named after him.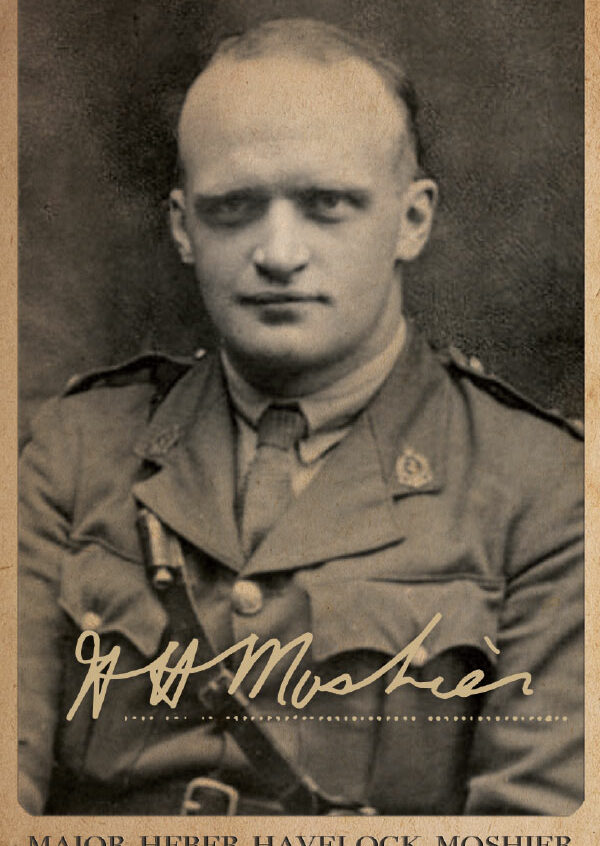 Major
Heber Havelock Moshier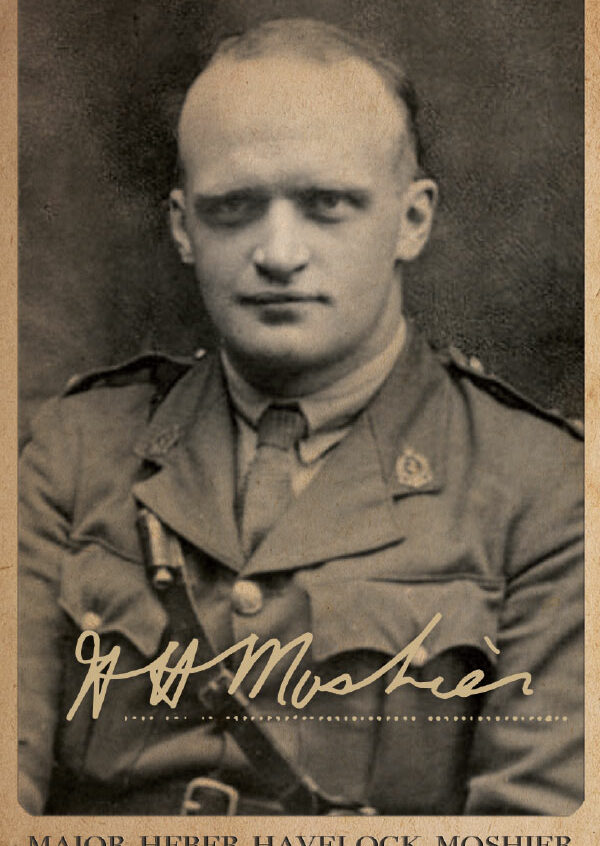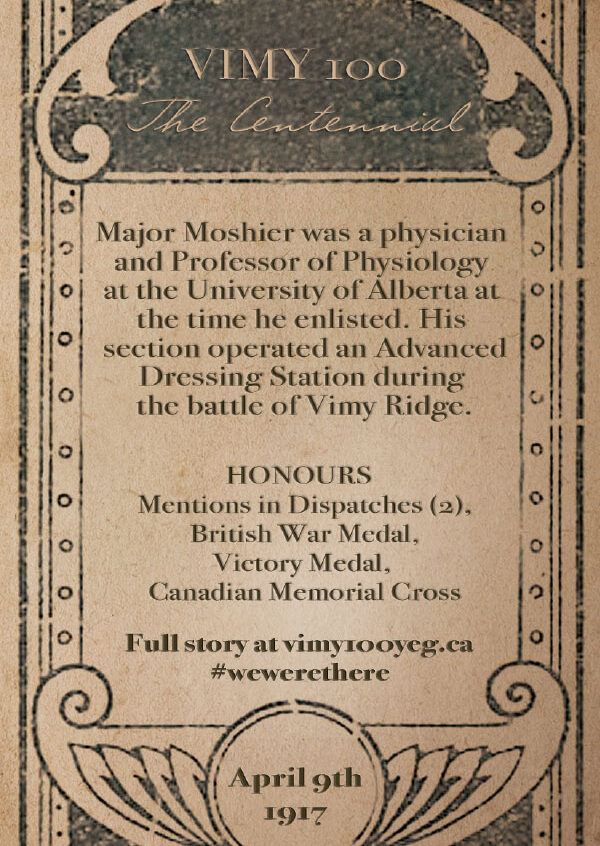 Major
Heber Havelock Moshier
Honours: Mentions in Dispatches (2); British War Medal; Victory Medal; Canadian Memorial Cross
Dr. Heber Moshier was a physician and Physiology professor at the University of Alberta. Moshier joined the Canadian Expeditionary Force on March 1, 1916 in the rank of major. The U of A President, Dr. Henry Marshall Tory nominated Moshier to raise the University of Alberta contingent of the XIth Canadian Field Ambulance (Western Universities), comprised of medical students and men from the University. Moshier's contingent arrived in Winnipeg in March 1916, wherein Mosier assumed the position of Second-in-Command. Moshier and the Ambulance arrived in England in May 1916. There they trained and operated as a field ambulance, consisting of three sections, each capable of simultaneously collecting wounded from infantry battalion regimental aid posts, operating advanced dressing stations in the forward zone of operation and then disposing of wounded or sick soldiers by evacuating them to a casualty clearing station or to a main dressing station.
During the Battle of Vimy Ridge, Moshier's B Section cleared the regimental aid posts located at Tottenham Tunnel and moved the wounded to dressing stations at a forward area. Moshier continued his role as Second-in Command as well as principle surgeon. Moshier took over command of the XIth Canadian Field Ambulance on September 1917 and was appointed acting lieutenant colonel on October 6.
On August 29, 1918, while out scouting for a new location for the headquarters for his Ambulance was killed after a high explosive shell burst over his head.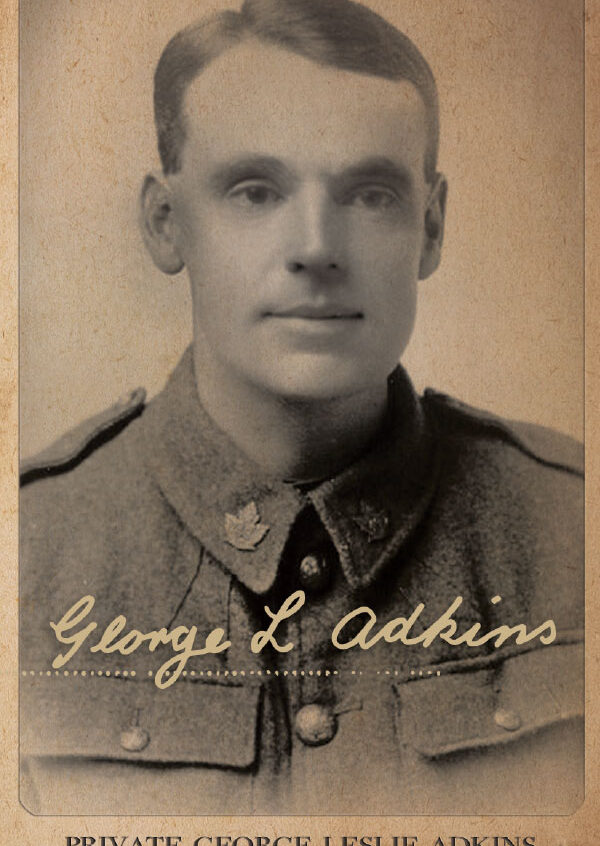 Private
George Leslie Adkins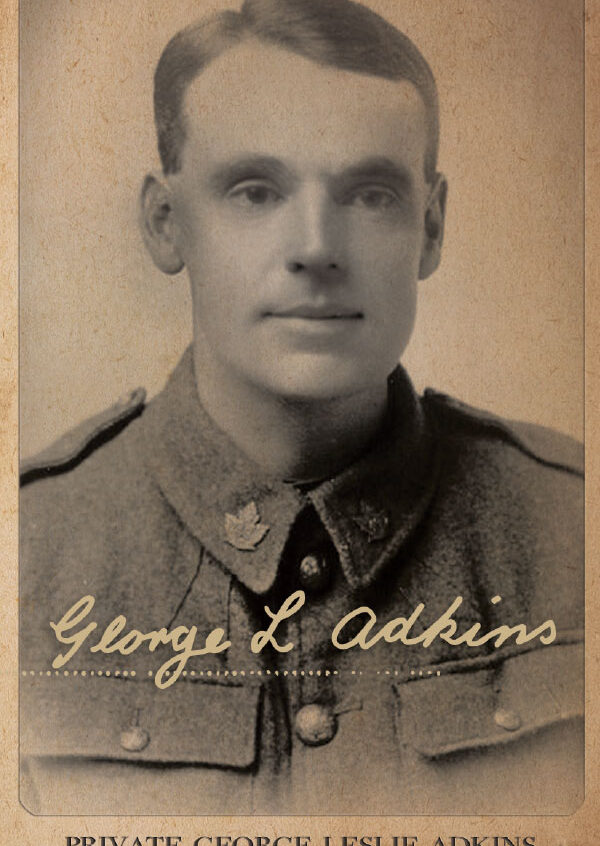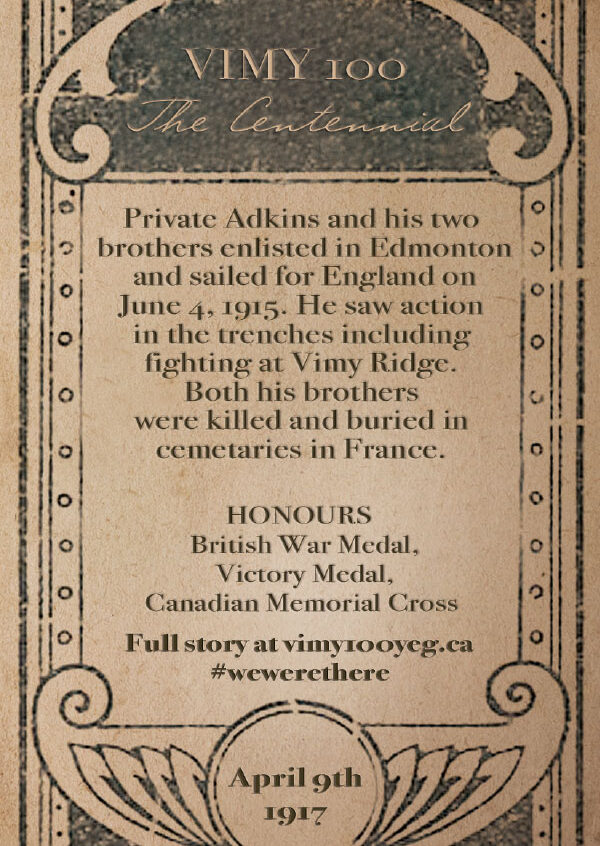 Private
George Leslie Adkins
Honours: British War Medal; Victory Cross; Canadian Memorial Cross
A large number of the first soldiers to enlist with the Canadian Expeditionary Force were British-born and had close ties to Great Britain. As one soldier stated: "I felt I had to go back to England. I was an Englishman and I thought they might need me."
George Adkins and his two brothers likely shared that sentiment. The Adkins family had emigrated from England shortly before the war had started. They farmed just outside of Westlock. In 1915, all three Adkins brothers enlisted in Edmonton with the 49th Canadian Overseas Infantry Battalion and sailed to England on June 4, 1915.
While overseas, like many Canadian soldiers, George wrote to his sweetheart back home. In one heartfelt letter, George confided to Louise, "my thoughts are wandering back home, in fact they are seldom elsewhere." George would share of his experience to Louise as much as the military censors would allow. In one letter he wrote: "We had orders last night to "stand to" as they expected an attack from the Germans which never came off. How sick we are of the whole affair. I often wish we could have one big battle & end it."
George saw much action in the trenches including fighting at Vimy Ridge. He stayed with the 49th Battalion throughout the course of the war and returned home in April 1919. When he returned, he promptly married his sweetheart Louise. Both his brothers were killed in action and are buried in cemeteries in France.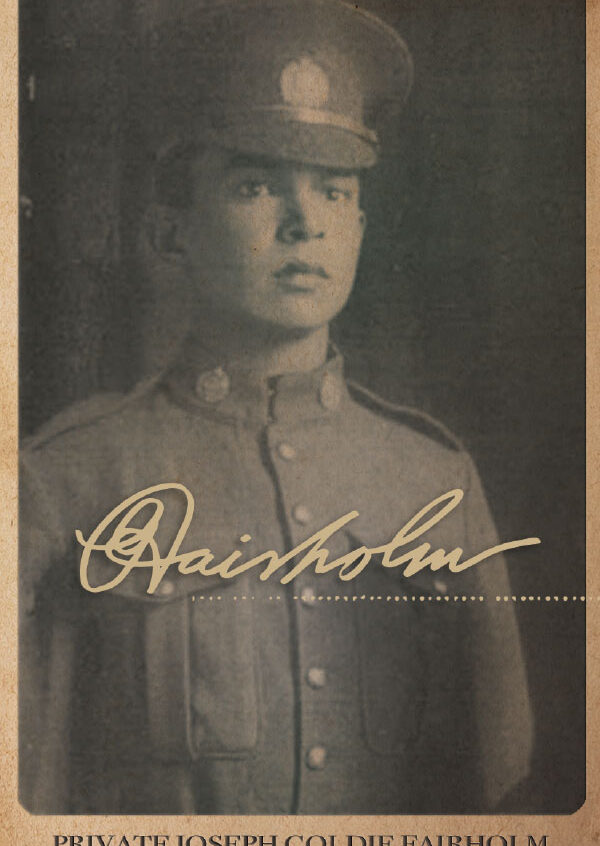 Private
Joseph Goldie Fairholm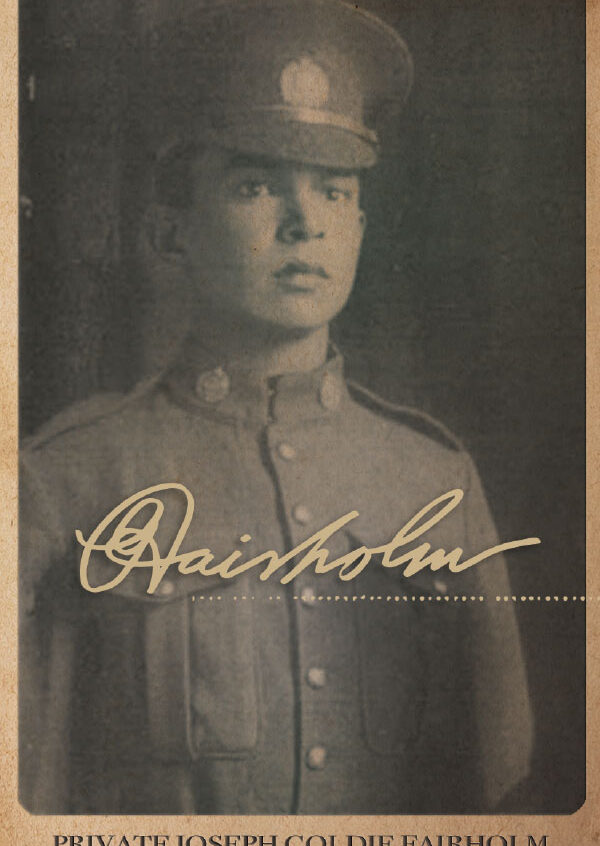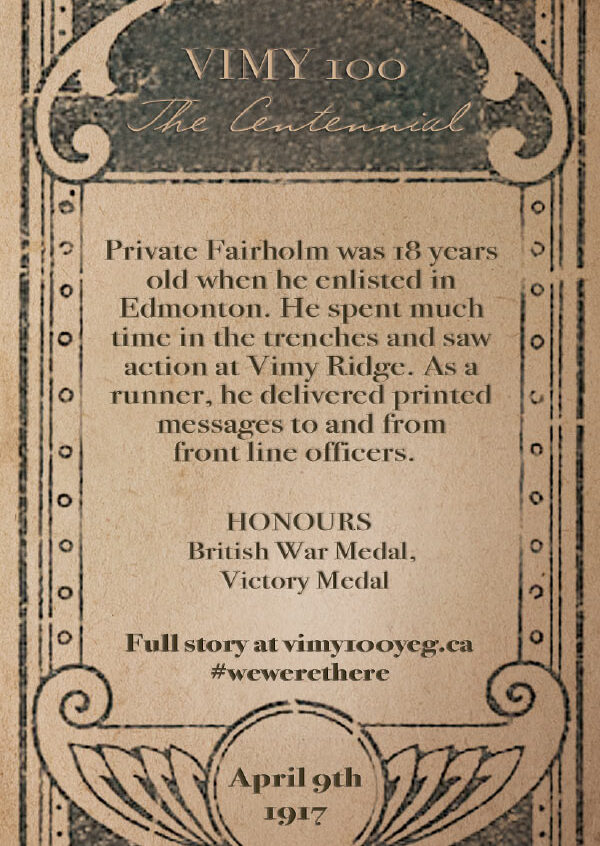 Private
Joseph Goldie Fairholm
Honours: British War Medal; Victory Medal
Private Joseph Goldie Fairholm was the oldest son of a military family The Fairholm family moved to Edmonton from Birmingham England early in 1913. Joseph Sr., Goldie's father was a veteran of 20 years in the British army so enlisting for service, though leaving wife Amy with 5 children to raise was an uncontested given. So was the enlistment of his two oldest sons.
On November 17, 1915, Joseph Sr., Goldie and younger brother Bert enlisted in Edmonton with the 51st Canadian Overseas Infantry Battalion and went overseas with Edmonton's 138th Canadian Overseas Battalion. Like many other eager and young recruits, birth dates were changed for eligibility to join. It was stated on Goldie's attestation papers that he was 19, when in fact he was 18 and that Bert was 18 years old, when he was just to turn 17.
Upon arriving in France in 1917, Goldie was transferred to the 49th Battalion. As a Private, Goldie spent much time in the trenches and saw action at Vimy Ridge, Amiens, Scarpe and Canal du Nord. As a runner, Goldie delivered printed messages to and from front line officers.
Fortunately, all three Fairholm men returned home from War. Goldie returned with the 49th Battalion to Edmonton on March 23, 1919. He married Mary Beatrice Barnes, and they had 3 children and eventually settled near Edson. Throughout his life, Goldie struggled with terrible lung problems, most likely from damage from gas attacks in the trenches.
For more about Goldie and the story of his amazing war diary which he lost in France and then was returned 100 years later to his descendants, look at Edmonton Journal's Dan Barnes article "Faces of War; Soldier's First World War battlefield diary finally back in Canada", September 19, 2014.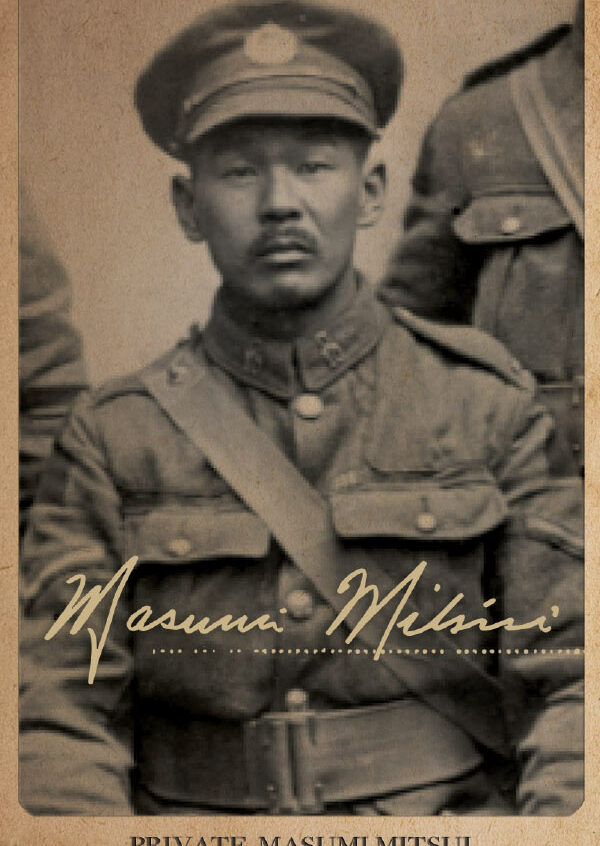 Private
Masumi Mitsui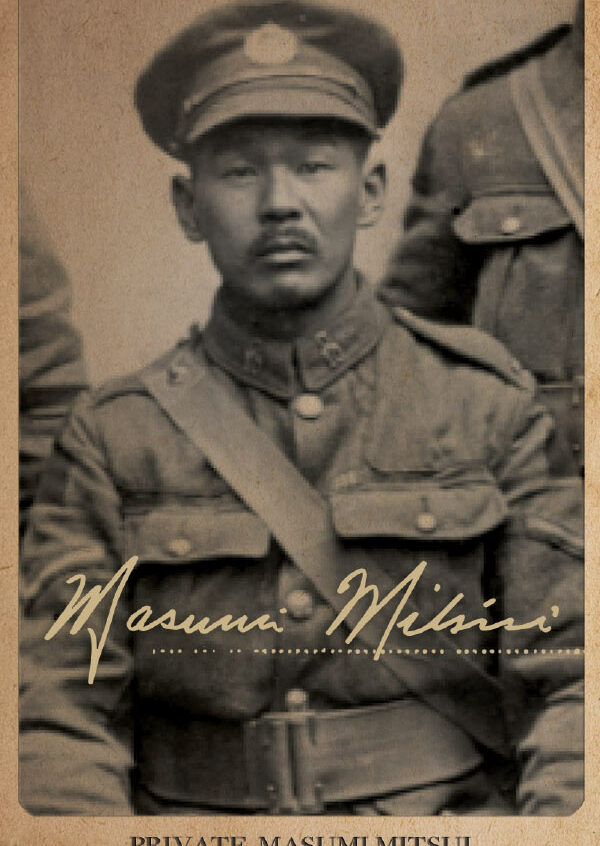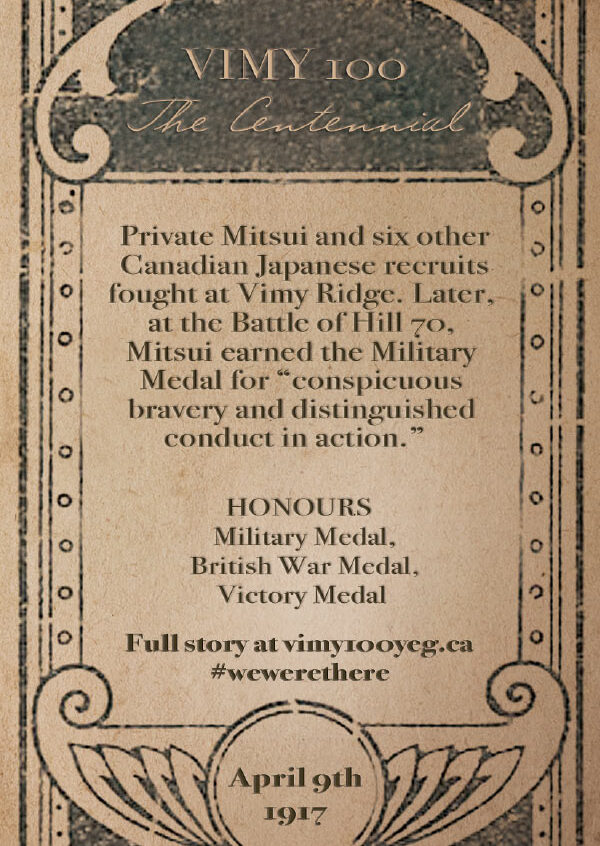 Private
Masumi Mitsui
Honours: Military Medal; British War Medal; Victory Medal
Masumi Mitsui, at the age of 21, emigrated from Tokyo, Japan to Canada in 1908, making Victoria B.C. his new home. When the war started, Mitsui tried to enlist in the Canadian Expeditionary Forces, wanting to demonstrate his patriotism to Canada and to Japan (Japan was an ally of Great Britain in WWI). However the B.C. Government refused to accept Japanese-Canadian men because of prejudicial attitudes and the political reasons of not wanting to give them the right to vote.
Undaunted, Masumi Mitsui traveled to Calgary and voluntarily enlisted on September 1, 1916 with the 192nd Overseas Battalion and was posted with the 9th Reserve Battalion and then proceeded to France for active duty with the 10th Battalion, 2nd Infantry Brigade, 1st Canadian Division, on March 5, 1917.
Mitsui and six other Japanese-Canadian new recruits had their first taste of action at the Battle of Vimy Ridge. Later that year at the Battle of Hill 70, Mitsui earned the Military Medal for Bravery for "his conspicuous bravery and distinguished conduct in action."
Mitsui ended the war as a Sergeant. Returning to Canada after the conflict, he was active in the Canadian Legion and led a successful effort in 1931 to amend B.C.'s election Act to give Japanese-Canadian veterans the right to vote. This was indeed notable as the veterans were the first persons of Asian ancestry to gain the right to vote in Canada.
During World War II, Mitsui endured, with thousands of other Japanese-Canadians and their families, the humiliation of internment. Mitsui's successful poultry farm near Port Coquitlam was confiscated and his family lost all their possessions. Before he was taken to the internment camp, an angry Mitsui threw his WWI medals at the feet of the inducting officer and shouted "What good are these?"
Masumi Mitsui was the last surviving member of the 228 Japanese-Canadian veterans of World War I when he died on 22 April 1987 at the age of 100.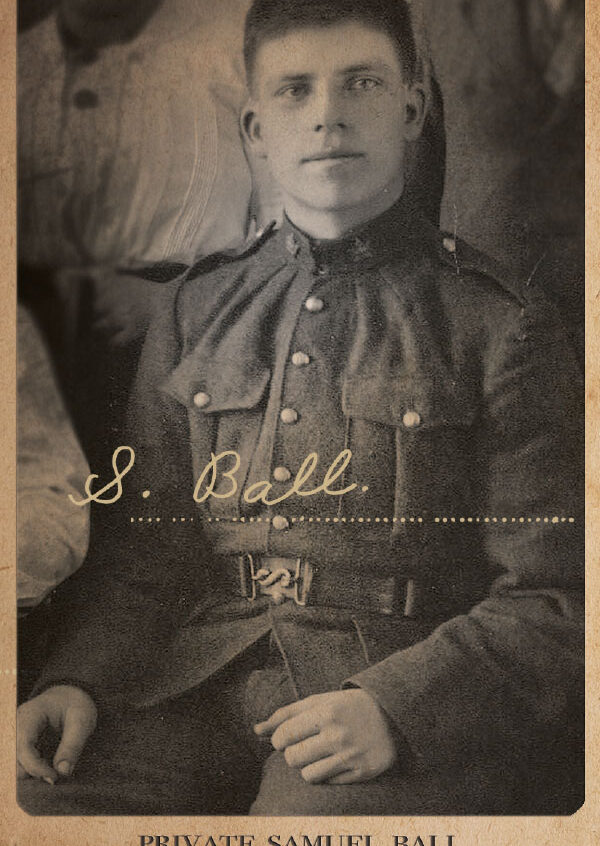 Private
Samuel Ball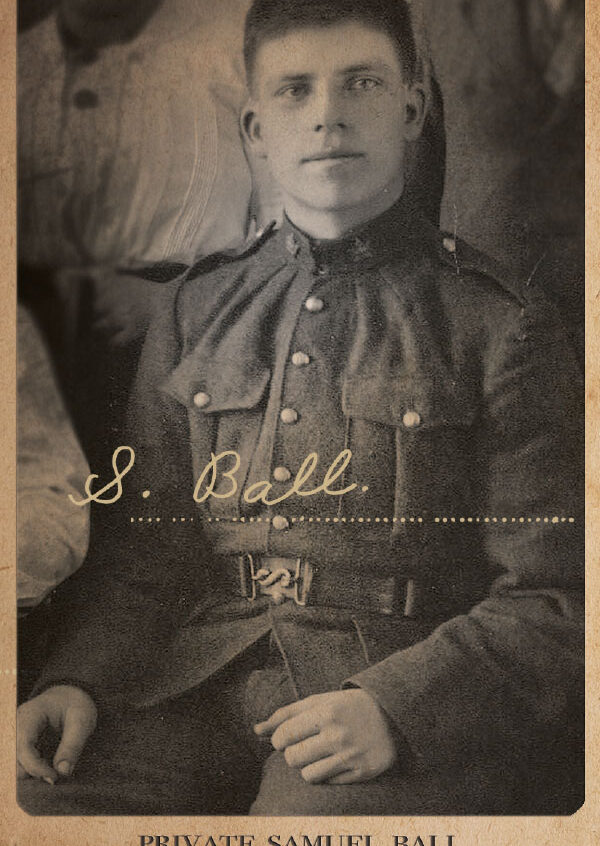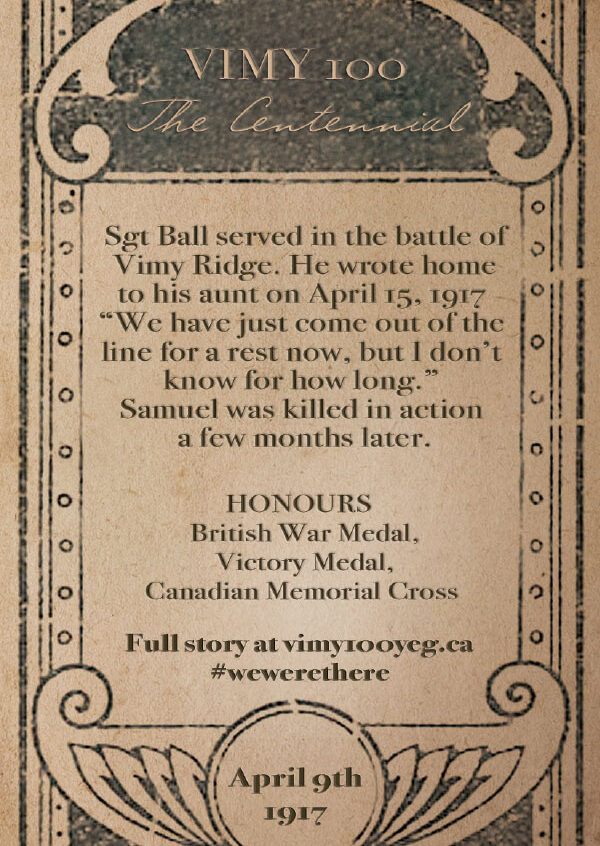 Private
Samuel Ball
Honours: British War Medal; Victory Cross; Canadian Memorial Cross
Samuel Ball farmed with his family in the Deer Mound district, 14 miles southeast of the city. In February 1915 at the age of 18, Bell traveled to Edmonton to enlist. Bell found he had a choice as to which battalion he could join. Normally there could be two or more different battalions recruiting at the same time. A soldier's choice was often based on personal connections, geographical origins or the persuasive abilities of a battalion's recruitment officer.
Samuel Ball chose and enlisted with the 51st Canadian Overseas Infantry Battalion, as did his older brother Herbert, who had enlisted earlier that year. In 1917, the third Ball brother, Ralph at the age of 16, who it was said was not tall enough for the Edmonton battalions, went to Victoria to enlist with a battalion there. Ralph, once in England caught the measles and was admitted to hospital. It is likely his underage was discovered at this time. Ralph was eventually discharged on compassionate grounds. At his parent's request, he was returned to Canada as he was their only remaining son.
As for Samuel, when he arrived overseas in 1916, he was transferred to the 38th Battalion. He spent time in the trenches and was admitted to hospital at one point. He sent his pay to his mother on the farm and wrote out his Military Will to her.
Samuel served at the Battle of Vimy Ridge. In a letter he wrote to his aunt on April 15, 1917 his only mention of his experience at Vimy was "We have just came out of the line after being in [censored]. We chased Fritz off the ground that we held all winter and I think we have got him pretty well on the run now. We are out for a rest now but I don't know how long for."
Samuel was killed in action on June 26, 1917. He is buried at La Chaudiere Military Cemetary in Vimy France.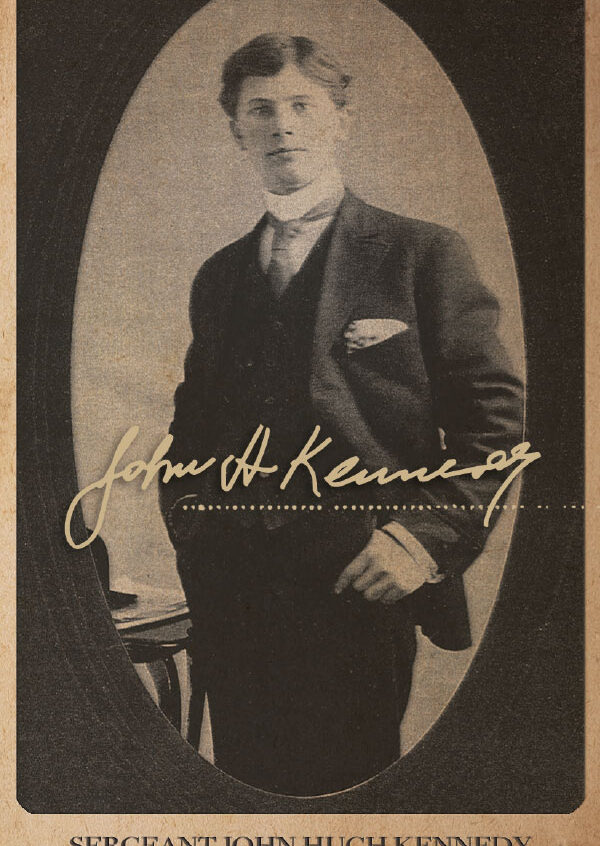 Sergeant
John Hugh Kennedy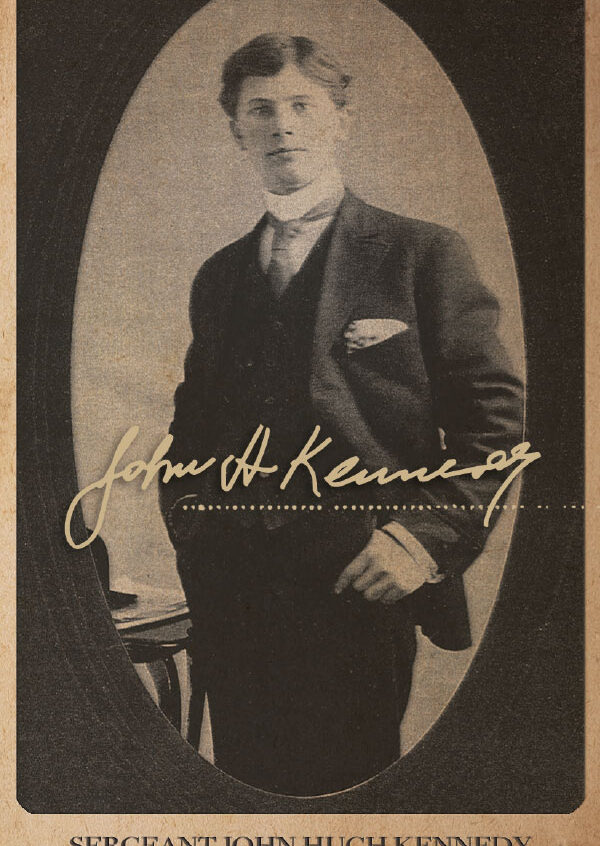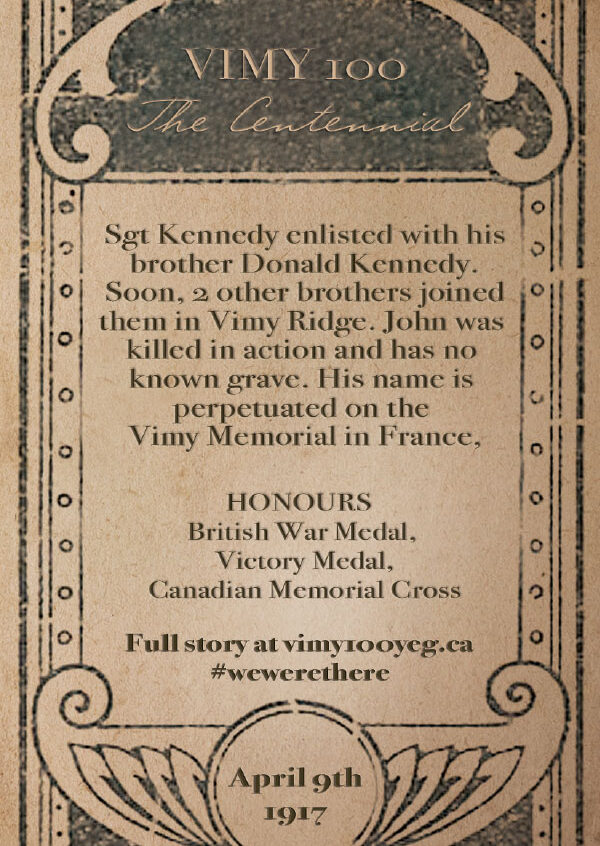 Sergeant
John Hugh Kennedy
Honours: British War Medal; Victory Medal; Canadian Memorial Cross
The Kennedy family of St. Albert gave more than most to the War effort. Five of the twelve children served, with two sons killed in action, six months apart.
The Kennedy's, originally from Ontario, came out west to farm north of St. Albert. Both the oldest sons John Hugh, age 26 and Donald (Daniel), age 23 enlisted with the 66th Canadian Overseas Battalion on July 1, 1915. Once overseas, John was transferred to the 49th Battalion and Daniel to the 8th Canadian Infantry Battalion.
Daniel was mortally wounded by shrapnel on September 26, 1916. 6 months later, at the Battle of Vimy, John was killed in action. John is one of the 11, 285 soldiers killed in France with no known grave. His name is perpetuated on the Vimy Memorial which was unveiled in 1936.
A year later, the two younger brothers were both conscripted for service. Albert, age 22 and Andrew, age 20 were both single and farmed with their father. They enlisted June 5, 1918. Andrew served one month before being released and Albert, while training in England, contracted influenza and was hospitalized. He was deemed fit November 8th and discharged from the hospital on Armistice Day, November 11th.
Margaret Anna Kennedy, a sister to the Kennedy boys, trained as a nurse at the Misercordia Hospital in Edmonton where she practiced for 8 years. She then enrolled in the Canadian Army Medical Corps as a Nursing Sister on August 8, 1916. She was one of the 2, 504 Bluebirds that served overseas in various military hospitals in England, France, Alexandria (Egypt), Gallipoli (now Turkey) and Salonica (Greece). She returned to Canada in July 1919.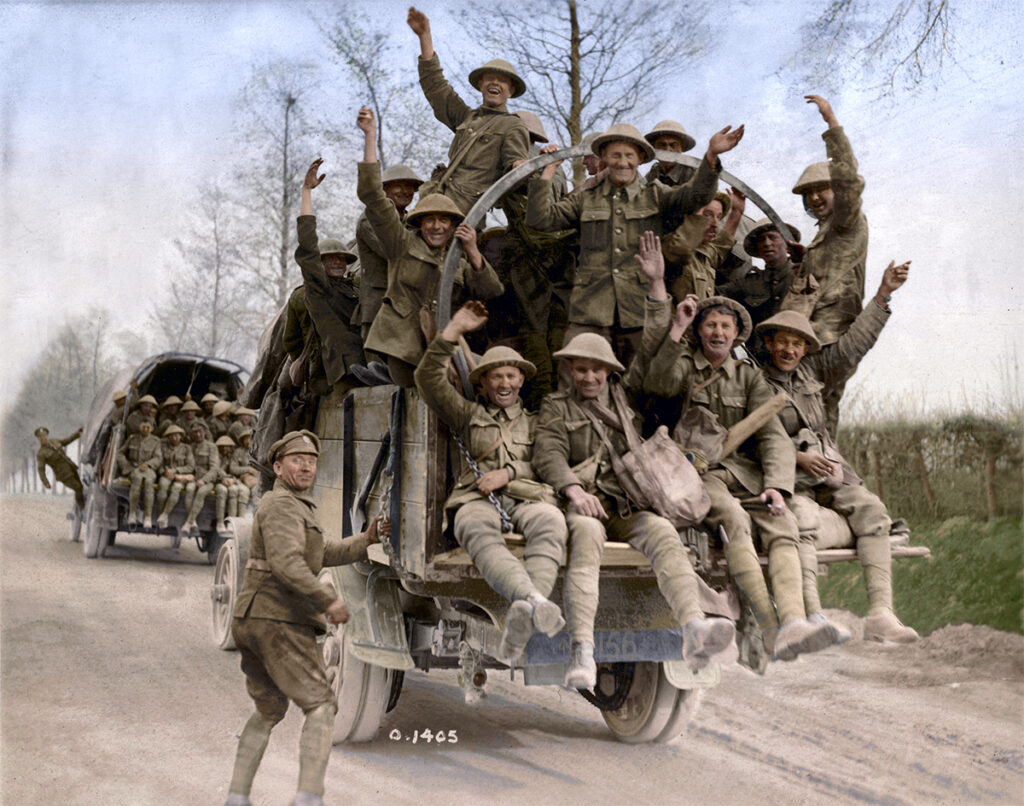 For letters and archives from soldiers of the First World War, explore the Canadian Letters & Images Project.