Names, places, people, things, and moments connect us with each other and help us relate to fellow citizens. This story is about the continued search for a name, a person, and their ties to places and things. The story of Sophie's Way shows us how stories evolve, cities and people change and grow, and who continues to be celebrated in our communities. This feature is a companion piece to Lea Storry's Finding Sophie's Way, first published by ECAMP on December 9, 2020. – ECAMP staff
Who Was Sophie?
As the winter snows give way to warm weather pursuits like golf in Victoria Park Golf Course and Driving Range and across the city, we revisit the story of one spirited Albertan who has made it easier for athletes of all ages and abilities to enjoy the course. Her name is Sophie.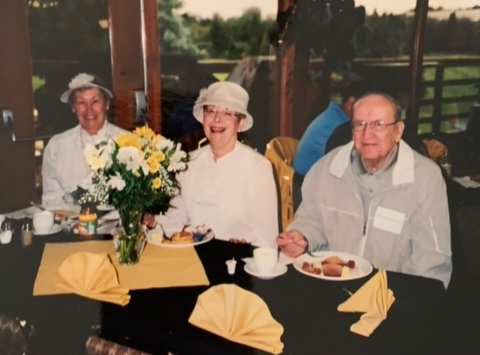 In November 2020, I wrote a story about looking for Sophie. There's a cart path named after her on the Victoria Park Golf Course. The trail is a ribbon of concrete winding up a short but steep hill to the 13th green and 14th tee.
Sophie's identity was a mystery until I received a Facebook message in March 2021. A member of the Victoria Ladies Golf Club (VLGC) told me that Sophie was Sophia Derbawka.
Sophia — Sophie to her friends — was part of the VLGC. The league meets Tuesday mornings when Edmonton has golf weather. Athletes of all abilities are welcome, but prior to 2008 there was no cart path, only wooden steps on the slope!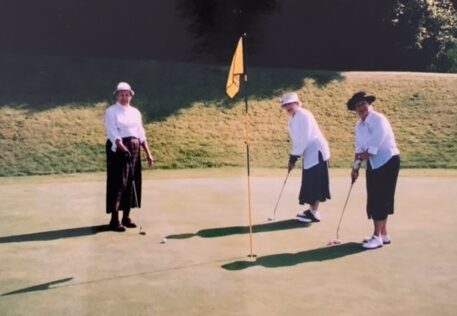 "Some people had trouble walking up and down the stairs," said Joan Crawford, a VLGC golfer since 1984.
"We did notice people would skip going up the hill and skip teeing off at hole 14, the tee box is also up the hill. They'd tee off down the hill a bit."
That wasn't a proper round of golf. Joan, who knew Sophie during their many years together as VLGC members, said Sophie wanted golfers to be able to play safely and with dignity. She asked the city for money to build the cart path but the funding was denied.
It was a mystery why the golf course rented out powered carts and yet they weren't allowed on the hill. Joan admits that golfers, on occasion, would drive the vehicles up and down the sharp incline.
"It was frowned upon. The golf course didn't like that idea. They said it was unsafe."
Sophie took her fight all the way to the top and landed a meeting with then-Mayor Stephen Mandel. After touring the course with Sophie, he agreed to the cart path, which was built in 2008. The trail was named Sophie's Way in honour of Sophie's dedication to making a round of golf at the Victoria Park Golf Course, a round for everyone.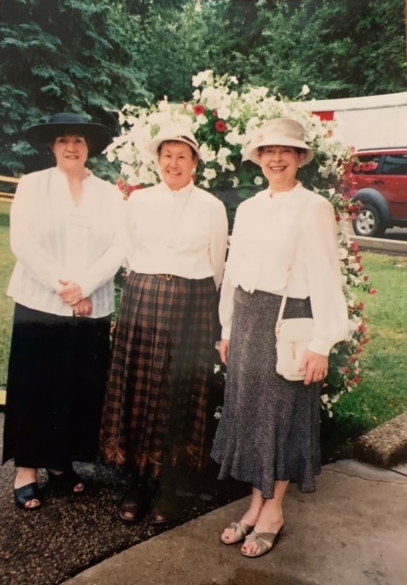 One specific day with Sophie sticks out for Joan.
In 2007, during the Victoria Park Golf Course's Centennial Celebrations, Joan, Sophie and other league members took to the course dressed in "good old days" clothing—skirts, blouses and big hats: they had an enjoyable time.
Sophie died in 2019 and is remembered as an avid supporter of the VLGC and a good friend.
---
SOURCES:
Joan Crawford Interview by Lea Storry.
Doreen Gares, "History of Sophie's Way – Cart Path on Hole 13 Victoria Golf Course, Edmonton" Alberta