Here on Keillor Farm, the scenery and serenity of the vast Canadian prairies is everywhere, though it's packed into a small parcel of land at the centre of a city of a million people. In 1915, from his vantage atop Saskatchewan Drive in what is now Belgravia, Dr. Frederick Keillor saw that this land was special. He was looking west into the North Saskatchewan River valley, which had just experienced a once-in-a-century flood that had left much of it underwater. He noted that this particular plot of land, stretching west to Whitemud Creek, was unaffected. Keillor had settled in Edmonton two years prior. He was born in 1883 in Wallacetown, Ontario, where he grew up on his family's dairy farm, nurturing an early love of the land and animals that he would carry throughout his life. He graduated with a medical degree from London, Ontario in 1908, before setting up a practice in Raymond, Alberta and then Edmonton in 1913.

Soon after World War I broke out, Keillor went overseas as member of the Royal Army Medical Corps. He served at Gallipoli and in France, losing one of his brothers to the war effort along the way. After being discharged in 1918 with the rank of Captain, he re-settled in Edmonton. Returning from the war with a desire to connect with the land and an interest in the well-being of his fellow human beings, Keillor purchased that unaffected river valley parcel in 1918 from the Imperial Bank, which had repossessed it from early entrepreneur John Walter after the 1915 flood had flushed away much of his fortune. Thus begins the story of Keillor Farm.
In an autumn afternoon, the air here would still be warm. The leaves a pale yellow colour littered the ground around me, crunching gently underfoot as I walk through the mud. Steps away from the horse corral is a hundred-year-old fence made of mortar and large stones from the nearby riverbank that is still in good condition. Sheila Edmonds, the de facto historian of Keillor Farm, and Shelley McColl, a long-time volunteer who has been riding here since the 1960s, walk with me. They lead me through an opening in the old fence and into a rustic log and stone cabin that is the historic centrepiece of the farm.
Several times on our walk, McColl reminisces about her decades spent on the land, running through the cabin and riding horses as a young girl and, eventually, nurturing them as an adult through volunteering. She remembers looking down on the land from her nearby home, perched atop the river valley with a similar vantage that initially struck Dr. Keillor. Edmonds, who had been working as an employment counselor in the 1980s, took up the mantle of volunteer historian soon after one of her clients, a hearing-impaired woman, saw the farm and asked if Edmonds would reach out about employment. In the process of connecting the woman with staff, Edmonds would begin to learn more about the Keillor Farm story and various characters, though her fascination with the place began much earlier than that. "I think it goes way back to the first time I saw the place and was amazed by it when I moved to Edmonton," Edmonds says.
"I think what most people feel when they walk by or drive by is, 'wow, how is that here? Who sacrificed to make sure that we get to enjoy this today?'"
While Dr. Keillor lived in Garneau most of the time, he built the cabin on his newly-purchased farmland to serve as a peaceful retreat for his family. Constructed with lumber floated down the North Saskatchewan from Tomahawk, Alberta and stones pulled from the riverbank, the cozy two-storey cabin is known for its unique, symmetrical stone fireplace. The design was created by splitting stones and placing their halves on opposing sides. Centred above the mantle is the cabin's famous focal point: a large white stone in the shape of a heart. At Edmonds' encouragement, I partake in a long-held tradition around these parts: placing one hand on the heart stone and one foot on a hoof-shaped stone on the hearth, I make a wish.
The cabin marked the beginning of Keillor's faithful stewardship of the farm that would outlive him. With the relatively young city of Edmonton sprawling out onto the prairie landscape, Keillor recognized the therapeutic and restorative potential of his new 160-acre purchase. In the years after the war, Keillor saw the potential for returning soldiers to use the land as a much-needed respite to help them through the trauma of what they had just experienced. Beginning in the 1920s, Edmontonians flocked to the land to picnic, ski, and hike.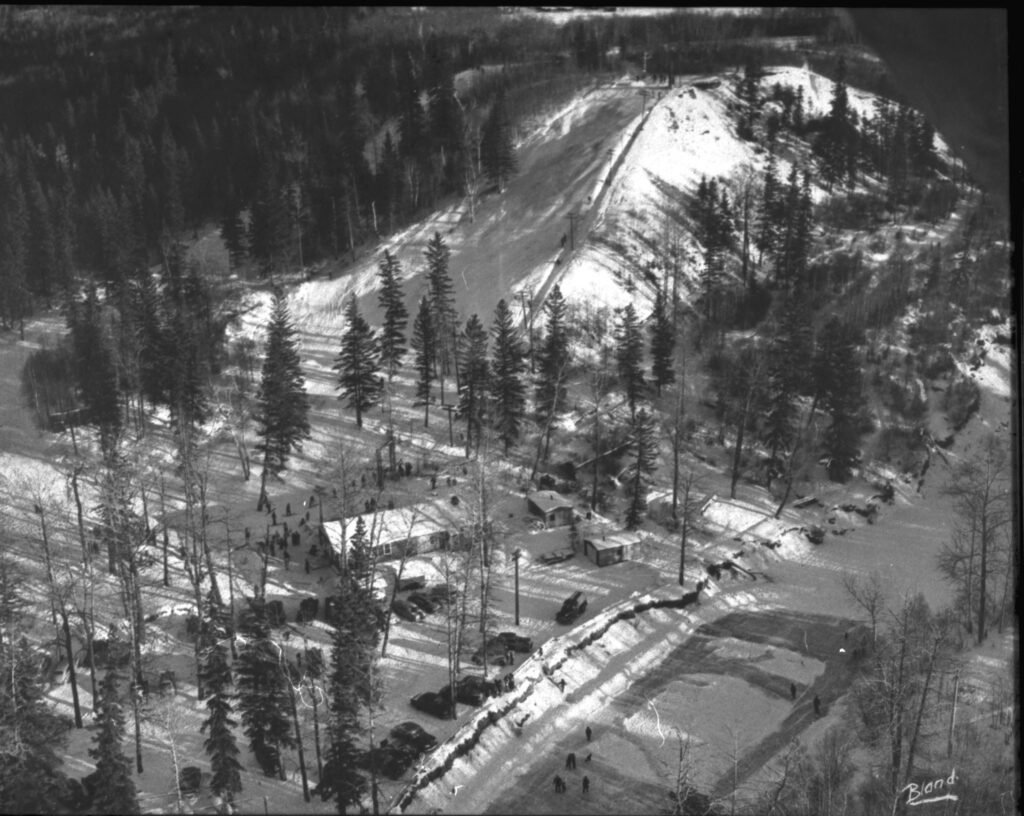 It was during this time that Keillor's legendary altruism began to take root. He created infrastructure for electricity to power not only his cabin, but also a nearby ski club in need of a powered lift. (For those curious, this ski club sat near where the Alfred J. Savage Centre is today). When the city's trees suffered from insect infestations, he planted a tree nursery to replace more than 500 of them. In the late 1920s, when he was elected as a City Alderman, he famously refused the salary. "It's an honour to serve the city," he said. Around the farm, Keillor became somewhat of an unofficial recreational coordinator of the area. He would regularly host picnics, skating competitions, horse races, sledding, bird watching, canoeing and all manner of activities for the community to enjoy.
It became his mission to create a place for the people.
Just north of the cabin, Edmonds, McColl and I are walking along a paved multi-use path a few metres away from the river's edge. Every few minutes we see a passing cyclist or a family on a stroll enjoying the river valley's extensive trail system. From Belgravia, trail users descend into the forested valley, meandering through a few switchbacks before emerging from the trees with the river to their right and the surprising sights of horses, barns, and farmland to their left.
By the late 1920s, Keillor Farm had become a popular locale for year-round recreation. To increase accessibility, Keillor donated a long strip of land adjacent to the riverbank so that the City of Edmonton could build a road for vehicles to drive down into the valley from Belgravia. What would eventually be named Keillor Road was a busy thoroughfare into the valley for more than 65 years, before a significant portion was lost to a landslide, leaving behind the beloved local lookout dubbed The End of the World.
When oil was discovered in Leduc in 1947, Edmonton was swept into a period of rapid expansion. The city was swiftly enveloping Keillor Farm, and developers were opening their chequebooks for any piece of land they could acquire. In correspondence with the City, Keillor noted that he had turned away countless offers that he received almost daily for a more than ten years, preferring to maintain the natural beauty of his land rather than selling it off to the highest bidder. In the 1950s, Keillor's quaint farm would come under increasing pressure from municipal taxes and an antagonistic Mayor in William Hawrelak. Hawrelak pressured Keillor to give the farm to the city, offering no more than brushland prices for the prime land and no remuneration for the significant infrastructure that Keillor had installed. Keillor refused, and to ensure the farm's survival Keillor leased it to famous horseman and Order of Canada recipient, Bill Collins. Collins founded Leecoll Stables and would lay the foundation for Keillor Farm to become a premier facility in the equestrian world. Leecoll welcomed world champion riders and hosted showbiz stars such as Michael Landon and Lorne Green of Bonanza fame.
It wouldn't be long before the City of Edmonton again came knocking for a piece of Keillor's land. In 1962, the City expropriated an additional 12 acres to build Fox Drive, where to this day commuters can enjoy a long drive alongside Keillor Farm. In Keillor's later years, he would see his land dwindle while its popularity increased. He was pleased that, even after 50 years, it had maintained its character and continued to benefit so many Edmontonians. Dr. Frederick Keillor passed away in 1971. Ever the hardworking gentleman, he collapsed while shoveling snow on the farm. He was 87 years old.
Soon after Keillor's passing, the City of Edmonton purchased the remaining land from the Keillor family for $248,500. In the years since, the land has been leased to various parties, including then-burgeoning Grant MacEwan Community College (now MacEwan University), which operated their Equine Studies diploma program here in the late 1970s. After MacEwan left in 1981, two of its instructors — Jean Archer and Jan Sernyk — managed the land, its dwellings, horses, and various programs with the help of their families and a team of volunteers. Despite paying the City of Edmonton more in leases and taxes than they were able to pay themselves, Jean and Jan's dedication remained steadfast. Their work boosted local love for the place, and they welcomed sporting stars such as Wayne Gretzky and Kurt Browning to ride horses on Keillor Farm.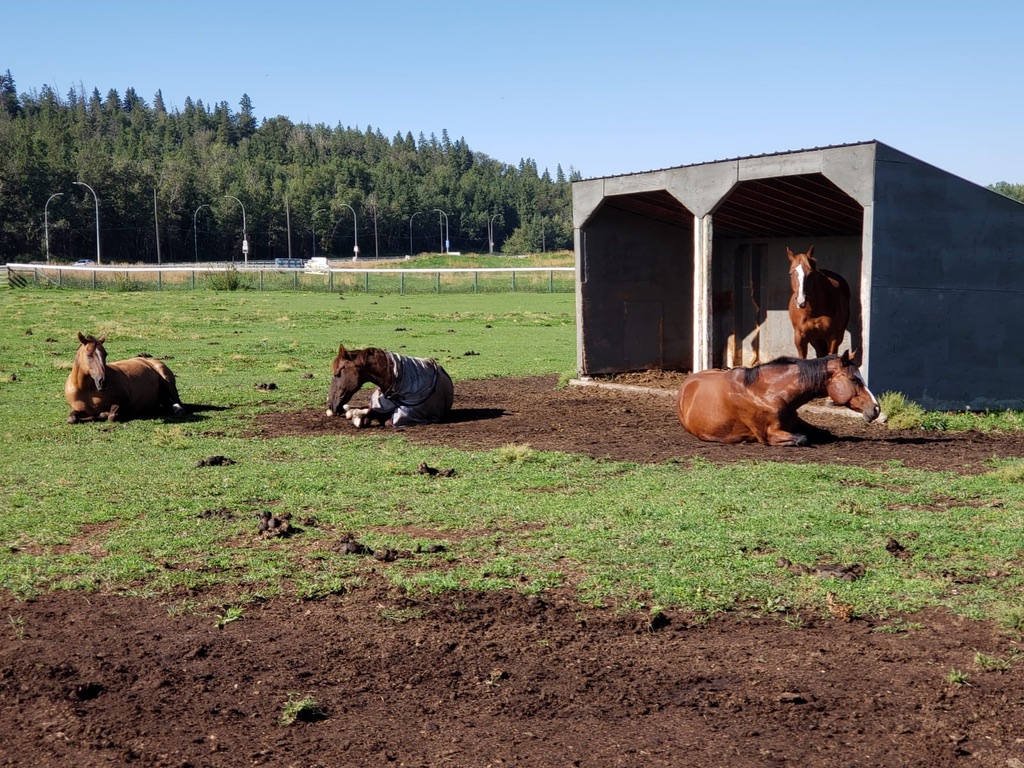 In 1995, the site was leased to the Whitemud Equine Centre Association, later forming the Whitemud Equine Learning Centre Association (WELCA), which continues to operate the facility on 48 acres of the original 160-acre Keillor Farm.
It has now been more than a century since Keillor made his purchase of that auspicious piece of land in the river valley. It has seen all manner of owners and residents, and faced an array of threats to its survival. As the city swelled around it, it faced constant development pressure and multiple expropriations. Today, thousands of Edmontonians drive past the land each day, most unaware of its storied history and the dogged efforts to preserve its therapeutic character.
Our last stop on my tour of Keillor Farm brings us into a large riding arena at the heart of the WELCA property. On this particular afternoon, the Little Bits Therapeutic Riding Association is in session. For nearly five decades, Little Bits has been providing adults and children with disabilities with therapeutic access to WELCA's horses. From the front foyer I can see into the arena, where three horses are standing in a line while nervous young riders mount their saddles. It doesn't take long for their nerves to melt away and huge smiles to form on the riders' faces.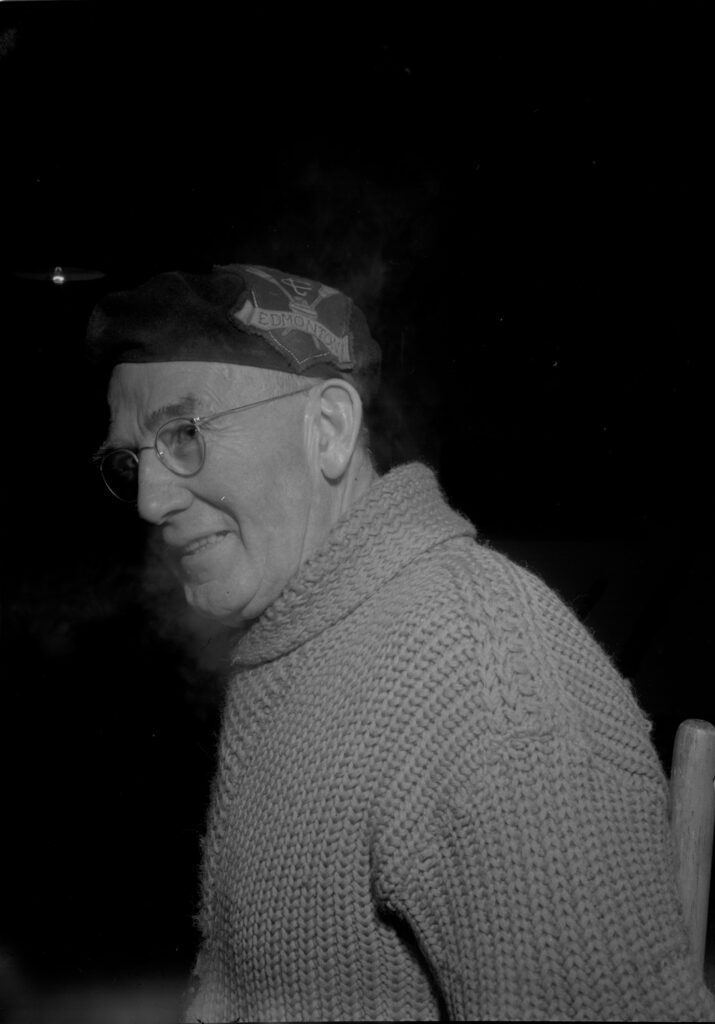 It has now been more than a century since Dr. Keillor first purchased this land in the heart of a growing Edmonton. Surely he would be pleased to know that several generations on, his farm is still every bit the restorative destination that he envisioned, leaving a lasting impression on any Edmontonian that comes through.
Ryan Stephens © 2022
—
Title photograph: Canoeists at outflow of Whitemud Creek on the North Saskatchewan River, 1935. Four canoe clubs met and stored boats on Keillor Farm. City of Edmonton Archives, EA-160-1869.