Note from the author: Philippines is the country, and Filipinos is what the people are called. The two words are used interchangeably as an adjective pertaining to our heritage.
---
The 1952 Immigration Act introduced a points system that brought about the entry of professionals to fill labour gaps. Filipino pioneers in the 1960s arrived through this stream, the earliest records of Filipinos in Edmonton. This period is differentiated from other waves of Filipino migration in that those who came to Canada could continue work that they were doing or had trained for in the Philippines, along with the relative ease of immigration processes at that time.
In the 1960s, the Canadian Trade Mission in Manila was recruiting heavily to fill up the labour market needs in Canada through ads in newspapers, flyers and posters.
Not many people realize that Filipino immigrants are the third largest foreign-born group in Canada. In 2020, the Philippine Arts Council released a documentary entitled Paglalayag: the Philippines to Canada Journey on the stories of migration of Filipinos to Canada, which I wrote and directed. In my research, I compiled a list of 264 Filipino immigrants in the 1960s in Edmonton with the earliest ones arriving in 1961, and was able to personally interview 10 of them: Tina Felix (1964), Alberto Cachero (1965), John Felix (1965), Neri Cachero (1966), Adelina de la Cruz (1967), Josephine Pallard (1967), Fanny Calderon Castillo (1968), Lourdes Bernal (1968), Lyla Gray (1968), and Amanda Toledo (1969).
Tina Veloria Felix was a nurse at the Holy Rosary Hospital in Tondo when she left the Philippines in 1962 under the US Exchange Program for Nurses for Rochester, Minnesota. At the end of her two-year term, she was set to travel to Melbourne, Australia for another job offer, when she received an invitation from a couple from Edmonton who had surgery at the Rochester Hospital to visit Edmonton. During her visit, she applied for employment and was accepted at the University of Alberta and Royal Alexandra Hospitals.
John Felix applied as an immigrant to Canada in 1965. He was approved because his application included a letter of support from the Gironella family who he was related to by affinity. The Gironellas were the earliest recorded Filipino immigrants in Edmonton in 1961. John met Tina in Edmonton and they married in 1967.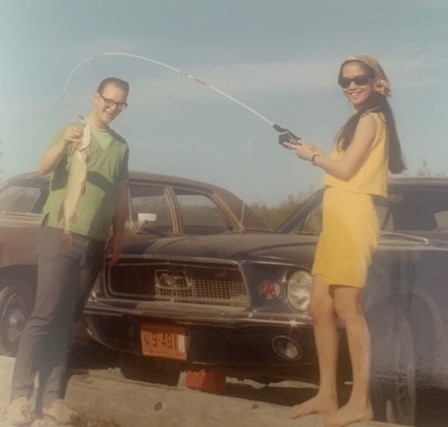 Neri Cachero was a teacher in Bataan, Philippines and completed her Masters in Education at the University of Minnesota, where she taught for two years. Upon Neri's arrival in 1966, she received a job offer to teach in an elementary school right away. She fondly remembers the principal asking her to come for an interview. When told that she didn't know her way around since she just newly arrived, he offered to come to their small basement rental to meet her, brought educational materials, and a contract.
She went back to the Philippines in 1964 to marry Bert Cachero, an engineer and was one of the alumni of the University of the East who established the Faculty of Engineering at the same university. After four years of starting the college, he became the Head of the Mechanical Engineering Department. He went to Edmonton in 1965 to pursue his Masters in Science for Petroleum Engineering at the University of Alberta, on scholarship with the Alberta Research Council.
Lourdes (Lulu) Bernal had always dreamed of living in either Canada or the United States. She was on her third year of medical studies, when she moved to Canada in 1968 to work as a pediatric nurse.
Lyla Gray was working as a secretary when she moved to Canada in 1968, with job offers as a secretary in two hospitals.
Fanny Calderon Castillo, a teacher in Benguet Province, moved to Canada in 1968 when her husband, a Safety Officer with Benguet Consolidated owned by a US company, was offered a job as a Safety Officer of Gold Mines. When the local school learned that she was a teacher, she was hired immediately as a Math teacher for Grades 5 and 6.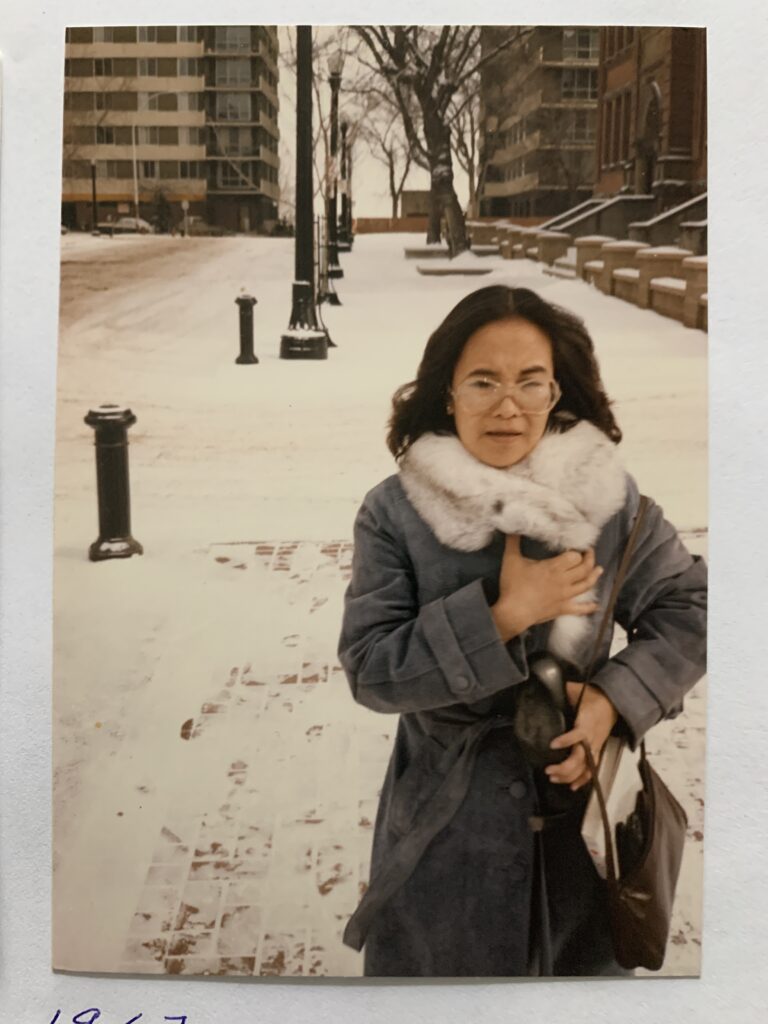 Josephine (Josie) Pallard was a teacher and activist. It was 1967, there was government instability, activists were being targeted and it was no longer safe to stay in the country. She applied in three different countries – Canada, the United States, and the United Kingdom, and was accepted in all three. She selected Canada, the first to approve her application, and arrived in Edmonton as a landed economic immigrant.
Amanda Toledo, sent an application to work in Canada as a nurse, based on a newspaper ad. She immediately received an acknowledgment of her application along with a contract, and flew to Edmonton in 1969. She got very ill during the flight from Manila that when she landed in Vancouver, Immigration had to go to the plane to stamp her passport. When she reached Edmonton, an ambulance was already waiting for her and brought her to the General Hospital.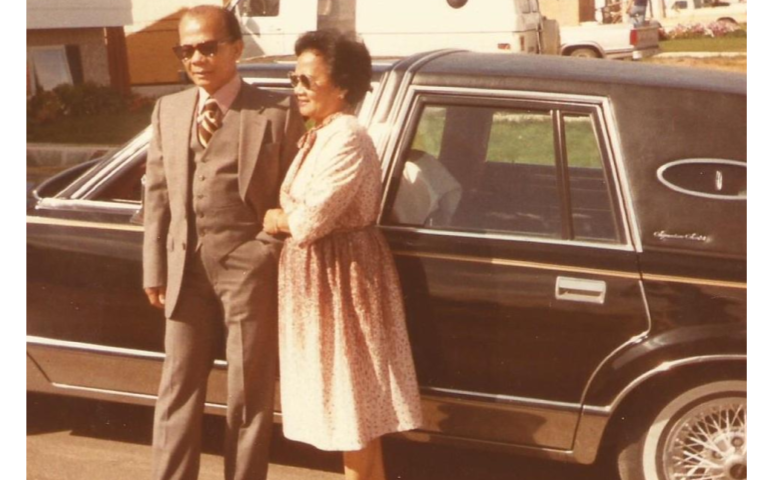 Rudy and Adelina de la Cruz were teachers in the Mountain Province in the Philippines. Rudy sent an application to teach in Canada, and immediately received a response asking him to "fly right away". This was in 1967, when their monthly salary was PHP140/month, the offer of $500/month in Canada felt like winning the lottery.
Upon his arrival in Canada, when asked about his family and he answered "my wife is still in the Philippines teaching", he was told to tell Adelina to come immediately as there is a job waiting for her. She then arrived two months later in July 1967. The application process to Canada back then was easier. Adelina had her and Rudy's travel expenses covered and their lodgings provided by their employer, Filipinos were able to come to Canada, continue their profession, or perform jobs that they were educated for. This is in stark contrast to succeeding waves of migration of Filipinos to Canada.
For those who were travelling outside the Philippines for the first time, it was an enormous culture shock, and high on the list was the climate adjustment. "Canada was a surprise on different levels: it was very quiet, where one could sleep with open doors." Edmonton was a bit underwhelming, as there were hardly any buildings. The tallest building then was the Hotel Macdonald, followed by the Hudson's Bay, a 3-storey building. The only other hotel was the Prince George Hotel and in addition to Hudson's Bay, the other department stores were Eaton's and Woodward's. What stood out was how friendly and welcoming the people were.
John said, "When you bump into someone, they immediately say I'm sorry. Whereas in the Philippines, when you bump into someone, you immediately check your pockets, in case that person was a "pickpocket"!"
Neri recalled that "there were parents of students who lived in farms and provided us first hand experience of farm life, and treated us with Canadian dinner of farm-raised roast beef. It was interesting to observe how they do their dishes, the table arrangements and presentations in their homes."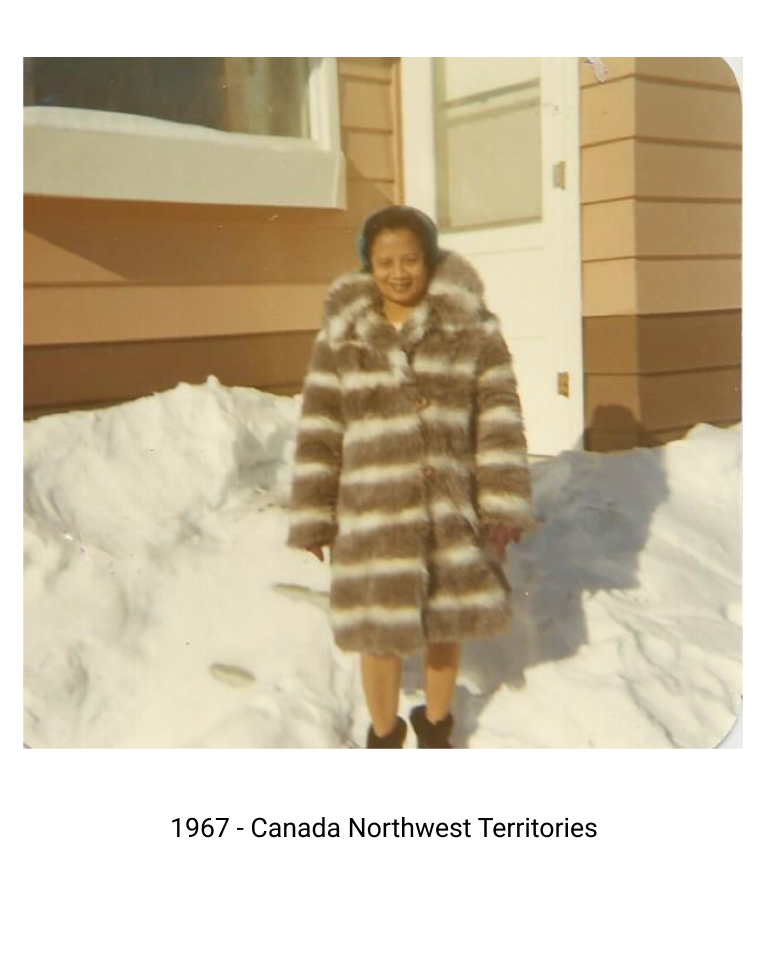 When Josephine arrived in the late fall, wearing a mini-skirt and 3-inch heels with no coat, she was unaware that it would be snowing. Not having any place to stay, she was brought to the Hotel Macdonald by a cab driver from the airport. Shivering from the cold, she started rifling through a rack of coats in the lobby, until she was politely informed by the hotel bellhop that those were not for sale!
Amanda thought she was going to die when she had to walk through piles of snow that were higher than her while Bert had to learn how to drive on icy roads going to the oil wells, wearing three layers.
Adelina, on seeing snow for the first time, thought of halo-halo, the popular Filipino shaved ice dessert. She scooped snow into a glass, added cream of corn, milk and sugar and ate it!
A few hours later, she was brought to the hospital due to an inflammation in her throat. Wanting to verify the doctor's remark that the snow was dirty, she put snow in a bucket and when it melted, the water was black!
Food is one way to deal with homesickness; however, sourcing ingredients for Filipino dishes proved to be a challenge in the early days and people had to get creative. Filipinos eat rice for every meal of the day and yet the closest thing to Filipino rice can be found in a few Chinese stores.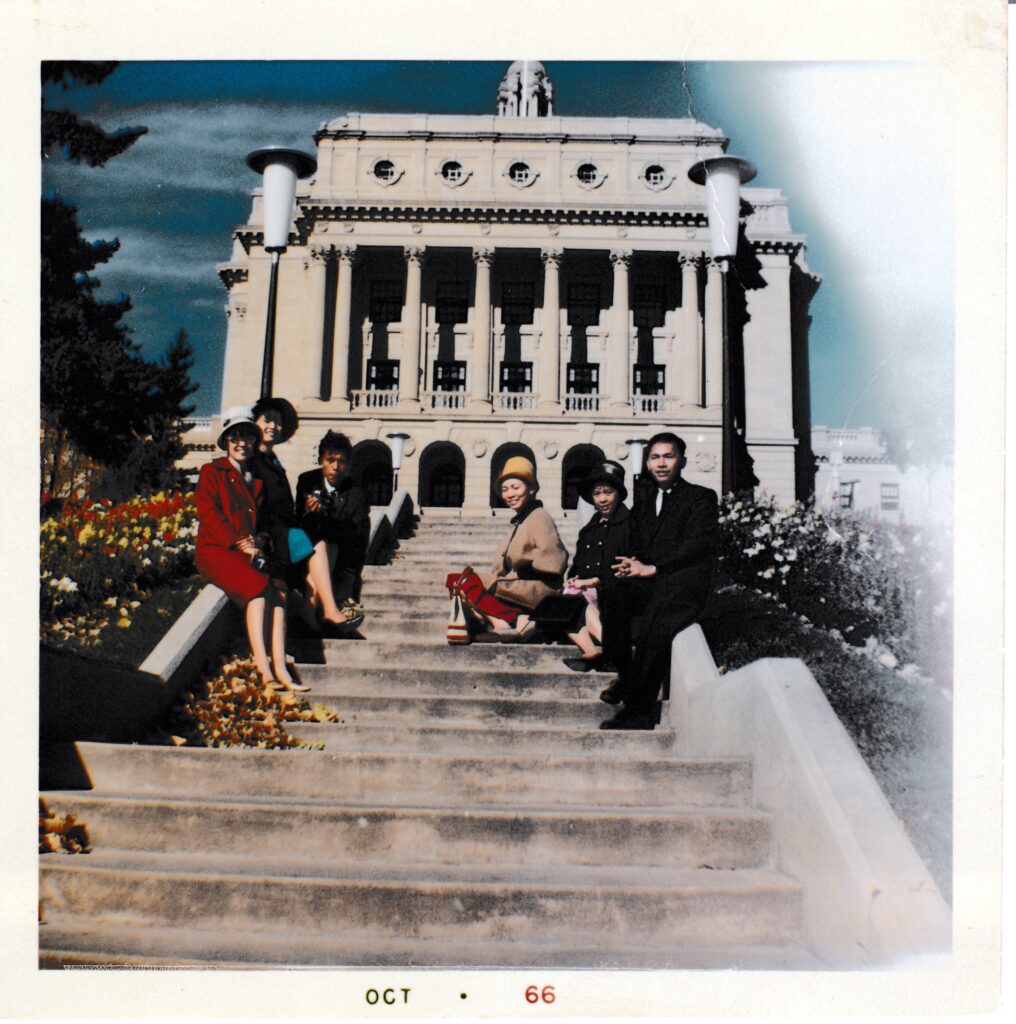 When Bert was living in a basement, with a landlady who was strict on when and what to cook in the kitchen, he would cook rice in a small kettle on the furnace. Neri would crave Pinakbet, a Filipino dish of mixed vegetables cooked with fish or shrimp paste, which included ampalaya (bitter melon). There were no fresh ampalaya and the canned ones were soft and easily crushed. When they learned that there was a greenhouse in Saskatoon that grew ampalaya, they would drive all the way to Saskatoon on weekends to get the much coveted ampalaya. They did this for a few years, until it finally became available in a few Chinese stores, and then so with opening of a Filipino store in the late 70s in Calgary.
It was a difficult and lonely time and the qualities of resilience and perseverance were necessary to carry on. Amanda was assigned to a hospital in Myrnam, where 99% of the community were Ukrainian and many did not speak English. To perform her work effectively, she learned Ukrainian and sang in a Ukrainian choir. The teachers proved to be some of the best teachers of their respective schools, overcoming initial doubts about their abilities by parents in the community.
In Neri's case, having come from a teaching experience in Minnesota, she was taken aback when a mother talked to the principal to express doubts on her ability and inquire about her background, based on her skin colour. "The principal talked to me, because he wanted to bring the mother to my class and together, they will observe the students under my leadership. After the class, the principal, the parent and I had a conversation where the principal openly said to the mother, 'I really do not see anything questionable from what I've seen and with Mrs. Cachero's teaching ability.'"
Adelina was constantly asked, "Why are you here?" To which she would reply, "You know why? You needed us. You didn't have teachers, you didn't have nurses here."
Community Building
Tina, John, Neri and Bert were amongst the founders of the Philippine Bayanihan Association of Alberta (PBAA) established in 1966, one of the oldest existing Filipino organizations in Canada. "We had our first banquet and rented a community hall. Everyone was invited – Filipinos and non-Filipinos. We did everything. Bert was the President, John the Treasurer, and Tina was the Secretary. We decorated and cooked food with "lechon" (roasted whole pig) as the main dish. We were the organizers, the singers and dancers too!" After that, they were constantly invited to perform Philippine songs and dances, especially for university activities.
Josephine, noticing the number of international students, started an English as a Second Language program which was later adapted by the University of Alberta. Through the years, she became a prominent community leader, establishing the Changing Together: A Centre for Immigrant Women, the International and Heritage Languages Association, and the Filipino-Canadian Saranay Association. Josephine is an educator, advocate, volunteer, and humanitarian. She has received numerous recognition for her work, some of which are: JOY Award, for outstanding effort to end human trafficking of women and girls (2019); Medal of Excellence, Senate of Canada, for outstanding leadership in the development of the Filipino community in Edmonton (2019); Queen Elizabeth II Diamond Jubilee Award (2013); University of Alberta's Alumni Honour Award (2010); Citation of Citizenship Award, Government of Canada (2008); Governor General's Award for the Person's Case – The Famous 5 (2004).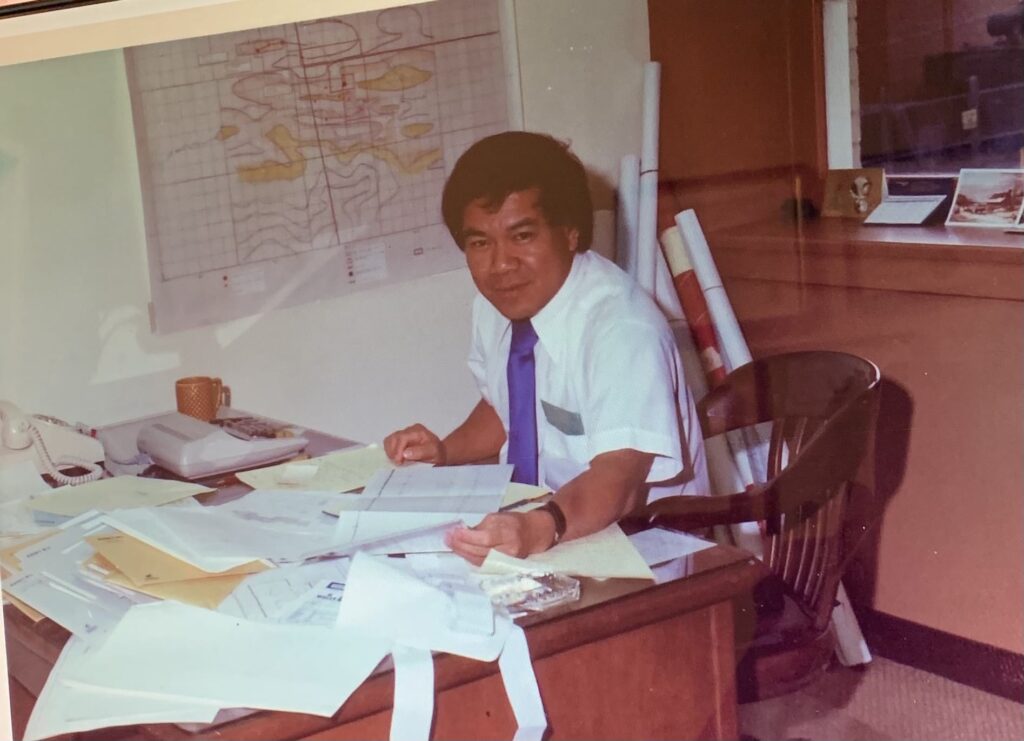 Bert Cachero was the first Filipino engineer in Alberta, contributed to the oil industry with his knowledge of drilling, technology of finding reserves and the economics of producing wells. He has held executive positions with Husky Oil, Dome Petroleum, Amoco, and Beau Canada. His expertise includes the Valuation of Oil and gas assets, in-depth knowledge of Canada's petroleum reserves, and secondary and tertiary recovery methodologies on heavy oil and oilsands. He was in charge of drilling exploration wells, where significant oilsands reserves were discovered, and actually holds titles for some oil wells for his work and was a Certified Life Member of the Association of Professional Engineers and Geoscientists of Alberta (APEGA).
The number of Filipino migrants significantly increased in the 1980s due to lifting of foreign travel restrictions decreed by the Marcos government, the Canada family reunification policy, and the political and economic instability caused by martial law in the Philippines. Later on, with the Philippine government adapting a policy promoting the exportation of Filipino workers, the Live-In Caregiver Program and the Temporary Foreign Workers program of Canada were an attraction. English, an official language of the Philippines, made Filipinos well equipped to work and live in North America.
After more than 50 years in Canada, the early Filipino pioneers consider their move to Canada to be one of the best decisions of their lives. They are regarded by the next generations for their bravery to move despite the absence of a developed migrant network. And yet, it is precisely because of this lack that they made sure succeeding Filipino immigrants had a support system.
Filipinos are very family oriented, and tend to treat a fellow countryman as family, especially in a foreign country. Adelina said that her home was like the United Nations, where she would offer to feed and sometimes house those who were looking for kinship. They recognize the difference in the difficulties they faced during their time compared with those experienced by some Filipinos in the succeeding waves of migration – i.e. de-professionalization, labour disparity, exploitation, and financial difficulty. It is exactly these efforts by the Filipino pioneers that have paved the way for other Filipino immigrants, providing them the cultural and social capital essential to thrive in Canada.
Ida Beltran-Lucila. (June, 2022).
---
Paglalayag: the Philippines to Canada Journey Documentary by the Philippine Arts Council.