Soni Dasmohapatra shares her collaboration with Sissy Thiessen Kootenayoo and Felipe Canavera.
---
— amiskwaciywâskahikan is "Beaver Hills House"
It is said that when the first Indigenous people arrived on this piece of land in the central zone of what we now call "Alberta," this area was already inhabited by a large population who worked the land, travelled by river, moved on the earth respectfully and raised families here- the beaver. Who granted access to this territory and allowed human beings to cohabitate with them. So in honouring original occupancy and trying to maintain the spirit of sharing the land in a good way, the First Peoples named this land after its original inhabitants and stewards.
Honouring and revering first caretakers who used the land in a way that left enough for generations to come is something that has been lost, gone with the daily life we know today as competitive insanity, capitalism, "melting pot" style immigration, assimilation, patriarchy & colonization. What has been forgotten is that there were and are animals, people, teachings, ceremonies, dances and movement that have been here for centuries. To honour, respect and pray for the land on which we currently reside and to ensure the health and wellness of its inhabitants. That need to be remembered and practised. Without them- what kind of city are we living in?
Prelude by Sissy Thiessen Kootenayoo
---
South Asians in Edmonton
Statistics Canada census data documents the population for the City of Edmonton, within Treaty 6 area, for amiskwaciywâskahikan (in nehiyawewin or the Cree language). From 1986, 1991, 1996, 2001, 2006, 2011, and 2016, the South Asians Visible/Ethnic Origin identification for residents in Edmonton went from a little over 13,000 to over 86,000 people.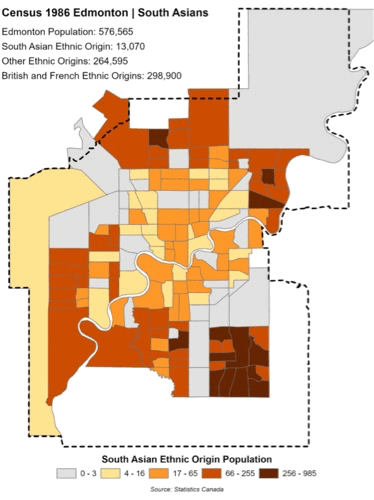 Maps created by Felipe Canavera.
It was only in 2016 that I came to learn the story of one of the first South Asian settlers in Edmonton: Sohan Singh Bhullar, who arrived in Edmonton in 1907. It was also in 2016 that my dance teacher, Usha Gupta, a well-loved community member and cultural ambassador in Edmonton, was inducted into the Edmonton Arts & Culture Hall of Fame.
These are moments that led me to ask: Why did it take me forty years to learn of this history in Edmonton?
---
Sights, Sounds, Scents, and Tastes
My dad arrived in Edmonton in the late 1960s, to complete his master's degree in engineering at the University of Alberta. At the time, there was was a small population of South Asians (by the Federal Government Definition) settled in Edmonton. Being born in the 1970s and growing up as a child in the 1980s, I was part of a minority community. Almost everything that I experienced in public life as part of the city was from a Eurocentric perspective. It was in my personal life that I was able to explore my Indian heritage.
At home we practiced traditions and rituals, the stories told of India are imprinted in my mind, body and soul. I had the opportunity to go with my parents to visit family in India during this time. There were few Indian stores in Edmonton at that time so we would come back with suitcases of spices, music and saris. I remembered when the small Odia community (from the state of Odisha) would host potlucks and have amazing Odia food whilst sharing stories of goddesses Shakti, Savitri and Sarasvati. The Edmonton Bengali Association (from the state of West Bengal) was also establishing itself. Every October during Durga Pooja/ Navratri local community halls such as Pleasantview, or family homes would host the tastes, sounds, and spirituality of goddess traditions.
When Image India was established in the 80s, we finally had a local community TV show that highlighted the contributions of South Asians in Edmonton at the time! CKER's "Sounds of India" radio show played Bollywood music and many diverse South Asian language and instrumental music programs. In the 90s, a strip on 34th Avenue began having clusters of indian grocery stores and restaurants, forming what is known as YEG's "Little India". We were starting to carve out our communities' economic and cultural space in the city.
Dance and Identity
"Katha kahai so Kathak" … a story that is told through the classical North Indian dance form of Kathak.
There are many different dance forms that originate from the South Asian subcontinent. In India there are eight major forms of classical dance that are over one thousand years old and have been practiced and shared globally. There are also many folk dances that are practiced in different states and have been shared in Canada. One of the most popular well-known folk dances, "Bhangra," originates in the state of Punjab and was traditionally performed during the time of the harvest, and at celebrations such as weddings, the birth of babies, and festivals.
In 1988, my life and the dance scene in Edmonton changed forever when I went to learn Kathak, a classical Indian dance form taught by Usha Gupta. It was a warm spring day, I remember wearing jeans and a white loose top. Sapna Chawla and I were her first students. Sapna and I look back at our photos and remembered these first moments. As a youth, I was seeking some form of creative expression- a way to learn about myself, communities, and to deal with navigating a visible minority Canadian identity. Dance was a way to connect.
Soni Dasmohapatra (left) and Sapna Chawla (right) at a local dance performance event for "Tarana" in Kathak style. 1990s Edmonton. Photo supplied by author.
Soni Dasmohapatra in Kathak dance pose. 1990 Edmonton. Photo supplied by author.
My formative years spent in Usha Kala Niketan Studios were instrumental in building my artistic foundation, because I was in a safe space. Dancing, learning, performing meant being part of a community of artists, peers, and friends that became family. Usha aunty was always supportive and encouraging of my ideas. She was a confidant, friend, and caregiver. For Edmonton's dance community, Usha Gupta is a brave innovative disruptor and role model for the city's artistic community to witness.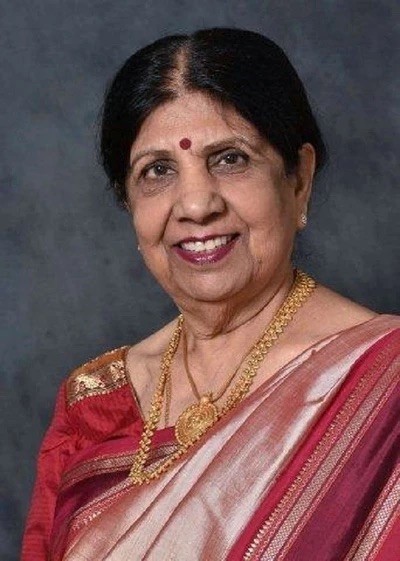 Usha aunty was sitting on the floor, playing the tabla, and reciting the bols "ta, te, te tat". We danced to live music to learn the rhythm, beats and lyrics.
Those early lessons still imprinted in my memory.
One of her most valuable lessons I have embodied is to gracefully dominate space and express one's authentic self. At a time in Edmonton when there were few opportunities for a dance form like "Kathak" to be seen in the mainstream arts community she was, and still is, a trailblazer. She did not limit her students' performances to typical South Asian community events. She pushed her students and created opportunities for them to perform at arts venues such as Edmonton Fringe Festival, Edmonton Opera, Heritage Days, and Dance Power. Her productions won our dance team silver and gold at the Alberta Dance Festival.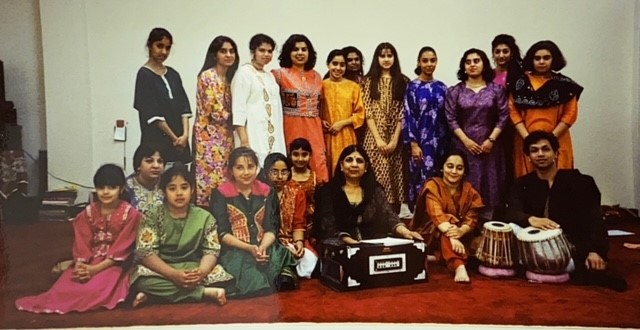 For the first time ever, South Asian dance began to be included in Alberta's mainstream dance community in the late 1990s. I still remember as if it was yesterday. Finally, a group of Edmonton brown girls had won and earned accolades as professional dancers!
We were recognized as professional dancers, not some ethnic side show addition. This was a profound moment of dignity for me. Growing up in Edmonton, from facing so much gender discrimination, racism, and messages of not belonging, I finally was seen as an artist.
As we continue forward together, I am learning about what it means to be a Treaty person, to better connect my diasporic and Canadian identity. Dance can be a safe space, to be universally unique yet similar. There are elements found across various cultures around the world. Similarities I've noticed include bells or cones sewn on some Indigenous dancers' dress regalia, and how Kathak dancers wear bells or ghungroos on the ankles. Dance continues to be a means for cultural exchange, a way for spiritual and healing practices that allows us to share the power of oral and visual storytelling.
Soni Dasmohapatra (2022)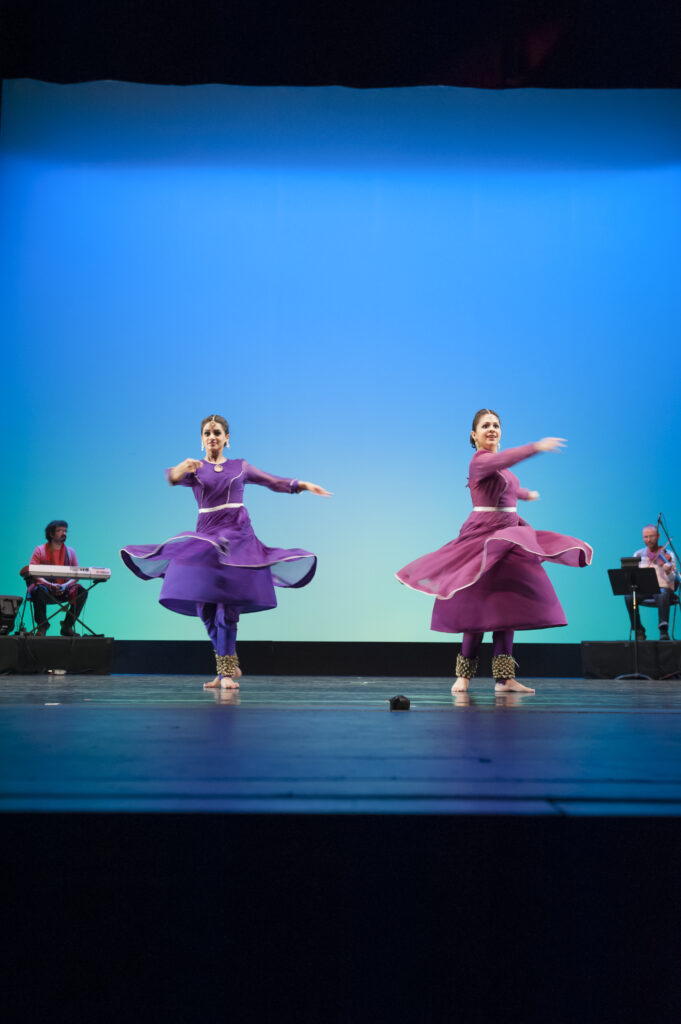 —
Related Links
https://globalnews.ca/event/4191847/brian-webb-dance-company-presents-usha-gupta-dance-entourage-khoj/
https://www.youraga.ca/whats-happening/calendar/bharatanatyam-performance-1
https://webdocs.edmonton.ca/news_archives/news-archive-805266-bd01.pdf
Sissy Thiessen Kootenayoo — a Treaty 6 Nakota Sioux, Cree & German Indigenous cultural educator, Powwow dancer, instructor, crafter, spoken word artist, and writer whose family is from Alexis Nakota Sioux Nation and Steinbach, Manitoba.