Have you ever heard of the China Dolls? Not the glazed porcelain dolls or the 2015 novel written by Chinese-American Lisa See, nor the China Dolls of the legendary Marco Polo dinner theatre restaurant in Vancouver's Chinatown from 1964 to 1970s. The Edmonton China Dolls is a little-known local story of Chinatown and Chinese young people in the late 1960s.
The Edmonton China Dolls was a group of young Asian girls who represented the Chinese community as cultural ambassadors. Mr. Ron Con, who came from Vancouver, was instrumental in creating the group with the Chinese Benevolent Association of Edmonton (CBA) as a major sponsor in 1967. Its purpose was to showcase Chinese heritage and culture. "Back in the late '60s the name China Dolls did not have any negative connotation whatsoever; we were Chinese and we were girls, so [we] were named the Edmonton China Dolls. I don't think we could have come up with a better name at the time," remarks previous member, Yummoi Gee. She does acknowledge that the name would not be politically correct today.
In 1967, Miss Betty Lee, who was teaching Chinese in the basement of the Edmonton Chinese United Church to young immigrant and Canadian-born children of Chinese ancestry, told the class that the CBA was looking for Chinese girls to represent the Chinese community at various functions, which piqued twelve-year-old Yummoi's interest. Yummoi talked to friends who joined and learned that there would be nice outfits made for them and they would get to participate in football games, parades and other events. Living in Boyle Street community where Edmonton's Chinatown was concentrated and where the Chinese Benevolent Association was located, having social and cultural activities for Chinese youth to do "was a big deal," says Yummoi. "Growing up in the inner city, there weren't too many opportunities like that. … When we heard of that opportunity, we were like, yeah, sign me up. I think that's how it happened."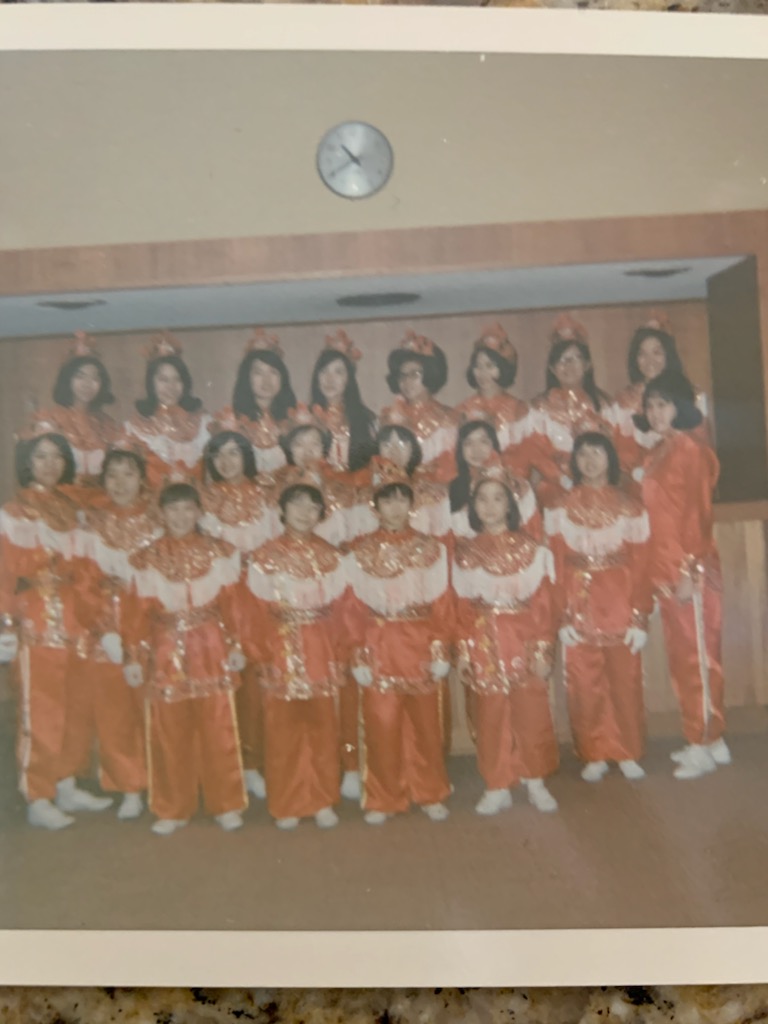 Recruitment for the all-girl group was through word of mouth, the Chinese school, and the Chinese Benevolent Association. One recruit, Lily Seto, was ten years old and a student at Alex Taylor Elementary School. She also took Chinese classes after school with her older sister and brother. Her sister recalled that they joined because Miss Lee "put out the word and [was] trying to get some girls to join". Since Lily was tagging along with her sister, the two signed up and that's how they got in. Lily's father was big on his children keeping their Chinese language and heritage. He saw the China Dolls troupe as a good way for his daughters to maintain their culture and therefore allowed them to join. For Lily, she expanded her social horizon, "made more friends and had a lot of fun." Yummoi concurs, "Being part of this China Dolls group allowed me to see more of the city and to participate in community events. It was a lot of fun because I have a lot of my close friends who were part of the team."
Twenty girls, including sisters, ranging in ages from ten to eighteen became the Edmonton China Dolls. They were split into a junior squad and a senior squad. To outfit themselves, the girls canvassed Chinese businesses for donations towards two set of costumes for each member. A senior girl would pair up with a junior girl and go to their assigned section of the city to solicit donations from Chinese restaurants, grocery stores and merchants. Yummoi remembers some businesses were pretty keen to donate and some were not so keen but still gave $5.
An order was dispatched to Hong Kong to make the costumes. She couldn't remember who designed the two costumes, but the girls were delighted with them. The fit was another matter. They were one-size-fits-all and for the younger junior girls, they were quite loose so they wore street clothes underneath or made other adjustments.
Photos show a traditional Chinese outfit consisting of a red shoulder cape with white fringe worn over a belted red tunic and red pants. The costume included a headdress and a beautifully decorated lantern on a bamboo stick. Sequins and beadwork adorned the whole costume and headdress, with white gloves, socks and sneakers completing the outfit.
The second outfit was a Taiwan mountain ethnic design for the popular folksong Tall Green Mountain 高山青. It had a black and white ribbon trimmed red bolero and plain red shirt combo that was worn over a short-sleeve white T-shirt, a short red skirt, and bells adorning the wrists and ankles.
The girls had regular practice drills and formations at the Airway Park by the former Municipal Airport led by Ron Con. Through his connections, Ron booked several appearances for the Edmonton China Dolls. Yummoi recollects being in the Edmonton Exhibition's Klondike Days Parade, the Edmonton Elks' original football team's half time shows, the city's 1967 Canada Centennial Celebration at Northern Alberta Jubilee Auditorium, St. Albert Rainmaker Rodeo Parade, and even venturing down to Calgary to perform. Subsequent years saw similar performance schedules with some variety in the events. Their performances in parades resembled marching routines, including choreographed formations while carrying lanterns. In addition, the senior girls performed the ribbon dance movements by whirling long strips of silk through the air. Both Yummoi and Lily traded memories of performing and posing for photos in the Jubilee Auditorium but couldn't remember who taught them the folk dance.
"We were at these events more like showcasing our Chinese culture to a non-Chinese audience. We were supposed to be ambassadors of the Chinese community because at that time multiculturalism and inclusiveness wasn't that prevalent yet. It took a while for the different ethnic groups, especially the white community to focus in, like wow there's so much diversity in the city.… You have to put it in context because at that time we were beginning to get known as the Chinese community. Before that we didn't exactly open ourselves up to the bigger Edmonton community,"explains Yummoi.
The Edmonton China Dolls only performed in the summer time. Older girls who could drive would take the rest of the team around to practices and events in Edmonton and once to Calgary. Yummoi fondly remembers being driven by one of the senior girls to a dinner at the Seven Seas Restaurant on Jasper Avenue and 102 Street after a football game show in the Clarke Stadium at the invitation of a Chinese businessman.
After two or three years of managing the all-girls troupe, Ron Con moved back to Vancouver and the Edmonton China Dolls disbanded soon after his departure. Although the Edmonton China Dolls had been gone for decades, Yummoi can still name nearly all of the members.
As the Chinese population rose rapidly after 1967, particularly in the '70s and '80s, new organizations began to emerged that offered a lot more social and cultural activities for young people of Chinese descent, such as martial arts, traditional Chinese lion dancing and cultural dancing, Chinese instruments, and other performing art forms as well as sports like table tennis, badminton, volleyball, basketball and dragon boat racing.
©Lan Chan-Marples 2021
References
Goodwill Ambassadors: Edmonton China Dolls, Asian Heritage Month, Chinese Benevolent Association of Edmonton, Edmonton, Alberta, May 23, 2021 (video)
Interview, Yummoi Gee, August 19, 2021, Edmonton, Alberta.
Edmonton Chinatown 100 (1911-2011): Past, Present and Future, Edmonton Chinatown Centennial Publication, 2013.
From China to Canada: A History of the Chinese Communities in Canada, Edgar Wickberg, ed. Toronto: McClelland and Stewart, 1982.
Mooncakes in Gold Mountain: From China to The Canadian Plains, J. Brian Dawson, Calgary: Detselig Enterprises Ltd., 1991.