During the 1960s, school jurisdictions in Alberta advertised for teachers in leading newspapers and at teacher training colleges in the English-speaking Caribbean. The news spread throughout the islands and families and individuals quickly exchanged the tropical heat for Alberta's temperate zone. They came from beautiful Guyana, a land rich in minerals; from the twin islands of Trinidad and Tobago, where Carnival reigns supreme, and from Jamaica, the premiere Caribbean destination for tourism.
When they arrived, most teachers worked in rural schools among First Nations and in northern communities. They were principals, superintendents, industrial arts/ home economic specialists, and classroom teachers. After years of devoted service, some teachers relocated to Edmonton, connected with their cohorts, and established churches, hair salons, community events, and other organizations. The contributions of Black teachers from the Caribbean extended beyond the classroom and into Edmonton's cultural mosaic.
Bernadette N. Swan came to Alberta with dreams as big as the mighty Amazon river in her home country of Guyana. In Edmonton, she realized her dreams by wearing many hats. She sat on Alberta's Advisory Council on Women's Issues and the Alberta Status of Women Action Committee. She was also chair of the Native, Immigrant and Visible Minority Women's Committee and sat on the Black Women's Association of Alberta.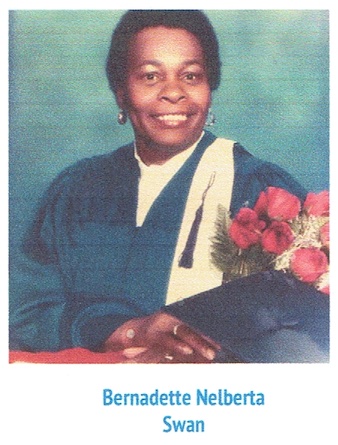 "I have always had a special place in my heart for senior citizens. Over time, I identified needs of Black seniors. This led me to establish the Social Care Foundation which operated out of Bill Reeves YMCA in Edmonton. Many seniors are experiencing mental, physical, or other challenges. Our Foundation hopes to help meet the needs of low-income seniors who need affordable accommodation, nutrition, and social care."
On June 18, 2013, Bernadette was inducted into the City of Edmonton Hall of Fame. Members of the In Harmony and Echo Tones choirs were in attendance and were tempted to burst out singing a Jamaican folk song, "Mek we dance an sing, jump and play ring ding, eena City Hall."
Earl Ellis hails from Trinidad and Tobago and is a music teacher and master of a steel orchestra. He was a music teacher at Glen Allan school in Sherwood Park and taught the dynamics of the steel orchestra to both children and adults. This became the catalyst for the Pepper Seed Steel Orchestra where adults and children played together.
At concerts, the choirs pictured above mesmerized audiences with folk songs, Spirituals, Gospel, and popular and contemporary music, accompanied by the invigorating steel orchestra. The choirs entertained at care centers, community groups, and at ethnic functions. Perhaps you attended Christmas carolling at the Alberta Legislature, heard the choirs, listened to the surreal sounds from the steel orchestra inviting you to "Celebrate the Season." The choirs, now retired, sing annually at Remembrance Day services for Kiwanis Seniors' residents.
At about the same time as the choirs were active, Sharlene Thomas formed Movements: Afro-Caribbean Dance Ensemble. The creation of Movements commemorated the release of South African leader, Nelson Mandela, from imprisonment. Dancers in vibrant outfits gave stunning performances.
Disc jockeys like Merritone, Disco Shack, and Sound Explosion, frequently played at Eastwood and Hazeldean community centers. On weekends, people danced the nights away to a steady mix of island beats (reggae, calypso, soca). Music was perhaps the greatest unifying force between Blacks and the dominant population in Edmonton.
Pastor Hopston Samuels "the man with the guitar," came from Jamaica in 1969. Since that time, he has been on pastoral and volunteer missions in Edmonton. He was pastor of Shiloh Baptist Church, and church planter of One Accord Bible Fellowship. Pastor Samuels enjoys teaching Bible class and singing at Norwood Extended Care. This busy pastor also volunteers at Glenrose Rehabilitation Hospital and is a regular visitor to care homes. Many consider him a griot in the Black community.
Another area where Black Caribbean impact and excellence has been significant is in medicine. Several key figures from these immigration waves played important roles in public health.
Brian C. Alleyne, FILMT, BSc, MSc is a scientist with outstanding credentials from the Medical Laboratory Technology and Medical Research (Trinidad and Tobago), the United Kingdom, and the Institute of Clinical Research in Montreal. Brian joined the staff at Alberta Occupational Health and Safety in 1987, where Brian monitored workers' health as an epidemiologist. He was also an adjunct professor in the Faculty of Medicine at the University of Alberta where he taught Epidemiology until his retirement in 1996. Brian volunteers with Canadian Progress Club Children's Charities, CANstruction Edmonton, and the Special Olympics. While at the University, Brian's wife, Antoinette, was also advancing her studies on the same campus.
Antoinette Alleyne BSc, MHSA graduated from the University of Alberta's School of Public Health in 1987, Health Service Administration in 1988, and is a lifelong member of the Canadian College of Health Leaders (1989 – present). Antoinette was an advisor to the Premier's Commission on Health Care for Albertans in 1988. In 1989, she began a practice in Health Services and Administration – Policy and Planning.
She served as an adjunct professor at the U of A in the 1980s, coordinating Occupational Therapy for student internships at the Alberta Hospital Foundation in the Faculty of Rehabilitation Medicine. Later, she worked as a sessional lecturer in the School of Public Health. Antoinette, now retired, is a dedicated volunteer.
Anne Walters, BSc was the first licensed Black female pharmacist in Alberta. An immigrant from Guyana, she graduated from the University of Alberta in 1972. In 1977, Anne and her husband Maurice (also a teacher from Guyana) were the first Blacks in Edmonton to own and operate the pharmacy, "Plaza Drugs."
Through the Pharmacy department at the University of Alberta, Anne monitors foreign students and assesses final year students for their OSCE examinations. Anne is currently retired but works as a substitute pharmacist in the city.
Since recruitment from the Caribbean at this time was for teachers, the field of education in Edmonton has been greatly impacted by Black teachers and administrators. Two such figures include Hazel Ermine Rogers and Dr. Gloria V. Burke.
"When I left Worsley, (Fairview School Division), I settled in Leduc County and worked at Corinthia Park Elementary School. At the time the Conservative Government, led by Peter Lougheed, was in power and the Education Minister was Dave King," said Hazel, relaying her story. "One of Dave King's missions was to revise the Social Studies curriculum to make it more inclusive of Canadian communities. I volunteered as part of the task force, to prepare and pilot the materials. The new materials and resources (K – 12), were placed in boxes (Kits), titled – Kanata, 'Canadian Communities, Same or Different, and distributed to Alberta schools."
The Kanata Kit gave thematic recognition to Hazel's family. Elementary schools in Alberta could identify and learn about a Black Family as part of Canadian communities.
Hazel's deep involvement in Leduc School District was recognized by the Ministry of Education and, in 1990, she was awarded the Excellence in Teaching Award.
Dr. Gloria V. Burke, Ph.D., Ed. Admin, an intellectual powerhouse, English Language Specialist, and Physical Education expert in movement, worked at Archbishop O'Leary Catholic School. As part of her extra-curricular activities, she joined the coaching squad for the school's cheerleaders. Dr. Burke also volunteered in the community. She taught ESL to adults and was a netball coach and umpire. She was also the Chief Accreditation Officer for the Commonwealth Games hosted by Edmonton in 1978.
Dr. Burke came from Jamaica as a well-rounded professional, trained in pedagogy at Jamaica's St. Josephs College, Physical Education at Chelsea College in England, and Education Administration at the University of Alberta. Dr. Burke was proud to do her doctoral internship in the office of Nancy Betkowski, Minister of Education to then-Premier Don Getty. She returned to Jamaica in the mid-1980s.
Around the same time, the National Black Coalition of Canada was forming a chapter in the city.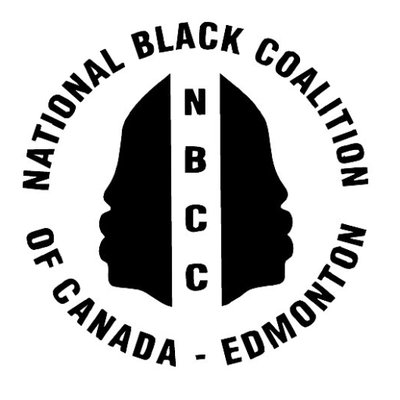 National Black Coalition of Canada – Edmonton (NBCC)
Incorporated in 1986, the NBCC – Edmonton chapter is an offshoot of the coalition founded in Toronto in 1969 with Dr. Wilson Head as president. The coalition in Toronto was formed in support of Black students at Sir George William University (now Concordia) who rioted on campus due to inequity in the grading system. It was the hope that NBCC would become the united voice for Blacks across Canada.
NBCC – Edmonton sponsors Black History Month activities throughout February. The activities culminate with the Awards of Excellence & Banquet when People of Colour are recognized for their achievements. NBCC – Edmonton also participates in Alberta Culture Days, conducts health & wellness workshops, provides in-school programming, facilitates a youth sewing program, and operates the "Bridging the Gap" program that brings together youths and seniors.
Dr. Mertella Montague, a former teacher at Keyano College, and head of the Psychology department at Yellowhead Tribal College, was NBCC's most recent president. In partnership with Alberta Treasury Board, Dr. Montague coordinated the Entrepreneurship program which enables Black youths to achieve business success.
Youth who opted for the hair industry business might have elected to do their apprenticeship in salons with owners from Trinidad and Tobago, such as Hair by U' Dell (owned and operated by the now-retired Delores Barker), Ebony and Ivory (owned and operated by Shirley Turner, who is also retired) or Jamaican-owned, King's Barber salon.
King's Barber Salon has been owned by Jamaican Ransford Perry since 1982. Perry has taught the trade to many students. Over time, he built up a steady clientele. Among them are members of the Edmonton Football team, the Edmonton Oilers, and other visiting athletes. Perry was featured by the CBC's Min Dhariwal for his long-standing contribution to Edmonton.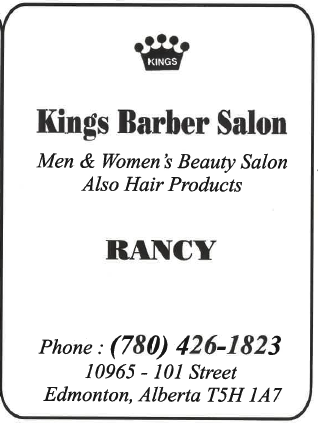 Another group focused on youth and community improvement was Pride of Alberta Lodge No. 1, part of Prince Hall Fraternity and a world-wide institution affiliated with the Edmonton Grotto Club. The purpose of the Lodge – to "make good men better" – focuses on the well-being of men by teaching them to look beyond themselves, to strengthen their relationships in the family, and to recognize and respond to needs in the community. The Lodge donates gifts to the Stollery Children's Hospital and the Cancer Society and provides scholarships to post-secondary students.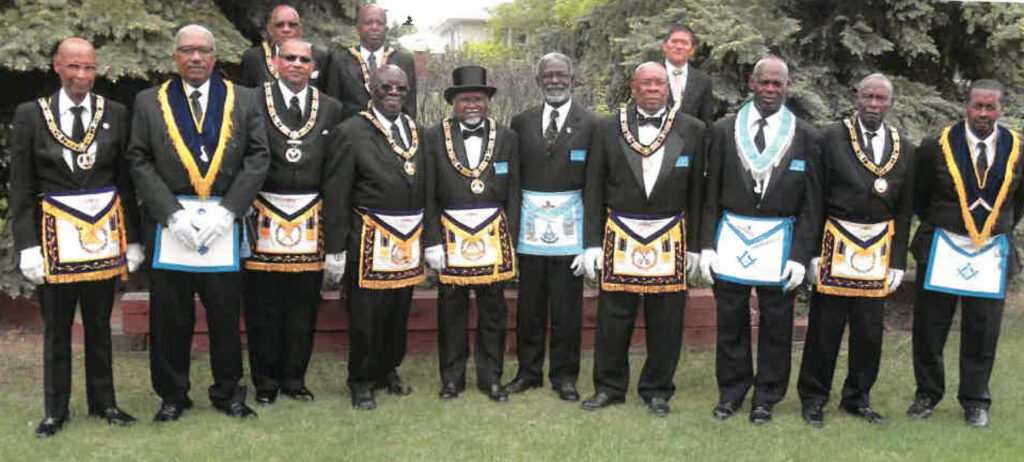 Former teacher Walter Subadan (front row, 5th from left) is the Most Worshipful Grand Master of the Lodge. He supervises the lodge and instructs new members on how to run meetings within the guidelines of the fraternity. While the men attended lodge meetings, their wives played netball and bonded over sports. Women like Etty Cameron would meet like-minded players from the Caribbean who formed the Carican Netball cluband held practices at J. H. Picard High School.
New netball clubs throughout Edmonton signalled the need for a provincial regulatory body and the Alberta Netball Association (ANA) was formed in affiliation with the Canadian Amateur Netball Association (CANA) in Toronto. ANA generated inter-club and provincial tournaments while CANA ran national competitions, and selected players from Edmonton, Calgary, Lacombe, and Red Deer made up Alberta's team.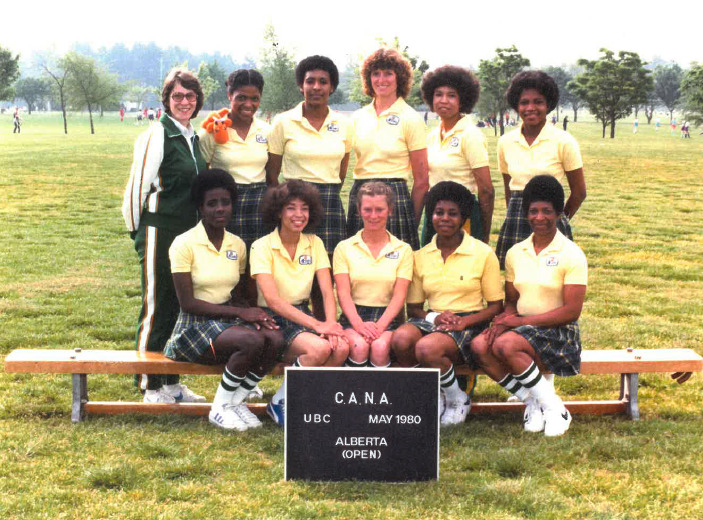 Alberta Sports Council, Alberta Casino, and STEP provided funding to assist in the teaching and promotion of netball. Tournaments were held at Kinsman Fieldhouse and spectators were fascinated. The goal shooters and Goal Assist shot the ball with incredible accuracy into a netted pole with no backboard attached.
Vivacious teachers from the Caribbean created an impactful presence in Edmonton through their contributions in academia, all levels of schooling, and the community at large. Teachers took on leadership roles and successfully united in the community. Black teachers and their cohorts are proud that the succeeding generations are continuing their contributions to the city as best befit the times.
Etty Shaw-Cameron © 2021