A Centennial Project
Coronation Park, in west central Edmonton, is a 35-hectare park named to honour Queen Elizabeth II's 1953 coronation. Although small compared to other City of Edmonton parks, it has many historically significant sites. One of those is Peter Hemingway Fitness and Leisure Centre, which many older Edmontonians still think of and refer to by its original name: Coronation Pool.
In 1967, to commemorate Canada's centennial, local architect Peter Hemingway was chosen to design a new Olympic-sized swimming pool that would be built in the park, north of 111 avenue and west of 135 street. Construction took place between 1968 and 1970 and cost $1.2 million.
On July 3, 1970, then-Mayor Ivor Dent officially opened the pool. According to the recollections of Lawrence Herzog, pool admission in that first summer was 50 cents for adults and 15 cents for children under 14.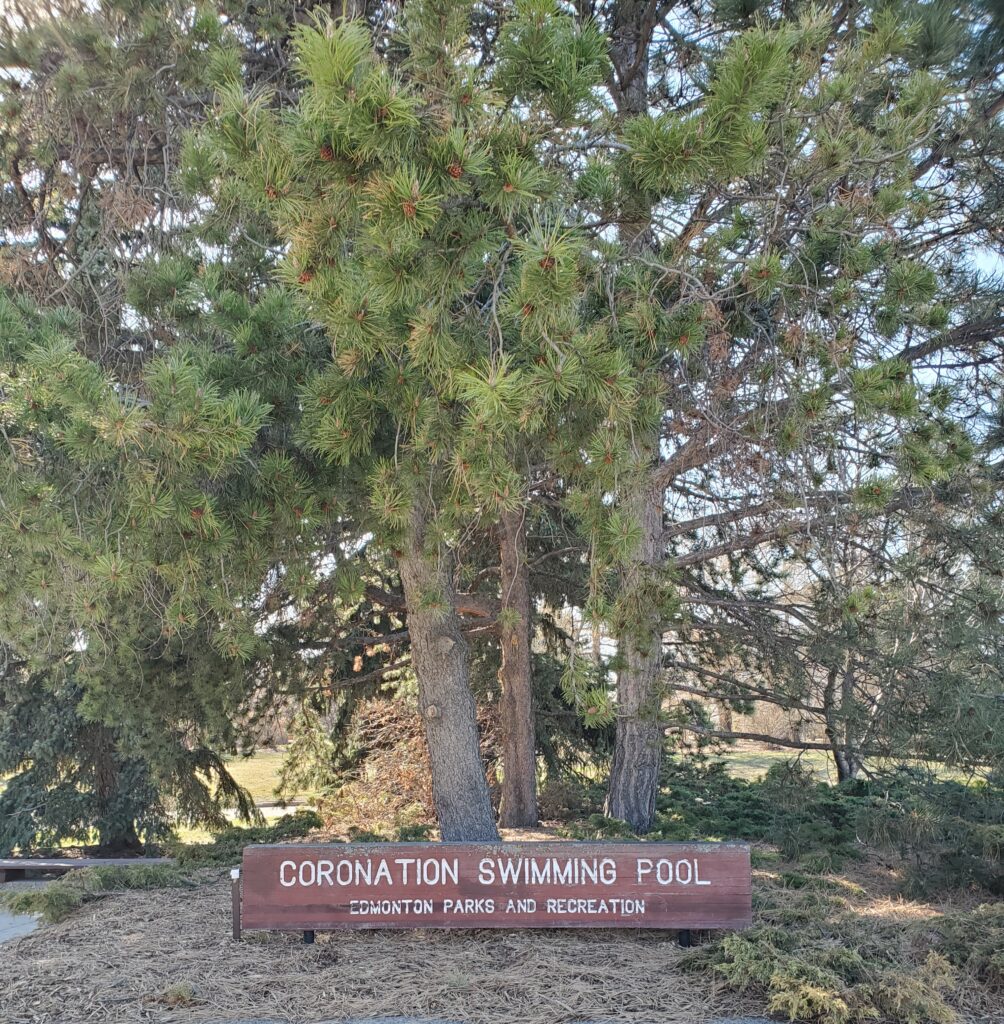 Hemingway: The Building
When it opened, the Coronation Pool building was unlike any that Edmonton had seen in the past. Hemingway's design incorporated glass, cables, concrete, and wood into a style of modernism — called "expressive" or "organic" — that appeared in the 1960s. His goal was to use the materials in ways that would bring the outdoors in while blending the structure with its natural surroundings. He accomplished that goal in several ways.
The shape of the building's exterior reflects the crest of a wave and the rolling prairie landscape.
The building is grounded into the landscape by embedded concrete piers and cables.
Many large windows allow patrons to see outside from many vantage points inside.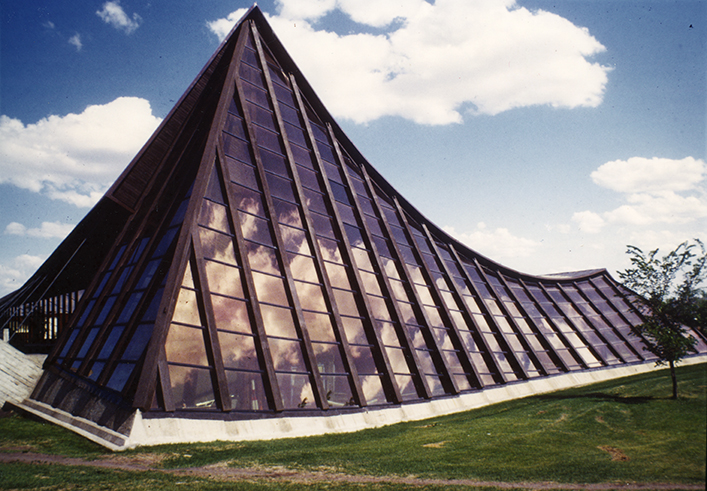 Hemingway's design was inspired by the steel cables and sweeping curved roof in Japanese architect Kenzo Tange's design of the National Gymnasium complex in Tokyo, which was completed for the 1964 Olympics.
The pool at Coronation was a massive 450,000 gallons (2 million litres), much deeper and longer than any other in Edmonton at that time.
Hemingway: The Man
Peter George Hemingway was born in England in 1929. He immigrated to Canada in 1955 after earning his diploma at Rochester Technical College in Kent. For a short time, he worked at the Alberta Department of Public Works before he established an architectural practice in Edmonton with Charles Laubenthal in 1956. Hemingway became the sole owner of the firm in 1966. In 1982, he became president of the Alberta Association of Architects.
Hemingway thought the unique climate and landscape of the prairies required unique approaches to architecture. In the 1983 book Modern Canadian Architecture, he said, "The Prairies present a harsh and unforgiving environment. … Cross this climate with a cost-conscious developer concerned with speed of construction and economy of means and you have a very difficult context for design. … The Prairie region … requires its architects to be potent givers of form. This, in my opinion, is why the most powerfully original buildings in the post-war era have come from here."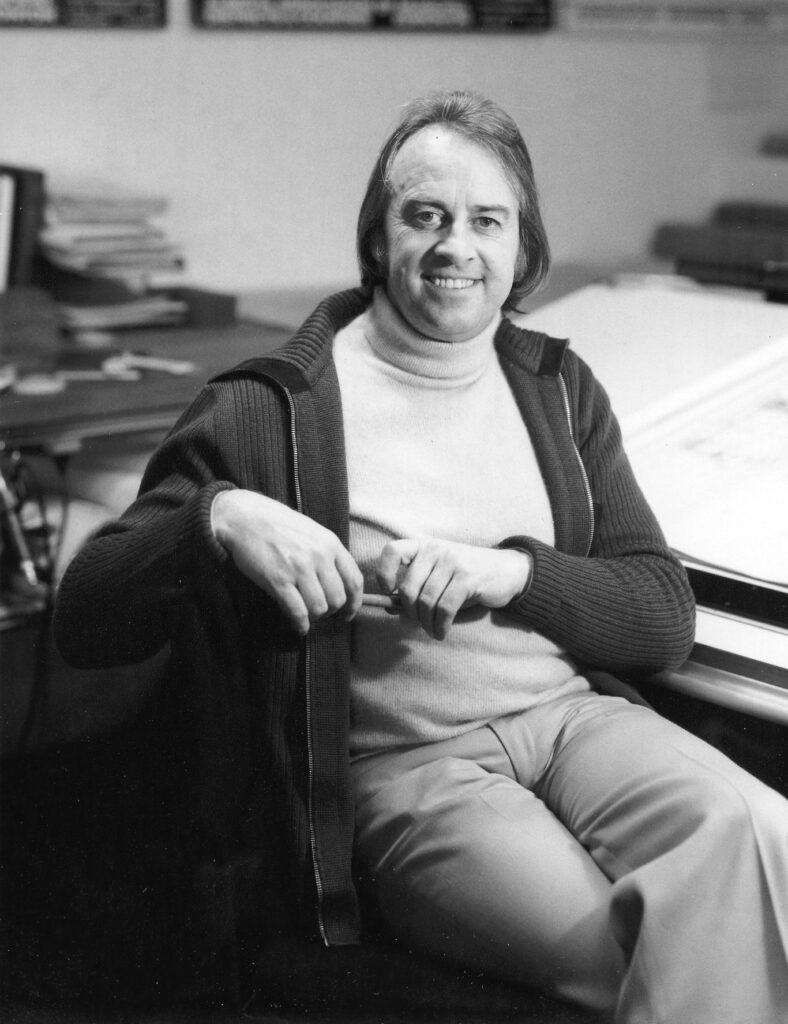 From the beginning, the Coronation Pool building was considered an architectural masterpiece. In 1970, Peter Hemingway became the first Albertan to win the Massey Medal for Architecture (now the Governor General's Medals in Architecture) for the design — the highest honour in that field in Canada. He also designed several other notable Edmonton buildings including the Muttart Conservatory, the Central Pentecostal Tabernacle, and the Stanley Engineering Building, which also earned him a Massey Medal.
Vivian Manasc, a fellow Edmonton architect, and colleagues with the Royal Architectural Institute of Canada lobbied the City of Edmonton to change the name of Coronation Pool to honour its architect and his visionary talents. On June 29, 2005, Edmonton City Council's Executive Committee approved the change. A few months later, on September 29, 2005, Coronation Pool was rededicated as Peter Hemingway Fitness and Leisure Centre. Sadly, Hemingway had died on May 15, 1995, so he did not live to see the pool he designed bear his name.
After Hemingway's death, Kees Prins, another local architect, celebrated his architectural courage in the Edmonton Journal (May 14, 1996): "Hemingway stood as an advocate for purity of line and shape in an age when the bottom line counts as much as architectural integrity."
In 2012, the Royal Architectural Institute of Canada awarded the Peter Hemingway Fitness and Leisure Centre with a Prix du XXe Siècle, which "recognizes buildings, 'of the modern movement and recent heritage' that have become landmarks of Canadian architecture. The prize celebrates design quality as well as enduring excellence, recognizing the design of the original architect and/or firm as well as the on-going stewardship of the owner of the building."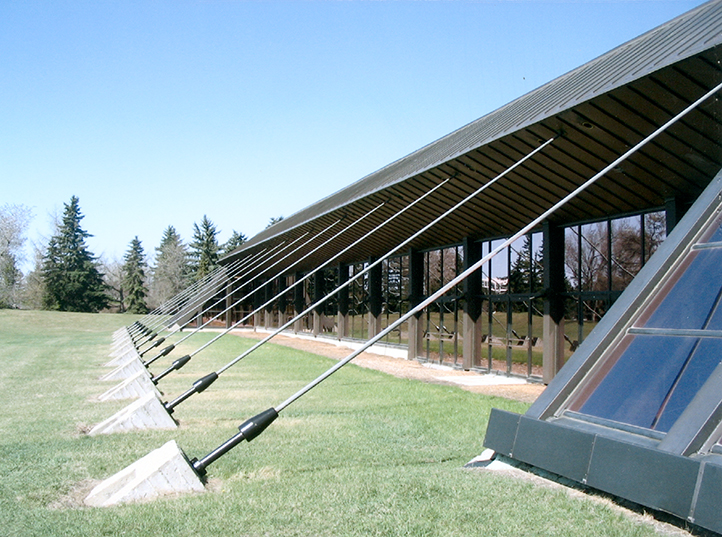 Community Recreation Hub
The Hemingway facility is more than an architectural masterpiece; it has become an appreciated community recreation hub for Edmontonians because of its functions and amenities.
The 50-metre pool has eight lanes and a 173-person capacity. Its depth ranges from 1 metre to 2.7 metres. Its average temperature is 27.5°C.
The amenities include a steam room, sauna, and hot tub (average temperature 40°C).
Most of the facility is wheelchair accessible.
A large seating area accommodates up to 472 spectators for swim meets and other events.
Men's, women's, and inclusive change rooms have complimentary lockers.
The 223 m2 fitness centre, which was renovated in the summer of 2008, includes cardio equipment, a weight stack, free weights, a functional training centre, and a stretching area.
Some outdoor areas are also part of the centre including a sun deck and nearby tennis courts and a sports field.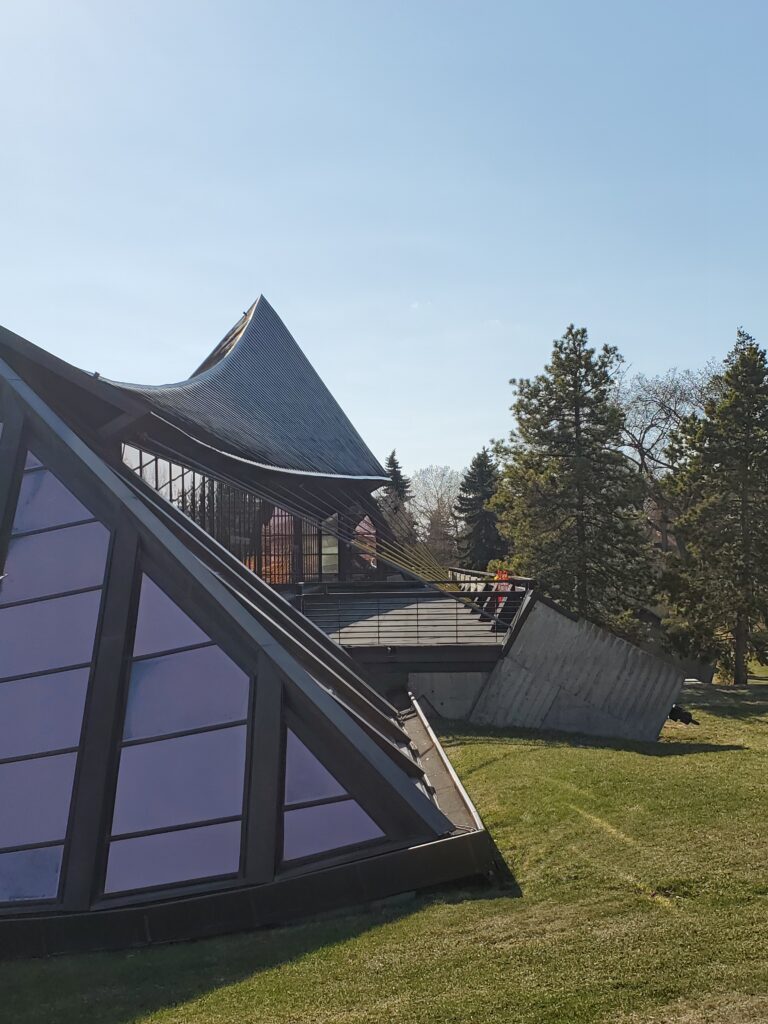 Casual workout enthusiasts, serious athletes, and sports groups use the centre for many purposes including weight training, seniors' activities, swim competitions, and water sports such as polo and underwater hockey. On any given day, it's a bustling, vibrant place where the faint scent of chlorine mixes with the sounds of water splashing, weight machines clanging, and people laughing and chatting.
Lorraine Osborne has lived in Woodcroft, the adjacent neighbourhood to the north, off and on for many years. She has been a lifetime user of the facility, which she still calls Coronation "almost all the time." Since 1969, she has used the pool for different purposes: leisure swimming with friends as a teenager, aquasize classes in her late 40s and early 50s, and early morning lane swimming and relaxing in the sauna in her mid-60s. She also took her sons there for swimming lessons when they were young.
Lorraine says going to the pool for physical activities she enjoys has brought her "increased overall health and wellness," adding that "the beautiful light streaming in always lifted my mood, and it was nice to feel close to nature, seeing the trees and birds outside" through the abundant windows. She says the facility has changed over the years, but only a little. She especially likes the expanded hot tub.
Other changes to the pool have taken place since its opening. The original exposed-wood ceiling was painted due to water marks. The one-metre diving boards were removed because they did not meet code for the depth of the pool. On the upper level, the former office for massage therapy has been converted into a workout area with small weights and spin bikes.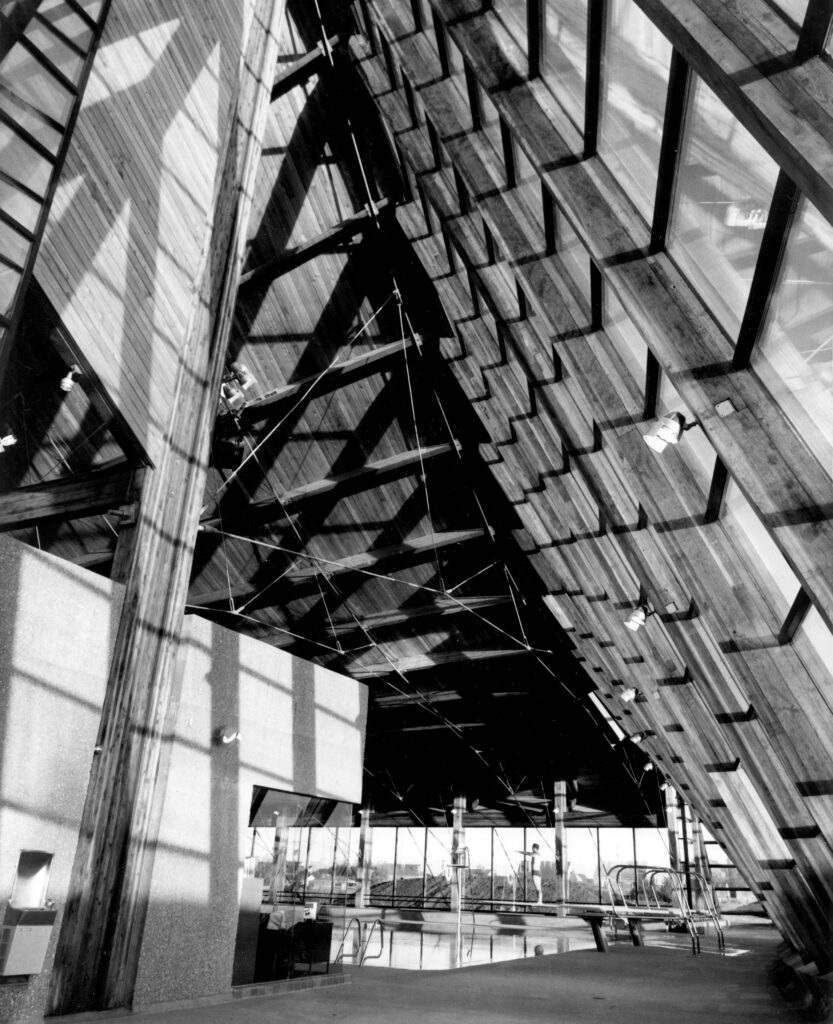 School Physical Education Programs
The facility is also a key component of physical education programs at Ross Sheppard High School, the pool's neighbour to the east. Brian Buchynski was the school's physical education (P.E.) department head from 1987 to 2020. He says that all P.E. students there spend two to three weeks each year using the pool. They learn water safety in each grade (10-12), and each grade learns specific swim skills including basic and advanced strokes, snorkelling (grade 11), and an orientation to self-contained underwater breathing apparatus (SCUBA) diving. Buchynski says, "Swimming is a lifelong skill, and many of our students carry on becoming lifeguards and instructors. We often have students register in a SCUBA certification course after their orientation." The school also uses the facility as part of its inclusive learning programs.
Buchynski notes that their extra-curricular programming also relies on the pool. "We have a very large and successful swim team that utilizes the pool after school and at times in the morning before school begins." These extra-curricular activities teach students "the value of being on a team, determination, work ethic, and supporting others for their efforts and contributions to the team." The size of the pool is an added benefit because — at 50 metres instead of the usual 25 — swimming there mirrors the competition environment. Buchynski says facility staff make the centre welcoming for students. "The staff at Peter Hemingway have been exceptional, from the booking of facilities to the manager to the pleasant and helpful staff. On many occasions, the lifeguards have given helpful tips to help our students improve their swimming."
Teachers at the school also use the facility, some for swimming, others for the fitness centre. As well, other schools use the pool, including Archbishop MacDonald High School and Westmount Junior High.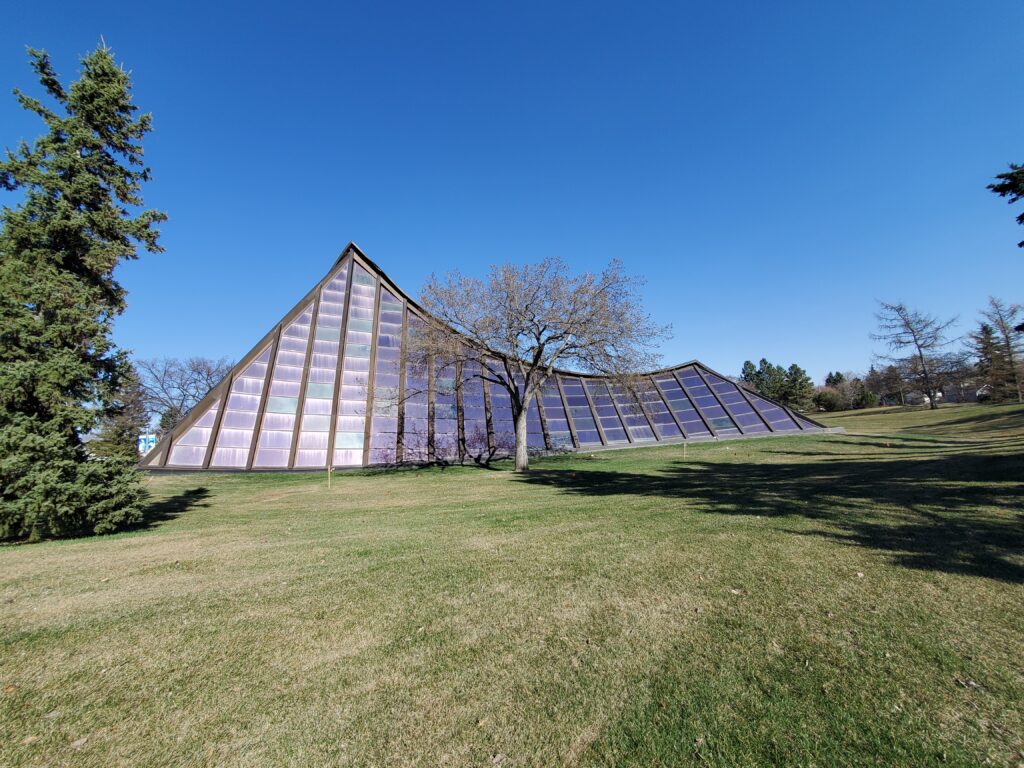 Form Complements Function
Peter Hemingway Fitness and Leisure Centre is simultaneously an architectural masterpiece and a community recreation hub. The 2012 Royal Architectural Institute of Canada Prix du XXe Siècle jury had this to say when recognizing it with their award, "It is a nationally-significant example of the architectural creativity and confidence engendered by Canada's centennial celebrations. … Its significance has endured not only because of its iconic design, but also because of the high level of maintenance and care over the years. It continues to serve its original use. Both the building and its architect were warmly embraced by the community, and have served an important role in terms of local and regional pride and identity."
Since March 14, 2020, the centre has been closed due to the Covid-19 pandemic. When it reopens in the future, it will continue to offer Edmontonians a beautiful space for recreation where patrons can enjoy the illusion of being immersed in the prairie landscape that surrounds the building — just as Peter Hemingway originally envisioned.
To read about the City of Edmonton's future plans for recreation in Coronation Park, visit https://www.edmonton.ca/projects_plans/parks_recreation/coronation-district-park-development.aspx.
Tracey L. Anderson © 2021
References
ArchEyes. December 11, 2020. "National Gymnasium for Tokyo Olympics 1964 / Kenzo Tange." https://archeyes.com/national-gymnasium-for-tokyo-olympics-kenzo-tange/ retrieval date May 21, 2021.
City of Edmonton. n.d. Peter Hemingway Fitness and Leisure Centre. https://www.edmonton.ca/activities_parks_recreation/peter-hemingway.aspx retrieval date April 19, 2021.
Edmonton Historical Board. n.d. Peter Hemingway (Coronation) Pool.https://www.edmontonsarchitecturalheritage.ca/index.cfm/structures/peter-hemingway-coronation-pool/ retrieval date March 3, 2021.
Edmonton Maps Heritage. n.d. Coronation Pool — 1967. http://www.edmontonmapsheritage.ca/location/coronation-pool-1967/ retrieval date March 3, 2021.
Edmonton Sport Council. n.d. Peter Hemingway (Coronation) Fitness and Leisure Centre. https://www.edmontonsport.com/facilities/peter_hemingway_~coronation~_fitness_and_leisure_centreretrieval date April 19, 2021.
Encyclopaedia Britannica. March 18, 2021. Tange Kenzō. https://www.britannica.com/biography/Tange-Kenzo retrieval date April 19, 2021.
Hemingway, Peter. In Whiteson, Leon. 1983. Modern Canadian Architecture. Hurtig.
Herzog, Lawrence. In Real Estate Weekly. October 13, 2005. The pool Peter Hemingway built.https://web.archive.org/web/20141007044809/http:/yegishome.ca/news/2005/10/13/the-pool-peter-hemingway-built retrieval date Feb. 17, 2021.
Royal Architectural Institute of Canada. 2016. Prix du XXe siècle — 2012 Recipient.
https://raic.org/raic/prix-du-xxe-si%c3%a8cle-%e2%80%94-2012-recipient retrieval date April 20, 2021.
Royal Architectural Institute of Canada. 2021. Prix du XXe siècle — Call for Submissions. https://raic.org/raic/prix-du-xxe-si%C3%A8cle-call-submissions retrieval date April 22, 2021.
Simmins, Geoffrey. The Canadian Encyclopedia. March 4, 2015. Peter Hemingway.https://www.thecanadianencyclopedia.ca/en/article/peter-hemingway, retrieval date April 20, 2021.
University of Calgary Archives. n.d. Hemingway, Peter. https://searcharchives.ucalgary.ca/hemingway-peter-george retrieval date April 20, 2021.