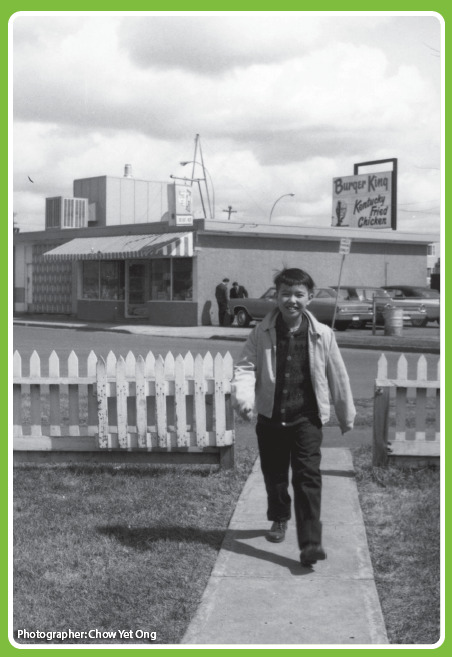 Explore how Bonnie Doon grew and developed from farm land to its current status as an urban, mature city neighbourhood. Bonnie Doon is only minutes from downtown and Whyte Avenue, is situated east of Mill Creek, and is a hub for Edmonton's vibrant French community. Learn about Bonnie Doon's history as you explore the neighbourhood and creek. Afterwards, indulge in a pint of Guinness at our Irish pub, a glass of pinot at our French bistro, or perhaps catch a performance at the Fringe!
Pictured: Dick Ong coming home from school for lunch. In the background is his family's River Heights store
Pictured above: An excerpt of an aerial map of the Bonnie Doon area, 1957. Image courtesy of the City of Edmonton Archives, Line 13, no. 25564.
1950: The world has survived Depression and global war. Oil has been discovered at Leduc. Growth is fast, jobs are plentiful. After dormancy through the 1920s recession, the Great Depression and war, Bonnie Doon awakens at the start of north-central Alberta's oil boom. Returned veterans' families fill the Dawson huts and the large number of bungalows built by Golden Construction and other companies. Bonnie Doon, held for years at about half occupancy, now fills in, with pretty much every town lot sporting a house.
The Juchli market garden closes, as does the Silver Heights Peony Gardens (a replica is now on view at Fort Edmonton Park). Their land is converted to house-sites. Bonnie Doon High School and St. Thomas are built to house the flood of new children. Rutherford School, 40 years old, is still in business and in 1951 has almost 700 pupils. Many Bonnie Dooners work in the city's bakeries, dairies and workshops. In their spare time, they tend large gardens. The streetcar line to Triangle intersection is removed in 1940. A bus now runs up and down 91st Street. Radio is well established, and television is on its way. But kids still have adventures in Mill Creek ravine.
Features of Historic Bonnie Doon
1. Molstad House, built for land developer Edward Molstad and his wife Addie in 1912 on 5 lots, is a private residence designated as a historic site.
2. Connors Road ended at 95 Avenue; it was extended to the new Bonnie Doon shopping centre in 1965.
3. Princess Elizabeth's October 1951 royal visit included the new Imperial Oil Refinery in Clover Bar. She became Queen Elizabeth II four months later.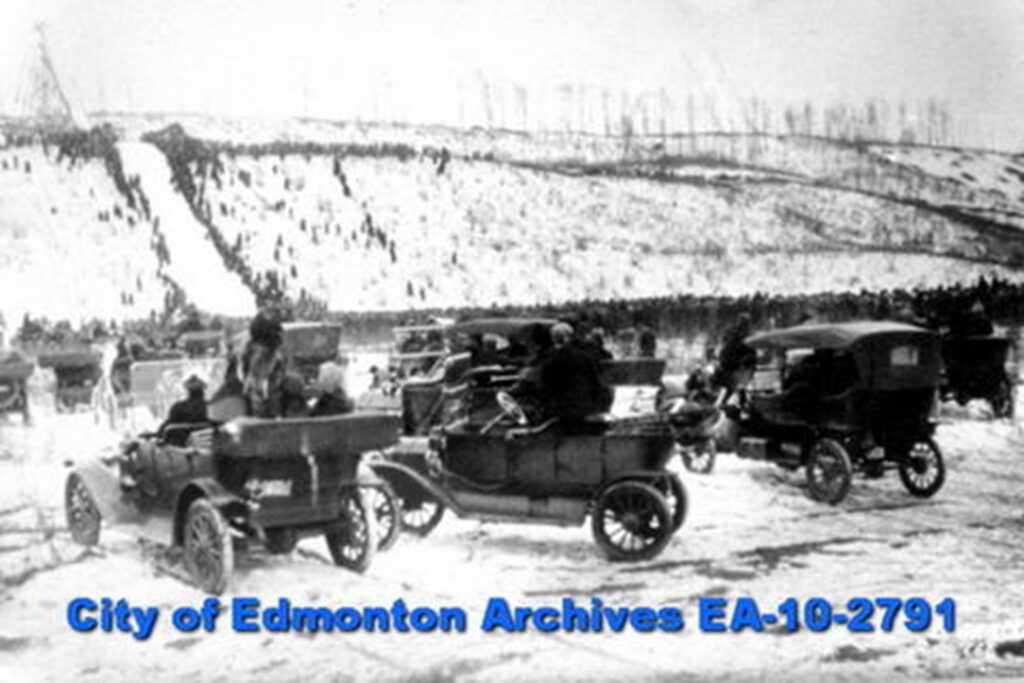 The photo on the left is Connors Road and the right is the Molstad House both courtesy of the City of Edmonton Archives.
4. Twin City Coal Mine operated in Mill Creek Ravine from 1909 to 1921. Remnants of the mine are visible in the trees to the north of 93 Avenue, east of 98 Street.
5. Bonnie Doon Community Hall, built in 1953 was booked solid with cubs and scouts, playgroups, bingo, community dances, the popular variety shows and wedding receptions.
6. Huts formerly used at Dawson Creek during the war were moved to the former cow pasture at 88 Avenue to provide quick housing for returned veterans and their families. The huts were demolished in the 1960s.
7. Bailey Bridge (1954). Many locals turned out to watch Canadian army engineers assemble a bridge across Mill Creek in only four hours. It was strong enough to carry a bulldozer. Taken down right away.
8. Former site of Vogel meatpacking plant operated 1903-1911.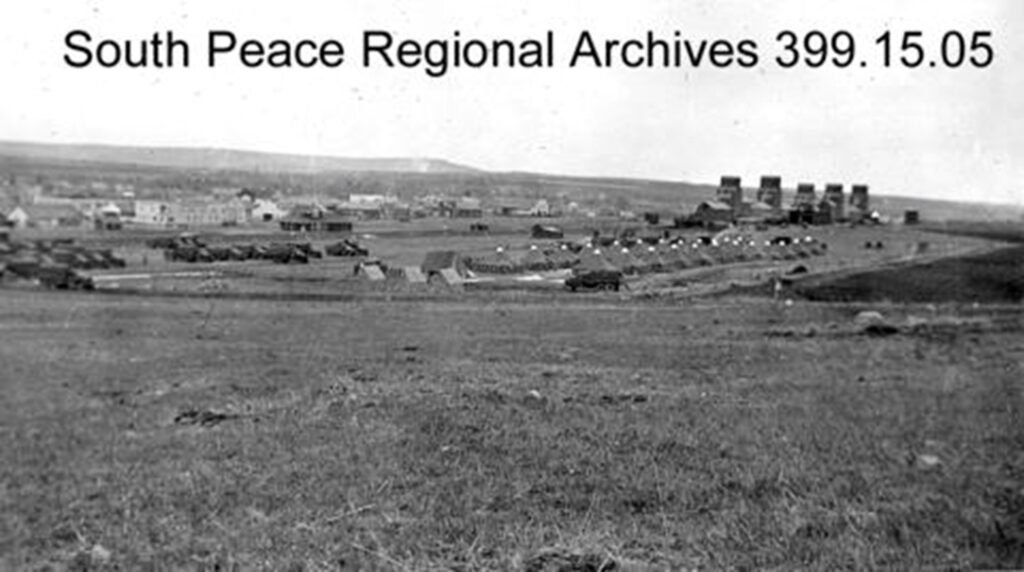 The photo on the left shows the Dawson Huts before they were moved to Edmonton courtesty of the South Peace Regional Archives. The photo on the right is of the Vogel Meatpacking Plant courtesy of the City of Edmonton Archives.
9. Wooden stairs on 88 Avenue, built in 1947.
10. McAllister's home faced 87 Avenue when it was built in 1920 for Dan and his English war bride Edna Barnett. In 1946 Dan renovated the house, turning it to face 88 Avenue, to match the new homes on the block. The old house is now gone; the new house features an alpine garden.
11. Percy's Felties, 8851 95 Street. Percy Sollitt's busy community business produced pennants and crests. Workshop in old house Sollitt family had lived in since around 1900. Business grew from a sideline in 1931 to a cottage industry with 8 local women employees in 1950.
12. George Donald, Metis HBC employee, and his wife, midwife Elizabeth Brass, and their children lived on River lot 21 (at today's 8833 95 Street) from the 1870s until 1905. In 1939 Percy Sollitt purchased, renovated and enlarged the Donald House. Demolished in 1970s in spite of its historical significance.
13. Bonnie Doon Streetcar (1912-1940). Its terminus at 88 Avenue and 91 Street created an active business hub. Hardware, grocery, butcher shop, TV repair, children's clothing store, candy, medical practice and dentistry were available for local residence in the 1950s. Some buildings remain today: Duggan's Boundary (pub), Bul-Go-Gi House, M & M Convenience Store, Bonnie Doon Dental Associates, among others.
14. Horse drawn carts delivered bread, milk and ice in Bonnie Doon up to 1961. In the 1950s roads were upgraded and major roads paved; sidewalks were constructed of wood until new concrete sidewalks and proper roads were laid in 1968.
15. Highland Park Greenhouses, bought by Charles Juchli in 1916. He married Augustine in 1920 and they operated the greenhouse together until Charles' death in 1939. Madame Juchli continued the business until the 1950s, when it was sold for housing development.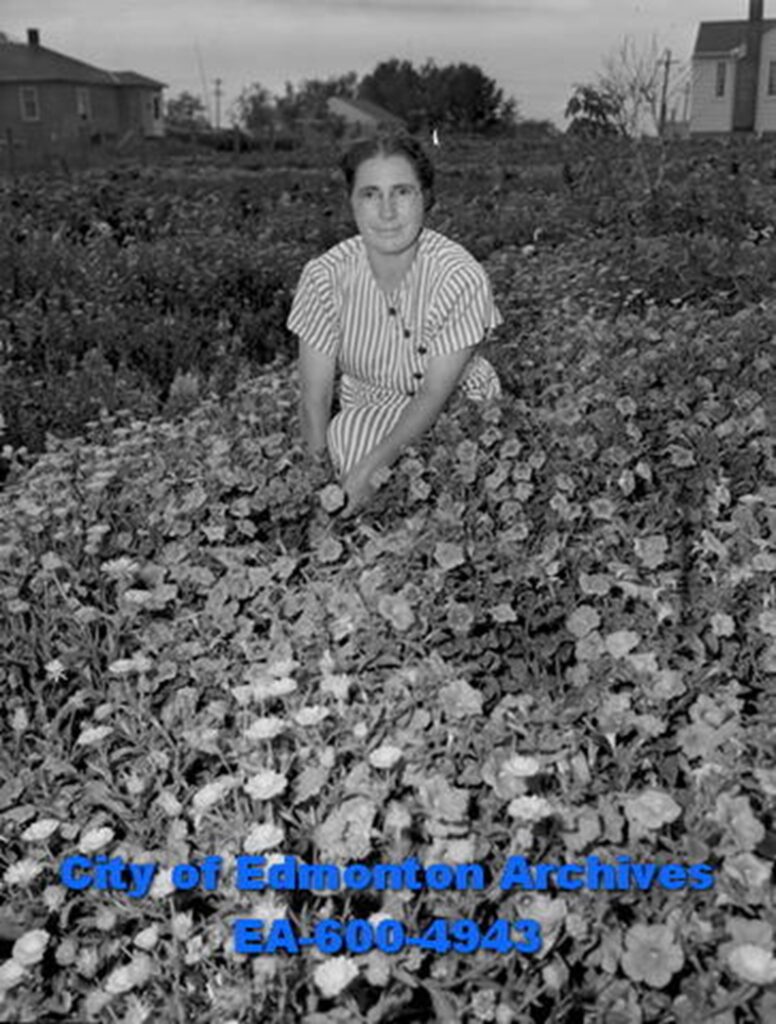 The Juchli Greenhouse, image courtesy of the City of Edmonton Archives.
16. Rutherford School, opened in 1911, was built on Premier Rutherford's land.
17. College Saint-Jean moved here in 1911. It was a seminary until it expanded to teaching secondary and post-secondary students in 1943. In 1961 it accepted women as students. Today it is Campus Saint-Jean, University of Alberta.
18. Ecole St. Thomas d'Aquin built in 1949 and closed in 1990 making way for La Cite Francophone
19. Diagonal bridge over Mill Creek ravine on Whyte Avenue was built in 1911. Today's bridge was built in 1961.
20. Fire Hall #10, built in 1914, for horse-drawn firewagons. When the boom didn't last, the hall was left empty. In 1926 it opened as the Salvation Army Eventide Home for Men. In 1982 YESS, now known as Youth Empowerment and Support Services, opened.
21. King Edward Park Garage and Service Station, owned by Bill Wright. Bill and his metal-working crew fabricated aircraft parts during WWII, developing important new alloys useful in the war effort.
22. Location of Southside Cleaners in the 1950s. In 1961, Safeway built a new store, which today is Value Village.
23. Bonnie Doon Mall Shopping Centre built in 1958 as a strip mall. Became Edmonton's second indoor shopping mall in 1967.
This map was developed in conjunction with the book Memories of Bonnie Doon, an initiative of the Bonnie Doon Community League. The book and map were created to celebrate the history of Bonnie Doon, the history of Edmonton and most importantly the history of the people who made this neighbourhood the amazing home it is today. To learn more about Bonnie Doon and this initiative, please visit BonnieDoon.ca.
Creation of this map & the Memories of Bonnie Doon book was supported by the Edmonton Heritage Council and the City of Edmonton.