Edmonton, Alberta was first incorporated as a town in 1892. At that time, there were about 700 permanent residents. Founded on the banks of the North Saskatchewan River on the site of the former Hudson's Bay Company's Fort Edmonton, it soon began to attract a growing populace. Abraham and Rebecca Cristall, Edmonton's first Jews, arrived in 1893. Their children, George and Rose, were the first Jewish children to be born in Edmonton. Abe became a successful businessman and helped to bring more Jews over from his native Bessarabia in Eastern Europe. By 1901, there were 17 Jewish citizens in Edmonton. Three years later, Edmonton was incorporated as a city. In 1905, Alberta officially became a province and the CN Railway arrived.
In 1905, William "Boss" Diamond came to Edmonton. He came by way of Calgary where he had landed in 1892 to join his brother Jacob –the first Jewish resident in the province (1889). Boss started a clothing business in competition with Abe Cristall; however, the two men worked together to forge the foundation of Edmonton's budding Jewish community. Together with eight other men, they formed the Edmonton Hebrew Association in 1906, hiring Rabbi Hyman Goldstick of Pilton, Latvia to be the rabbi, shochet (kosher slaughterer), and mohel (circumsizer) for both the Edmonton and Calgary Jewish communities.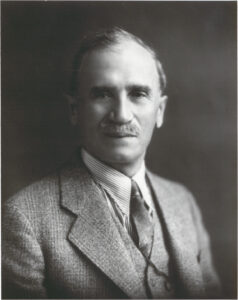 Pictured: Abe Cristall. Abe and Rebecca Cristall arrived in Edmonton in 1893. Photo courtesy of the Jewish Archives and Historical Society of Edmonton and Northern Alberta (JAHSENA) Archives, FCJL fonds.
In 1907, Abe Cristall purchased land on the south side in the Forest Heights neighbourhood for a Jewish cemetery and the Chevra Kadisha, or burial society, was formed. In 1912, the foundations were laid for the community's first synagogue, the Beth Israel (Orthodox), on the corner of 95th Street and Rowland Road (now St. Boniface Catholic Church). 1 Abe Cristall served as the first president, and William Diamond as the second – a position he held for 31 years. In 1912, the Edmonton Talmud Torah Society was founded, with classes being held in the basement of the Synagogue. In 1925, the Society erected its own building at 103rd Street and Jasper Avenue, and in 1933 it was incorporated as one of the first Hebrew day schools in Canada. It continues to be the oldest continuously-operating Hebrew day school in Canada.
In 1928, a second congregation was started in the basement of the Talmud Torah building, which later became the Beth Shalom congregation (Conservative). 2 In 1932, it was formally organized, and they engaged Rabbi Jacob Eisen, who became the first English-speaking Rabbi west of Winnipeg. Also, at that time, the Peretz or New Yiddish School was organized and opened in a building at 10135-95 Street. An offshoot of the Arbeiter Ring, or Worker's Circle, which started in Edmonton in 1922, it had its heyday in the early 1930s but had to close in 1939 due to declining enrollment.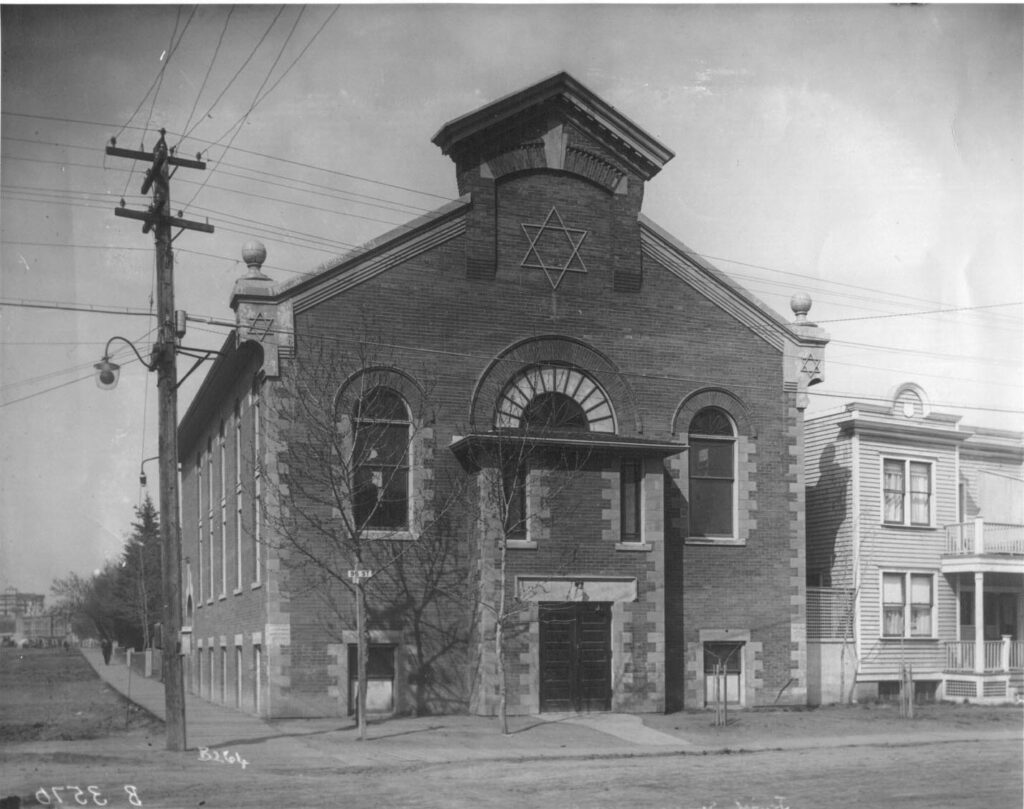 In 1938, just before the start of World War II, a 13-year old boy named Peter Owen became the only Jewish child let into Canada alone during the war years, by a special Order-in-Council of the Federal Government. During the War Years, there was a policy in place known as "None is too Many," referring to the number of Jewish immigrants who should be let into Canada. This led to very few European Jewish refugees being allowed into the country, and to the denial of safe harbour for the infamous St. Louis, which was turned away by many countries before having to return to Europe.
Peter was sponsored by Edmonton lawyer H.A. Friedman and adopted by the Friedman family, eventually becoming a prominent lawyer himself and a permanent resident of the city. By 1941, Edmonton's population had increased to 93,817, and the Jewish population stood at 1,449. Of the 120 men and women from Edmonton's Jewish community who served in the military during World War II, eleven were killed in action. Their names are inscribed on the cenotaph at the Jewish Cemetery.3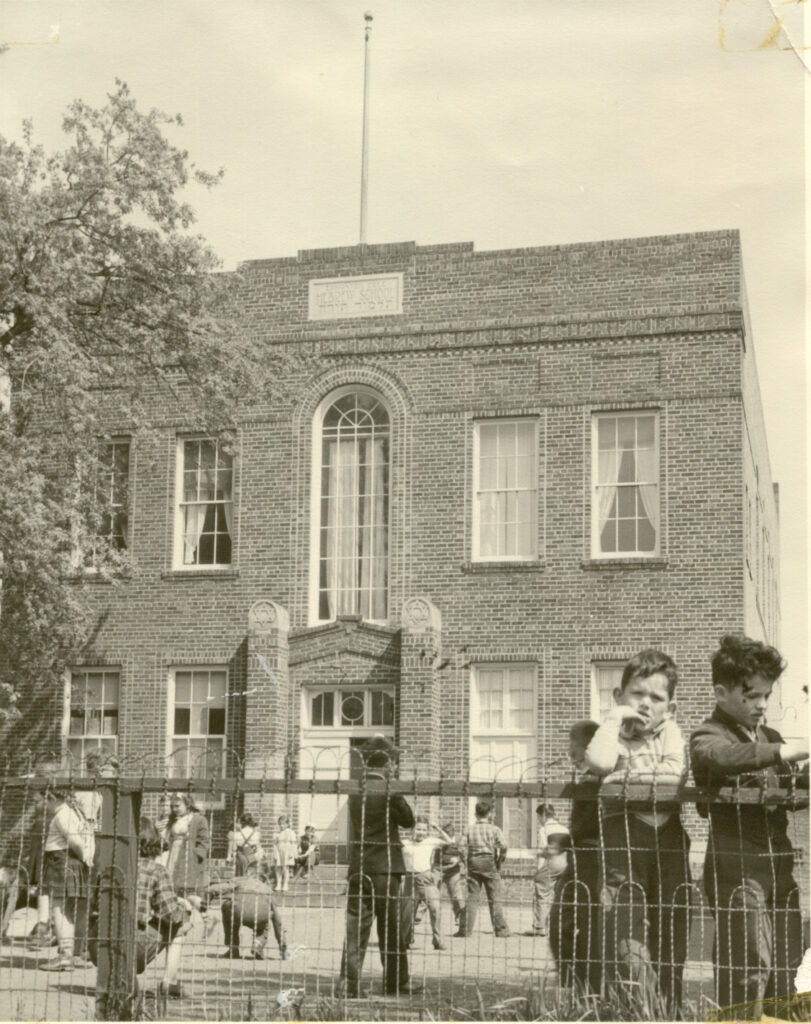 The post-war years saw rapid growth in both the Jewish and general populations of Edmonton. As a result, a new Beth Shalom Synagogue was built on Jasper Avenue at 119th Street in 1951 where it remains to this day, a stunning and rare example of the International Style of Architecture in the City today. A new Beth Israel Synagogue was constructed on 118th Street in 1953, as well as a new Talmud Torah Building on 132nd Street that same year, reflecting the population shift of the Jewish community from downtown to (what was then) the west end of the city.
In 1954, the Edmonton Jewish Community Council was formed as an umbrella organization for the community and served as such for 28 years. On September 20, 1982, the Community Council merged with Edmonton United Jewish Appeal to become the Jewish Federation of Edmonton. It is affiliated with the Jewish Federations of Canada and North America, as well as the World Jewish Congress.
Alberta's booming oil-based economy brought increased Jewish immigration alongside general immigration over the next two decades, with major influxes from other provinces in Canada and global places of origin such as Hungary, Russia, and South Africa. A Jewish population of 1,748 in 1951 grew to 2,910 in 1971 and then to 5,430 in 1991. Today it stands at around 5,000.
All of these new immigrants brought with them organizations which contributed to Edmonton's vibrant Jewish Community. Local branches of many prominent Jewish organizations exist in the city today including Edmonton Hadassah-WIZO, chapters of ORT and Na'amat, B'nai Brith and Emunah, all of whom were founded to help the fledglingstate of Israel. Local offices of the Jewish National Fund are located at the present Edmonton Jewish Community Centre on 156th Street, as is the Jewish Archives and Historical Society of Edmonton and Northern Alberta (JAHSENA). The Edmonton chapter of the National Council of Jewish Women was responsible for founding the city's Jewish Senior's Drop-in Centre (formerly the Golden Age Club) in 1954, which has a building off Jasper Avenue near the Beth Shalom, as well as Jewish Family Services, which serves both the Jewish and general communities.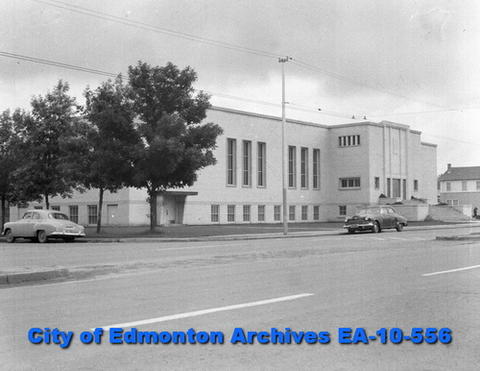 The community's third congregation, Temple Beth Ora Reform Congregation, was founded in 1979, and incorporated in 1980. It rents space at the Chesed Shel Emes chapel of the Chevra Kadisha on 123rd Street. In 1996, Congregation Beth Tzedec, a break away from Beth Shalom, incorporated and began to hold services at the Talmud Torah. They closed in 2016. Chabad Lubavitch arrived on the scene in 1991, and in 1993 a second Hebrew Day School, the orthodox Menorah Academy, was founded.
In 1999, a new building for Edmonton Talmud Torah was erected on 175th Street in the Callingwood neighbourhood, and the next year, a new Beth Israel Synagogue was built around 169th Street in Wolf Willow, reflecting a further westward shift in population. However, some of the community remained concentrated downtown, something reflected when Our Parent's Home, a Senior's residence built by the community, opened its doors on Jasper Avenue next to the Beth Shalom Synagogue, in 2015.
The Edmonton Jewish Community Centre started at the Beth Shalom Synagogue, then moved to the Talmud Torah School, and finally purchased the old Hillcrest Country Club in the Rio Terrace Neighbourhood in 1971, where it existed until it was sold in 2012.
In the fall of 2004, Edmonton elected its first Jewish mayor, Stephen Mandel. Stephen had previously served as a city councillor, continuing a long tradition of Jewish political engagement, including city councilors Dr. Morris Weinlos, Abe Miller, Helen Paull, Mel Binder, Tooker Gomberg, Michael Oshry, and former MLAs Abe Miller and Karen Leibovici. There has always been a strong tradition of civic involvement in the Edmonton Jewish community, with members serving on the boards and executives of many local arts, cultural, educational, and fundraising organizations, as well as in the judiciary, including Associate Chief Justice Tevie Miller, the first Jew to hold that high office in the Province of Alberta.
Clockwise from left to right: 1. Cecil Goldstick. Photographer Eric Bland, September 25, 1949. Image courtesy of the City of Edmonton Archives, EA-600-2992. 2. Dr. Dr. Anne Fanning Binder. Image accessed from "Alberta Order of Excellence." 3. Annis Stukus and Joe Shoctor, September 10, 1949. Image courtesy of the City of Edmonton Archives. 4. Former Edmonton Mayor Stephen Mandel. Photographer Dave Cournoyer, May 21, 2013.
Jews have been involved in every aspect of civic life in Edmonton, from the founding of the Citadel Theatre, Canada's largest regional theatre by Edmonton-born Joe Shoctor, to Jews who have served on the boards of the Edmonton Symphony, Opera, Art Gallery of Alberta and Concert Foundation, to Rexall billionaire Daryl Katz, who bought the Edmonton Oilers hockey team in 2008, and now owns the Edmonton Oil Kings as well. Jewish businessmen Moe Lieberman, Henry Singer and Joe Shoctor were instrumental in the founding of the Edmonton Eskimos CFL franchise. Broadcasting legend Cecil "Tiger" Goldstick, son of Edmonton's first Rabbi, was a trainer with the early sports teams in Edmonton before becoming a broadcaster and founder of Sports Central, a charity which provides underprivileged kids in the city with sports equipment. A park is named in his honour in the east end of the city, and his picture adorns the Edmonton Sports Hall of Fame on the city's main square. There are also streets in Edmonton named after notable members of the community, including Shoctor Alley, Arthur Hiller Way, and Wershof Road, to name a few.
Other notable Edmonton Jews include the internationally acclaimed author and University of Alberta professor Dr. Henry Kreisel, and publisher and politician Mel Hurtig.4 Prominent graduates and professors from the University of Alberta include Dr. James Shapiro, creator of the Edmonton Protocol treatment for Diabetes, Dr. Elliot Corday, prominent US heart surgeon, Dr. Ted Aaron, one of the inventors of antihistamines, and many others. Recipients of the Order of Canada from the community include Jake Superstein,4 Citadel Theatre founder Dr. Joe Shoctor, University of Alberta professors Prof. Jacob Masliyah, Prof. Norbert Morgenstern, Prof. Cyril Kay, Prof. Henry Kreisel, and Dr. Bernard Snell, philanthropists Arliss Miller, Dr. Eric and Elexis Schloss, Drs. Irving & Dianne Kipnes, pioneering doctors Dr. Anne Fanning Binder and Dr. Ted Aaron, and sports legend Tiger Goldstick. There is a vibrant and colorful slice of Jewish life here on the prairies, in one of the most northern Jewish outposts in the world, with people and institutions that continue to provide cultural, educational, religious and spiritual activities for its members, and to honour the history of its founders.
Debby Shoctor © 2021