Picture this: frenzied hand clapping, foot stomping, finger tapping, rhythmic call and response-type songs, passionate Amens, Hallelujahs and killer vocals all led by an enthusiastic leader. Or picture a well-rehearsed choir with members seemingly gripped with the euphoria of yearning for a better life, add Biblical references, and you have gospel music. But this isn't the Southern United States or the streets of Chicago where gospel music took off; this is Edmonton, Alberta.
Gospel music is defined as a genre of Christian music that is deeply rooted in the rich traditions of the African-American Church in the southern United States, including African-American spirituals, hymns and sacred songs.[1] So, how did it take serious root in one of the northernmost cities in North America?
Early Gospel in Edmonton
Since the mid-20th Century, Edmonton has enjoyed a rich, vibrant and impactful gospel music with roots dating back to the early 1900s when Black American immigrants, some of whom were born into slavery, came north to settle across Alberta, hoping for a better way of life and an escape from the oppression of the Deep South.
Being people of deep faith, they brought many of their traditions, including their style of worship, which was shaped by their history. However, they were not welcomed at existing churches in Edmonton and were forced to start their own. Shiloh Baptist Church was founded in 1910 and still functions today as Western Canada's oldest Black Church. Members of the congregation retained their style of worship from the South, officially introducing gospel music to Edmonton.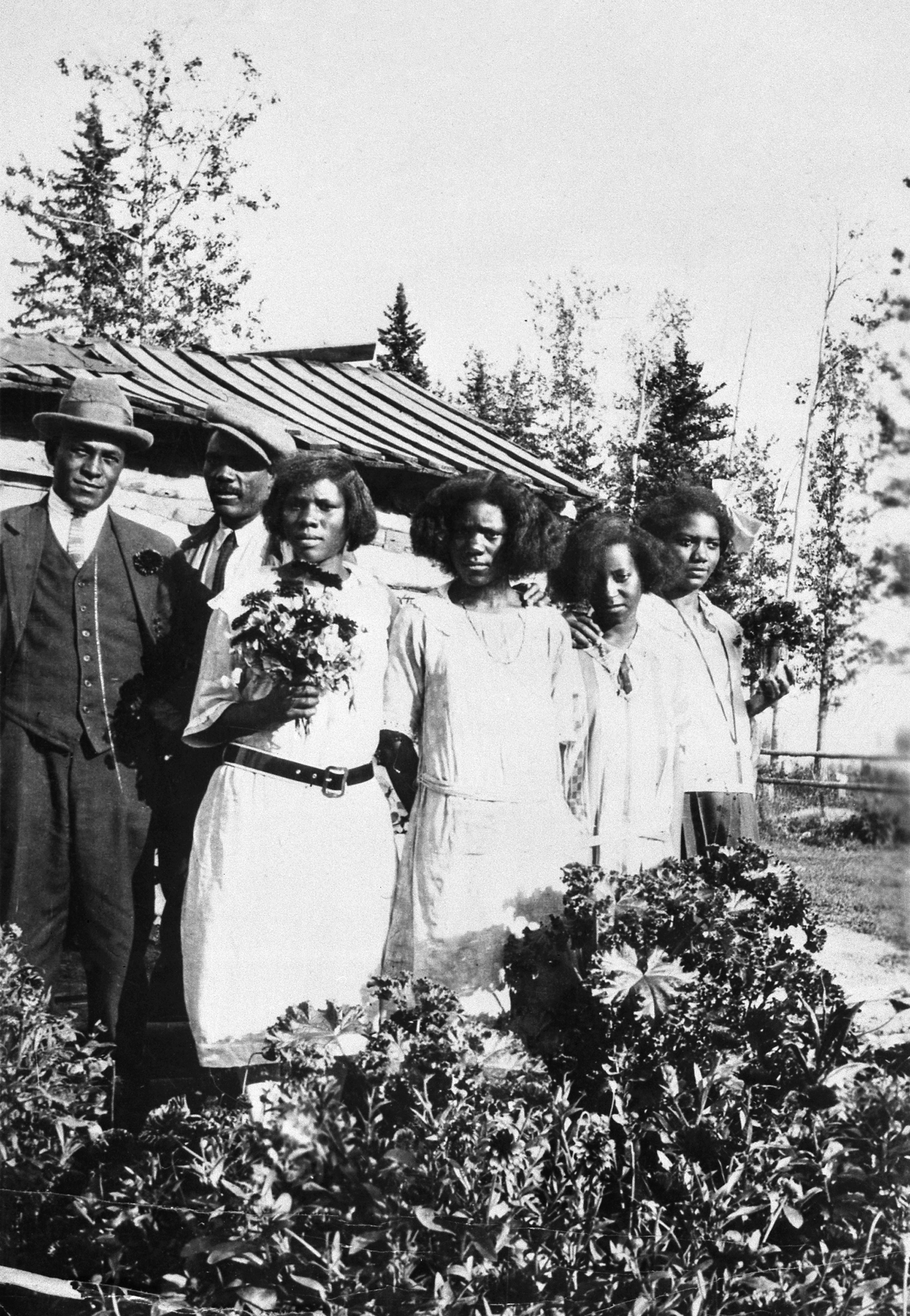 In the late 1970s to the 1980s, descendants of Black settlers formed one of Edmonton's first Gospel groups. Dubbed the Snead Singers, the group included noted Edmonton gospel artist Agenus Brown and other family members, incorporating the style of music they learned from their ancestors coupled with heavy influences from legendary American gospel artists such as Andre Crouch and the Staple Singers. Travelling and performing throughout Western Canada, the Snead Singers introduced this "new" style of music to audiences, some of whom had only seen gospel artists on television up to that point.
Years later, one of their younger members would go on to direct and play with several gospel groups in Edmonton including the popular Edmonton Community Worship Hour Choir (Voices of Joy), Black Pioneer Heritage Singers and CariCan Youth Choir.
Shiloh Baptist Choir
In addition to being Western Canada's oldest Black church, Shiloh Baptist is home to Edmonton's oldest and foremost gospel choir. A traditional gospel choir, featuring the iconic sights and sounds of euphoric, up-tempo melodies and a rhythmic pulse, complete with choir robes, the group has performed in and around Edmonton for close to 50 years and has been a constant presence at the National Black Coalition of Canada Society (NBCC) Black History Month Gospel Night for decades.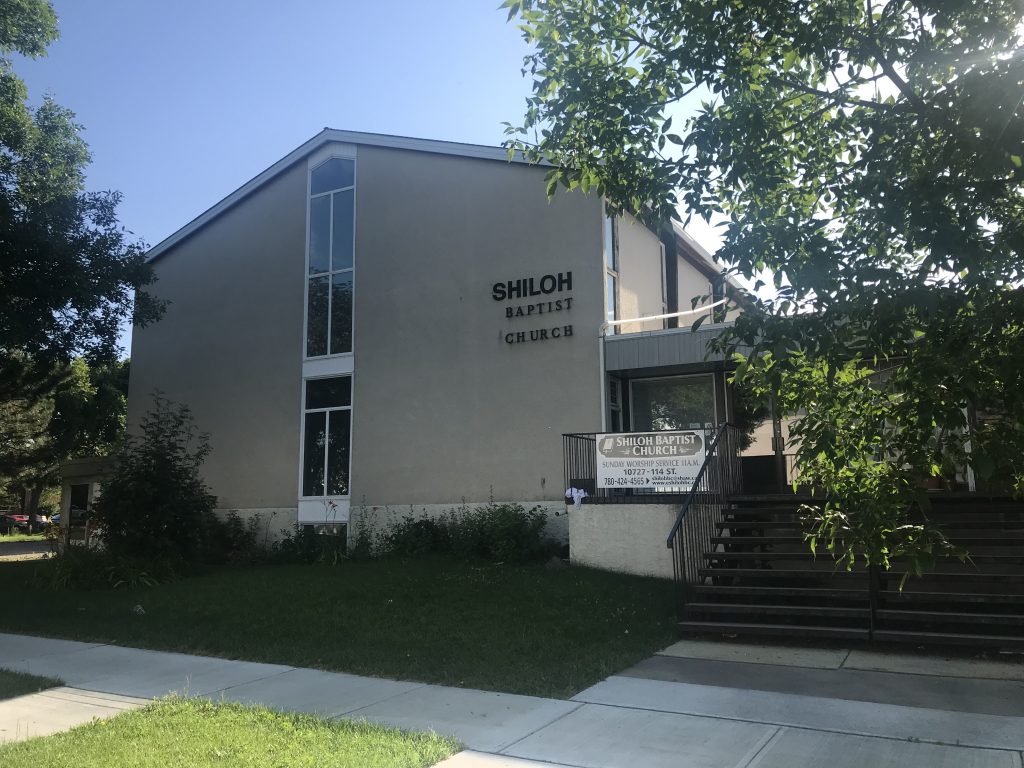 Bethel United Church of Jesus Christ (Apostolic) Mass Choir and The Essence of Praise
Another renowned Edmonton choir is the Bethel United Church (BUC) Mass Choir established in 1979 and the BUC ensemble, The Essence of Praise established in 1997 both led by director and musician, Barrington Simpson. These two groups are founded on the belief that gospel choirs such as the Mass Choir are metaphorical vehicles to Church with gospel music being a significant part of Black culture in Edmonton. Often evoking many emotions, this urban-style gospel music is seen as authentic with a distinct sound, drawing people in. Essence of Praise is known for its hype gospel flair, hand clapping, feet stomping, traditional and soulful arrangements and dynamic melodies with rich harmonies, often punctuated with spontaneous shouts of praise or affirmations.
The group has won numerous awards, performing at weddings, private corporate functions, city events, conferences, benefit events, schools, sports events, prisons, theatres and concert halls. It has also provided background vocals for recordings artists such as, Joey McIntyre (New Kids on the Block) and Lyle Lovett.
One of the more unusual places Essence of Praise sang, considering its spiritual roots, was at a bar. After accepting an invitation to perform without knowing the venue, the group arrived to a shock. While not norm for them, they still performed and at the end, a patron remarked that he liked what he heard and would not have been otherwise exposed to gospel music as he was not a church goer. This captures what is seen as an important aspect of gospel: the sound attracts, and the message follows.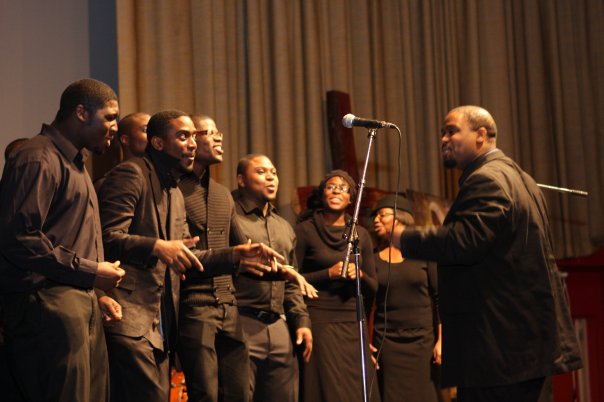 NBCC Annual Gospel Night
No conversation about gospel music in Edmonton is complete without including the National Black Coalition of Canada Society Black History Month Annual Gospel Night. This celebratory event has been a must-see in the Black community since 1986 featuring the city's premier gospel choirs and other artists.
In keeping with the joyous, uplifting and infectious nature of gospel, it is not unusual to see patrons clapping along to the beat, jumping to their feet and singing along to the infectious melodies, almost as if transported to another place by the music.
Since its start at the BUC, Gospel Night has long been the strength of the Black community, even for non-church goers, while exposing the wider society to a different type of music. The Jubilee Auditorium is the current venue for the event which was also previously staged at the Royal Alberta Museum.
Today, the event has evolved from solo artists and the main choirs of Shiloh Baptist, Edmonton Community Worship Hour, BUC, The Westend Seventh Day Adventist Church and Essence of Praise and New Season of Praise, to include contemporary groups.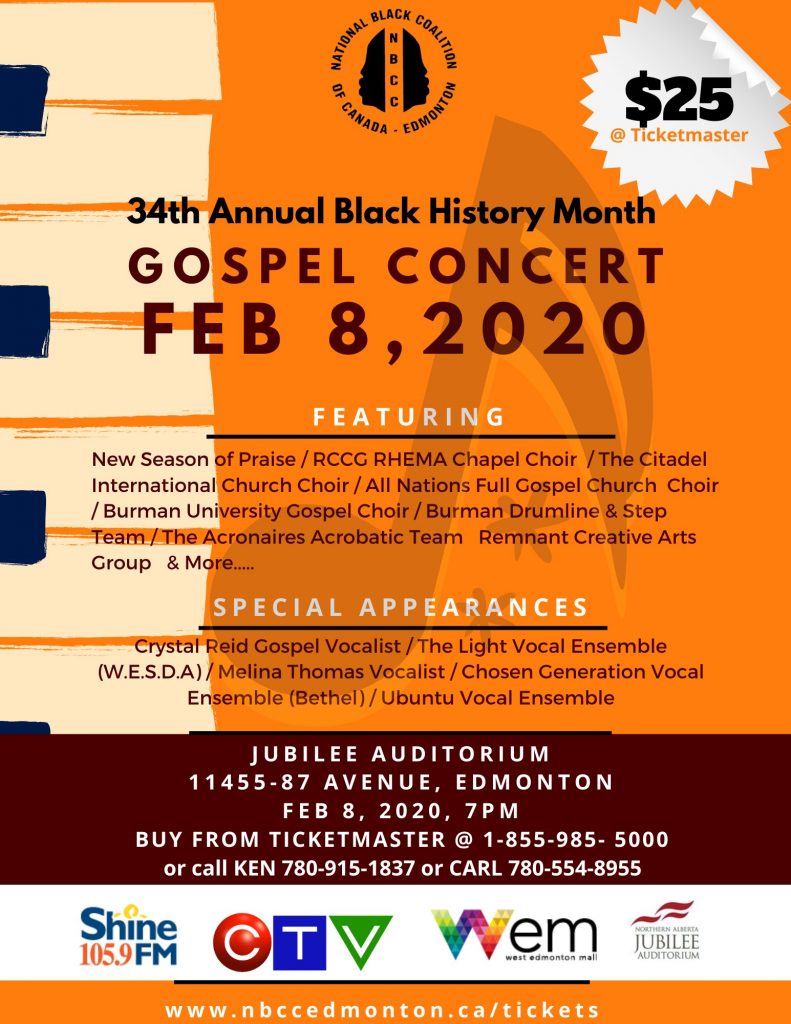 CariCan
CariCan – Caribbean Christian Community Association is regarded by many to be another pioneer of Edmonton's gospel scene, bridging the cultural gap between the Caribbean and Canada, using gospel music as the in-between.
The brainchild of Guy Roach, along with founding members Rawle Carter and Shaune Allen, CariCan was most active between 1994 and 2004 with a mission to share the spiritual heritage of the Caribbean with Edmontonians. It drew members from various churches in the city, including Black churches, white churches and multicultural churches. At its height, it boasted a 100-voice choir.
After its start at First Church of the Nazarene, supported by Pastors Larry Dahl (Lead Pastor) and Anthony Bailey, while being directed by Audrey Smith and then Gerry Paulson, CariCan Choir has performed at the Black History Month Opening Ceremony, Gospel Night and other events. With members drawn from various backgrounds but united around their love of Christian music, CariCan fostered many firsts in the city. Guy remembers some key achievements but one that highlights how the choir bridged cultural gaps came out of a performance at Gunn Centre where then-Minister of Community Development, Stan Wolyshun was in attendance. In addition to the Minister attending, the then-director of the Centre sang with the choir stating it was a dream of his to sing with a Black choir.
As CariCan evolved and was increasingly embraced by various church denominations and cultural backgrounds, a subsequent youth choir was developed under the leadership of Quenten Brown. Many of Edmonton's prominent gospel artists were either a part of the choir or performed with CariCan.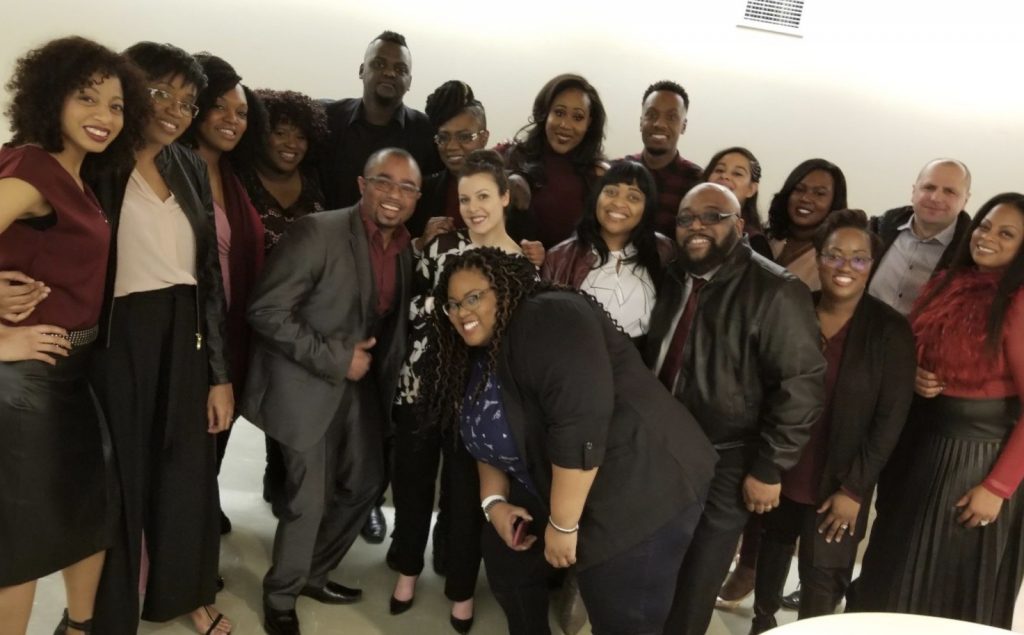 Westend Seventh Day Adventist and New Season of Praise Ensemble
The Westend Seventh Day Adventist church has also left an indelible mark on the local gospel scene. Whether choirs, ensembles or solo artists, the church has been active on the scene since its inception in 1970 with its choir also performing at the inaugural Gospel Night. Its ensemble, New Season of Praise is one of the premier groups in the city and like Essence of Praise has historically performed urban, traditional gospel. This modern subgenre of gospel music gives Christians an alternative to mainstream secular music by following the trends in urban contemporary music but offering religious content and messaging.
Started in the early 2000s and led by Colin Forde, this group has been sought after for its trademark dominant vocals. While the group's roots are in urban music, it now incorporates less urban song selections following trends in American gospel.
Today's Gospel Scene
With roots still firmly grounded in early gospel, Edmonton's scene is adapting to changing gospel styles. While choirs and well-rehearsed ensembles were trademarks of old, local gospel today is evolving into a dynamic and exciting mix of the traditional with Christian contemporary music and a new crop of artists eager to make their mark.
---
Anmarie Bailey © 2020
[1] Music educator, LaSaundra Booth