"Anak, siksikan nating yung bagahe mo nitong mga produktong Pinoy na ma-eenjoy ng mga kamag-anak natin. Alam kong wala ito sa Canada!"
"My dear, we need to stuff your luggage with these Filipino products that our relatives would enjoy. I know they don't have this in Canada!" my elders said as they help pack my suitcases to immigrate to Canada in 2007.
My mother's family was made up of entrepreneurs, with businesses ranging from auto parts, home construction supplies, and variety stores, nicknamed "sari-sari stores" which are usually named after the owner. Helping in the business, aptly called "General Store" due to my last name, was a regular part of my childhood until immigrating to Canada.
My luggage was stuffed with products from our store's inventory, such as fried corn, chips, salted fish, as well as shrimp paste and fish sauce from the local wet market. They promised they wrapped the glass bottles with enough paper so that the fish sauce will not spill on my clothes and photo albums. Of the two check-in and one carry-on suitcases I had, only a third of the space had my personal belongings.
Things have changed since I immigrated. Many products are easily available in several stores in Edmonton, exported from across the sea. For perishable items, the gap is filled by those who saw the demand and launched local businesses.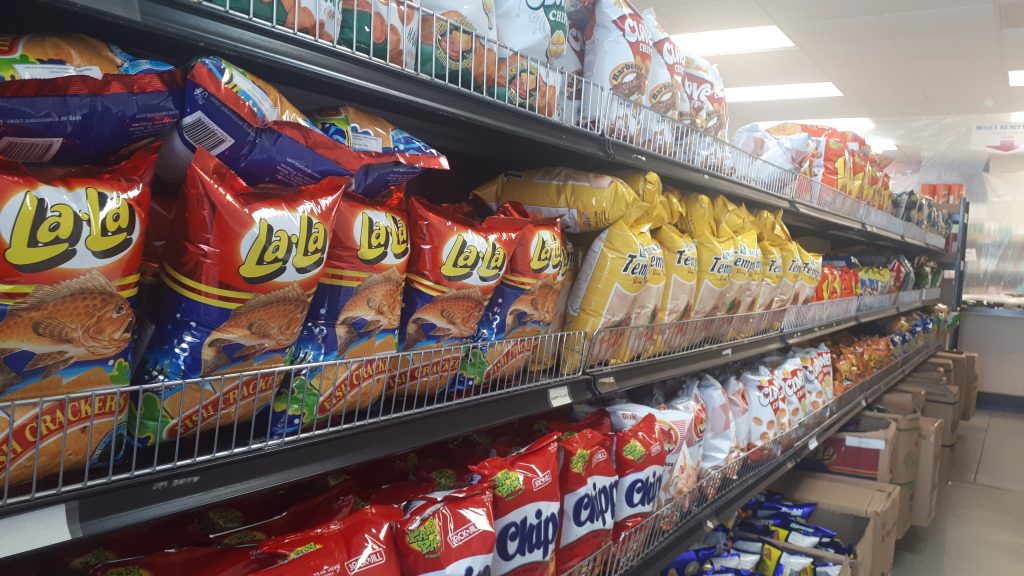 Convenience, reliability, nostalgia, and familiarity: for a Filipino-Edmontonian, these are just a few of the draws of transacting with businesses owned by fellow Filipinos in Edmonton. There is also the chance to switch languages and communicate in the mother tongue when English fails to express one's perspective or needs. There are services that aim to serve specific needs, whether it is remittances to love ones in the Philippines, or a specific cosmetic product that is simply no match for the ones conventionally available in Canada. The industries range from transportation, essential needs, entertainment, cosmetics, bakeshops, childcare and more.
There are telltale signs that a business is likely owned by a Filipino. The colors and symbols of the Philippine flag is a key inspiration for many of these businesses in Edmonton. For example, CellFix, a local cellphone repair store, and Panciteria De Manila restaurant, had used either the colors, or the symbols, in their branding. The star and the sun, and the vibrant blue, white, red, and yellow are all giveaways that it is a Filipino business.
Cultural references are a frequent inspiration. "Pinoy" is the colloquial word to describe something of Philippine heritage. Manila Grill restaurant references Manila, the country's capital. Mabuhay Motors used the greeting "Mabuhay"! Es Em Variety Store and Goldenbucks are references to well-known businesses in the Philippines. If the goal is to instill a sense of recognition for the intended target audience, it certainly is effective. If one goes to a business where "Kuya" is part of the name, they feel like the owner will treat them hospitably, like a sibling even.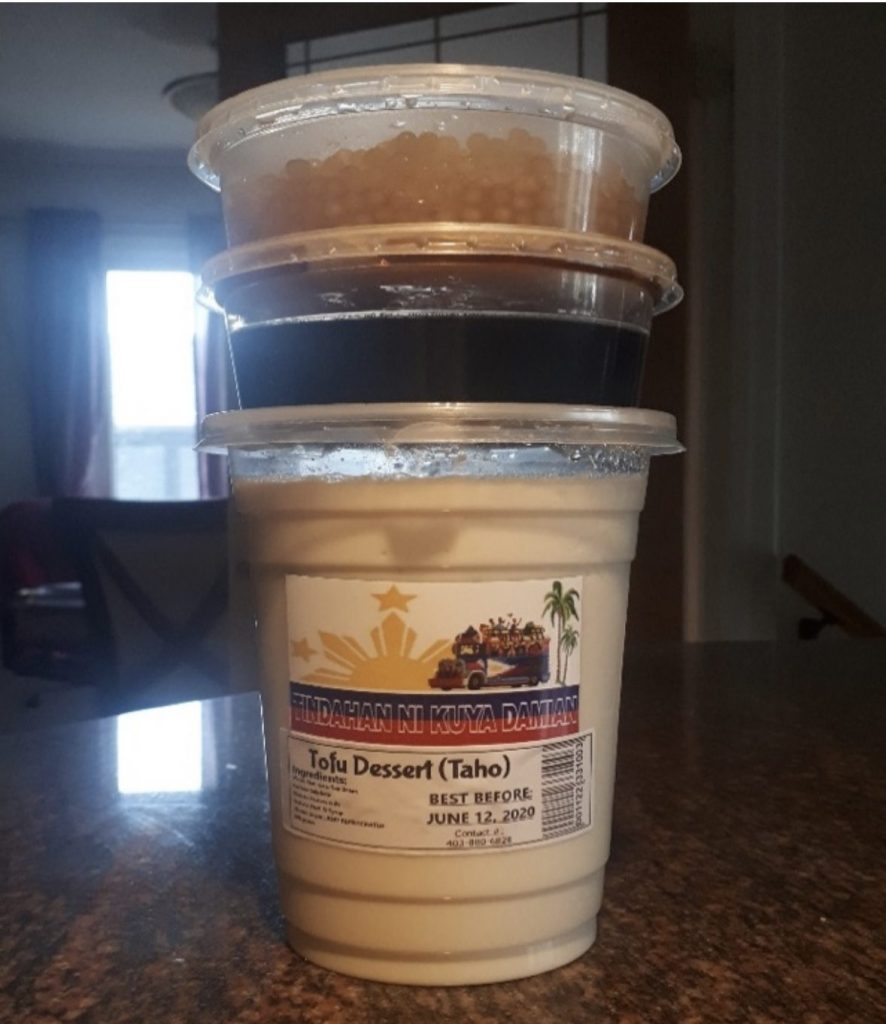 Food truck Jeepney Jaytee is inspired by the jeepney, one of the most popular modes of public transportation in the Philippines. Jeepneys are minibuses that are known for their compact seating and custom decorations, an iconic symbol of the culture. Yelo'd is a play on words, as 'yelo' means 'ice', very fitting for their menu of ice cream and baked goods. Empanada Convenience Store is named after a well-loved food item, empanadas. Kanto means "street corner". Palabok, cebuchon, inasal and tapsilog are also recognizable Filipino dishes that businesses have integrated into their names.
Thanks to the help of an elder who has lived in Canada for 51 years, I discovered information about business owners from the past and got a chance to connect with some of them. Mr. Aceron operated a store for two short months in the south side of the city. Mr. Dichoso operated a store on Stony Plain Road and 149 Street. A restaurant called Fat Jakks operated for a while on 101 Steet and 107 Avenue.
The first Filipino store was launched by the late Camilo Caraang Sr. and Ben Pescon, on the corner of Whyte Avenue and 97 Street. In the 90's, the store moved to 102 Avenue and 91 Street, on the Westbury Apartment, where a store and an adjacent restaurant was built. Camilo's son Archie shared his stories of the store as he was growing up. Back then, every Filipino arriving in Edmonton would go to their store for their needs, whether it was remittances, products unavailable in other Asian grocery stores, VHS tapes, or even the traditional broom called a walis. As Edmonton's population grew, so did the number of variety stores, in order to reach people living in different parts of the city.
Mr. Val Lampa from Val's Fish Market operated his business in the downtown market from 1972 to 1993. He said that many of his customers are not Filipinos; they are Chinese, Ukrainian, Italian, and Jamaican. He was a fish vendor prior to coming to Canada which made his adjustment easier, though he had to learn about all types of fish and seafood coming from both Pacific and Atlantic Oceans. At the time of speaking to him, I found out he is happily retired and sold his business to a family member.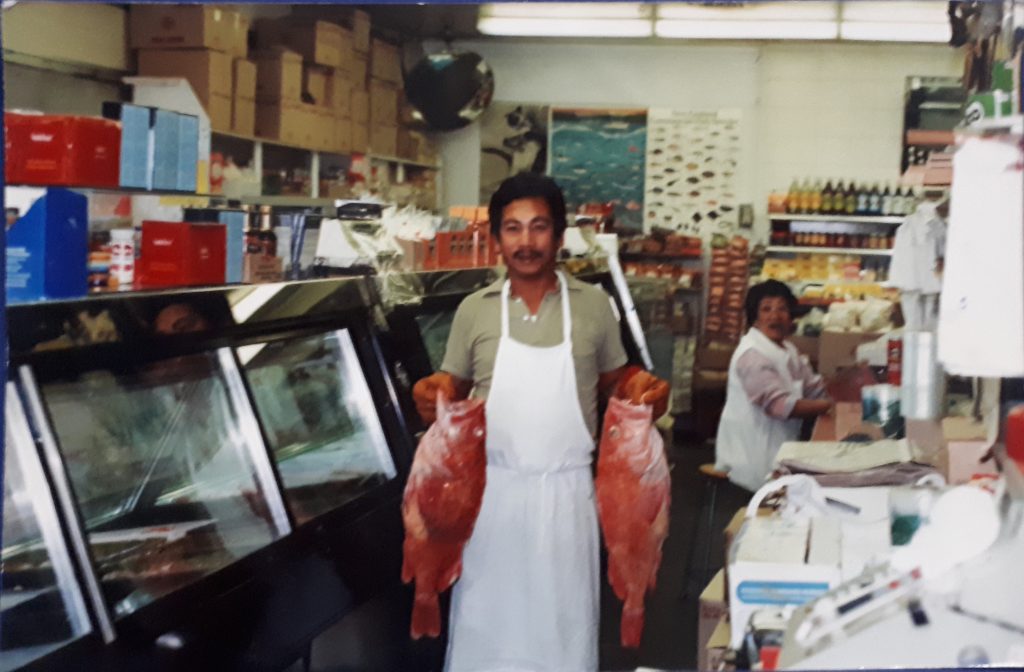 Mentorship from the Edmonton's business community helped these Filipino entrepreneurs navigate Canada's business landscape. Bayani Alcantara from Panciteria de Manila restaurant, was encouraged to launch a restaurant because he was told that "Filipinos need a place to go to have good food and relax on the weekends. Filipinos work hard, two to three jobs during the weekday, and need a place where they could go unwind."
Food services are a worthwhile enterprise to pursue, with a target audience who want a taste of home but may be too busy to prepare dishes themselves. Loriz Bakery, GoldenBucks bakery, Manila Grill Express, Pinoy Grill, The Filipino Centre, Joanne's Food Cart, Palabok House and many others, fill the gap. The dishes vary greatly, from the popular national dishes like pancit, sisig, lechon, and adobo, to regional ones. Restaurant franchises such as Max's Fried Chicken opened in 2015. In 2019, fast food franchises like Jollibee and Potato Corner opened their first locations in Edmonton, to much anticipation and fanfare of Filipinos in Western Canada.
Many Filipinos who work full time jobs in other industries also launch business as a part-time source of income, aiming to gain a reputation in the community, and enough momentum to make it their full-time career. These range from baking and catering services, selling cosmetic products and brokerage services. The online community helps accelerate the visibility of these part-time entrepreneurs, through pages like Pinoys in Edmonton, Pinoys in West Edmonton, Pinoys in Alberta, and more.
These businesses also become important opportunities of connection to fellow Filipinos. By the entrance door of these businesses, there usually is a news stand with newspapers such as the Philippine Canadian Inquirer, and Edmonton's local paper, the Alberta Filipino Journal. Variety stores usually have a table dedicated to business cards from other business owners for customers to browse and retrieve for their needs. There is a multitude of service providers, from realtors, immigration consultants, dentists, lawyers, accountants, car dealers, mortgage brokers and many more.
Many businesses provide donations and volunteer to serve those who are in crisis, whether in Canada or in the Philippines. They also help sponsor activities to promote Philippine arts and culture. They can be seen sponsoring events such as the Edmonton Filipino Fiesta and the Philippine Pavillion at the Edmonton Heritage Festival.
Another way to forge a sense of cultural pride and identity is through concerts and shows by well-loved celebrities from the Philippines, sponsored in part by local Filipino business owners. Shortly after my brother's arrival in Edmonton in 2011, I took him to a concert by Bamboo, a Filipino alternative rock band we both loved. A Filipino singer dubbed as Asia's Songbird, Regine Velasquez, performed one year, much to the delight of Filipinos of all ages. In 2019, for the Filipino Fiesta, pop and rock musician Yeng Constantino came to perform at Borden Park.
Photos from inside Palabok House Restaurant: a signed poster from a concert in Edmonton, and a wall of photos with celebrities from the Philippines who came to Edmonton to perform. Pictured bottom right: Food ordered from the Jollibee franchise in Edmonton. Photos provided by author.
Restaurants also serve as the stages where budding artists would have their first performances in Edmonton. These musicians range from those who were professional musicians before moving to Edmonton, and the new generation of Filipino-Canadian youth launching their careers. A Filipino restaurant is never complete without a setup for karaoke, open-mic sessions, and local concerts, activities that are perfect for relaxing and having fun.
Finally, there are associations that help entrepreneurs reach their goals of launching and maintaining a successful business in Canada such as the Philippine Chamber of Commerce, based in Calgary, and the Philippine Business Society of Alberta, which is based in Edmonton. Based on my interviews, different iterations of such associations launched and fell apart after a few years. There is a lot of optimism from the current executives of the current organizations, from increasing their membership to building relationships with fellow Filipino entrepreneurs in other major cities and towns in Alberta.
Giselle General © 2020