Alejandro (Alex) Rojas, the founder of ETOWN SALSA Latin Dance Studios, moved from Chile to Edmonton with his parents in the mid-1970s when he was an infant. By some estimates, 200,000 Chileans fled or were forced into exile during the Pinochet years.[1] According to government statistics, Canada took in 7,000 Chilean and other Latin American refugees after the coup.[2] Some of the lobbyists for the acceptance of the Chilean refugees were student groups, academic institutions, and religious organizations. In particular, the Anglican, United, and Catholic Churches lobbied the Canadian government as they maintained close relations with their fellow churches in Latin America. Given these ties to Latin America, Canadian Churches, voluntary service organizations, and refugee rights advocates demanded that the Canadian government grant refugee status to the Chileans.[3]
Although the Church community in Edmonton was welcoming to his family and other immigrant families, Alex recalls growing up "very humble" with his parents and younger sister. Alex's love for music developed early on in his childhood when his father threw political activist parties with live bands to collect money for families in Chile. Alex explains, "I would pretty much fall asleep with the music blaring in my ears, so maybe [it] was just […] a given thing for me to eventually get into this." As a child, Alex took folkloric dance lessons and played trumpet, which only increased his appreciation of song and dance. His love of music helped him to develop his math skills, which led him to pursue an accounting degree in his post-secondary education, culminating in a Bachelor of Accounting from NAIT. In the following excerpt, Alex describes how he first became interested in salsa dancing:
It was 2001, and I started seeing more salsa dancing going on at the nightclubs, and I was going there, and I was just dancing […] what I saw my parents do; they did more of a cumbia-style version. So that's how I started salsa dancing and then I slowly started seeing other dancers doing […] bachata and cumbia. During my venture of seeing these dances, another school came in and started teaching. I was watching them and thinking, 'Wow! I've never seen anything like this!' I can't even copy it because […] this was just a lot more complicated.
After seeing this new style of salsa dancing, Alex decided to informally practice the intricate steps on his own, until a friend invited him to travel to Cuba. While in Cuba, Alex was able to explore salsa music and dance. Eventually, Alex returned to Edmonton with an "urge to want to learn salsa at a much higher level." At this point, Alex became more immersed in the local salsa dance community, where he had a dance partner who eventually encouraged him to dance competitively. Alex recalls being quickly noticed by some of the more prominent figures, after earning second place in his first-ever competition. After the said competition, Alex was invited to attend one of the world's biggest salsa congresses in Los Angeles in 2003. When he returned to Edmonton, he decided to start teaching salsa—to take what he had been learning and "try to cultivate a bigger scene [in Edmonton] that would be more dedicated to the dance."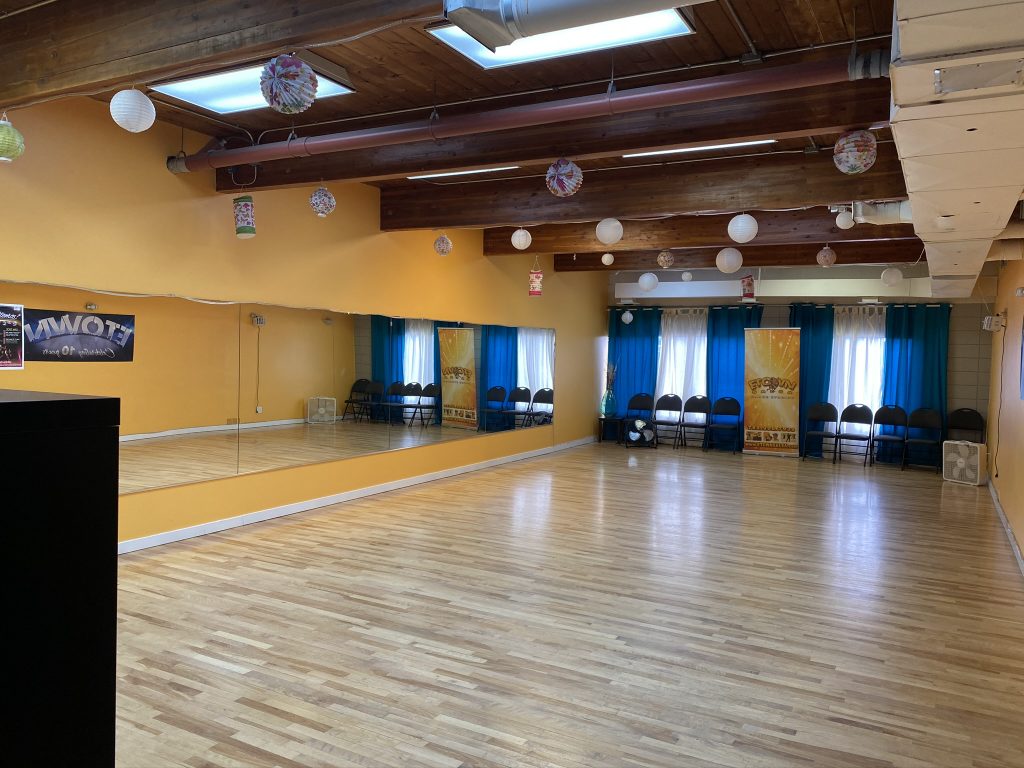 New Beginnings
After having participated in a variety of dance groups, such as Salsaddiction Dance Company, Alex decided to open his own studio in 2008. He named this studio ETOWN SALSA Latin Dance Studios so that the name would have a double meaning. The "E" in ETown was intentionally left in an acronym form to represent both of the words electronic and Edmonton. While Alex wanted to embody the local, in the sense that he had Edmonton as part of the name, he also wanted to create, in a sense, a global community of salsa dancers, or, as he explained, an "electronic town." While the company was established in 2008, it is essential to distinguish the group then from 2011, when ETOWN SALSA acquired its first physical studio. Beforehand, ETOWN SALSA was more of an online forum, where general salsa information, dance tips, Salsa and dance articles, were diffused.
Having settled down in a physical studio, ETOWN SALSA Latin Dance Studios became the first all-Latin dance academy in Edmonton. From the onset, Alex decided a physical location made him "more reputable," professional, and "more referable" to the public. To this day, ETOWN SALSA has been based out of the same physical location, with the difference that now instead of one dance studio, it possesses two; one of these is for casual lessons and group classes, while the other is reserved for competitive salsa teams.
When speaking of the origins of ETOWN SALSA, it is important to take note of the communal aspects of this company behind Alex's vision. From its conception, ETOWN SALSA has worked cooperatively with other Latin companies and bands in Edmonton. For example, in its early days, ETOWN SALSA often partnered with ¡BOMBA!, or with the X Band (which are still present in contemporaneity). In the interview, Alex reminisced about his first Halloween event, which took place at Alex Taylor School, where he, alongside ETOWN SALSA and ¡BOMBA!, hosted an incredible event for the growing Latin American community.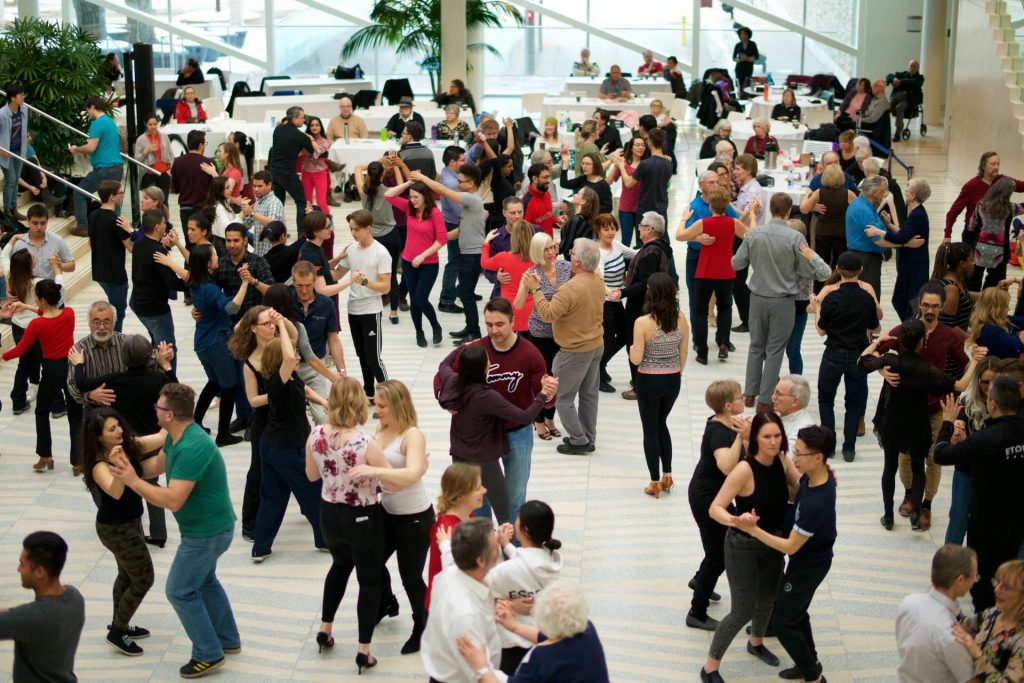 Community Connections
When Alex first opened up ETOWN SALSA, there were very few Latin Americans who attended his classes. But he understood why. When he was younger, he felt that taking dance lessons for Salsa from a non-Latino person was less comfortable or authentic than taking lessons from a person of Latin American origin and this made Latin Americans skeptical of studies in general. Additionally, he thought that because of his Latino heritage, he could learn more quickly than others because he could apply a "Latin perspective" to his dancing. Some shifts needed to occur before they began participating more.
According to Alex, in recent years, there has been a more significant influx of Latinos into Edmonton. He says that many of the Latinos in Edmonton feel that they have lost their heritage and culture and are looking for a way to reconnect to their roots. Alex believes that this is why, many people of Latin American descent began coming to ETOWN SALSA to learn how to dance, or to further their dancing skills. He explains that especially in younger generations, a lot of Latinos seem to feel shy or embarrassed that they do not know how to dance, and that they take his classes to learn this skill. Alex believes that due to his background and his experiences with Latino culture and music, he can provide education to Latinos that extends beyond merely the footwork in salsa, because "there is so much more to this dance" than they realize. Furthermore, he feels fortunate that he could incorporate some of his Canadian upbringing into his salsa instruction:
Latinos don't like to count [when dancing]. They don't want to dance like 1, 2, 3… 5, 6, 7… They just feel it. We feel the rhythm, we know it. We know our clave, we know our conga drum, we can feel the beat. But, […] you need to have a measuring tool. You need to know how to time the music. That's my Canadian side that I learned. And because of that, it just helped me to grasp that side easier than most Latinos that don't take music classes.
When interviewed, Alex emphasized the importance of being able to communicate in Spanish because it connects him to Latinos in Edmonton, especially those who are uncomfortable with their English communication skills. He also believes that the ability to teach and learn dances with proper Spanish terms is vital to gain a full understanding and contextualization of dances like salsa.
Miguel A. Priolo Marín & Nieva W. Srayko © 2020
Click to read "It's in our veins," Part 2: Edmonton Dance Schools and Latin American Identity.
---
[1] Salinas, Eva. 2018.
[2] Salinas, Eva. 2018.
[3] Raska, Jan. (n.d.).
Sources Cited
Bosse, Joanna. 2008. "Salsa Dance and the Transformation of Style: An Ethnographic Study of Movement and Meaning in a Cross-Cultural Context." Dance Research Journal, 40 (1): 45-64.
Flippin, Laura. 2013. "Salsa Remixed: Learning Language, Culture, and Identity in the Classroom." Working Papers in Educational Linguistics, 28 (2): 74-91.
Hosokawa, Shuhei. 1999. "'SALSA NO TIENE FRONTERA': ORQUESTA DE LA LUZ AND THE GLOBALIZATION OF POPULAR MUSIC." Cultural Studies, 13 (3): 509-534. DOI: 10.1080/095023899335202.
Indiana University Bloomington. 2015. "Sharing Latino culture through dance." Video, 1:53. https://youtu.be/IlIhbX21jts.
Knudsen, Jan. 2001. "Dancing cueca "with your coat on": The role of traditional Chilean dance in an immigrant community." British Journal of Ethnomusicology, 10 (2): 61-83. DOI: 10.1080/09681220108567320.
Meeker, Angela. 2016. "Just Showing Our culture": Latino/a Students Constructing Counter- Stories Through Baile Folklórico." Dissertation, San Francisco State University.
Raska, Jan. (n.d.). "Canada's Response to the 1973 Chilean Crisis." Canadian Museum of Immigration at Pier 21. https://pier21.ca/research/immigration-history/canada-s- response-to-the-1973-chilean-crisis.
Salinas, Eva. 2018. "How the Chilean coup forever changed Canada's refugee policies." The Globe and Mail. https://www.theglobeandmail.com/news/politics/escape-from- chile/article14176379/.
Simalchik, Joan. 2004. "Chilean refugees in Canada: home reinvented." Canadian Issues, (3): 52-53. https://login.ezproxy.library.ualberta.ca/login?url=https://search-proquest- com.login.ezproxy.library.ualberta.ca/docview/208699251?accountid=14474.