Brenda Hall was just 18 years old when she stepped off the bus in the community of Kaskitayo on a warm July day. She was heading to a job interview at what would be Edmonton's newest shopping center, Heritage Mall, and she would nail it.
The prospect of joining the team at the mall had a special appeal, as she envisioned her commute to work being a simple one. A sign at the nearby bus stop proclaimed: "Future Home of the LRT."
This was in 1981. The first LRT train would not arrive at the site for another 29 years and not until long after the mall itself was gone.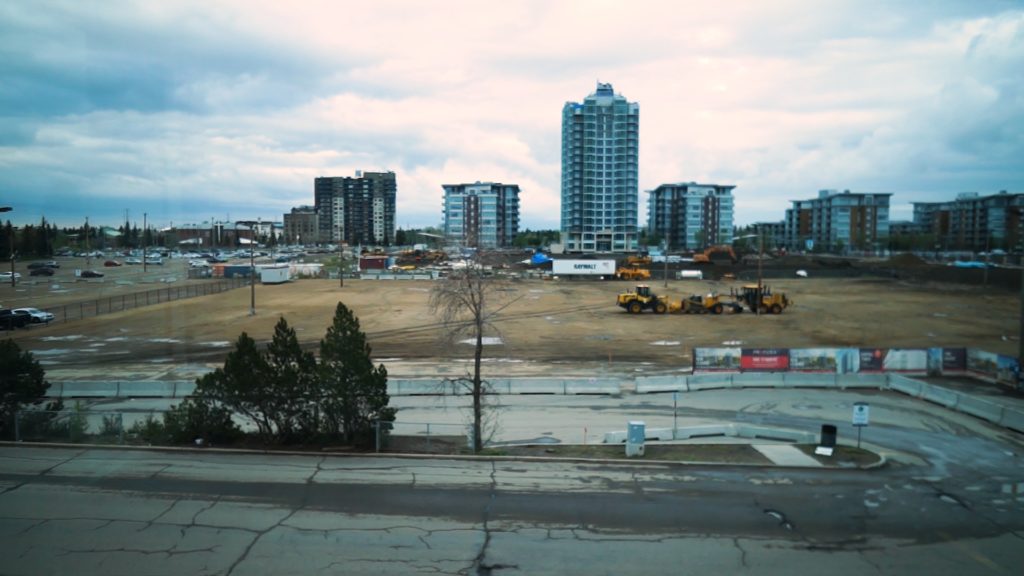 Today, 'Century Park' is the southernmost station of Edmonton's light rail transit system. But, long before the current condos and parking lots popped up, the property was home to one of the city's largest retail centers.
Originally named Kaskitayo Center, Daon Developments bought the retail project mid-construction and renamed it Heritage Mall. It opened in August 1981 as part of what was then the largest ever single retail expansion in western Canada. At the time, Daon was bringing three major shopping malls to Alberta's three largest cities: Edmonton's Heritage Mall, Calgary's Sunridge Mall, and Red Deer's Bower Place.
Heritage Mall was situated at the corner of 23rd Avenue and 111 Street, and at the time of its opening, it was essentially the southern edge of the city. Today, the neighbouring property to the south, known as Heritage Village, is home to McDonald's, Sobeys, and various other strip-mall businesses. Back in 1981, that property was farmland.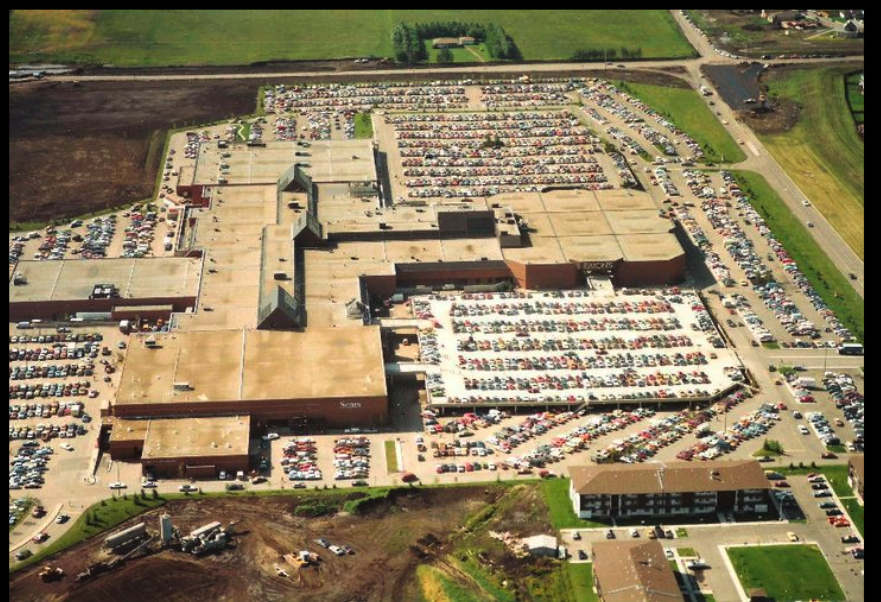 Heritage Mall was modelled after the highly successful Coquitlam Center in British Columbia, which had won a Governor General's Medal in Architecture – a rare feat for a shopping center. Both malls featured hemlock wood ceilings and large skylights. Their use of brick and earth tones were appropriate styling for the time, if not a telling sign of their era.
Brenda Hall's first responsibilities at her new job began even before the mall opened to the public: she was to 'guard' the mall's 30 ft. tall palm trees. They were imported from Florida and weighed as much as 6000 lbs.
"I think that was something to keep us occupied until more of the mall was done. I do recall thinking, 'Who is going to steal those huge pots?'" said Brenda, whose fond memories of her time in the mall still bring joy to her today. "Friendships were forged out of it."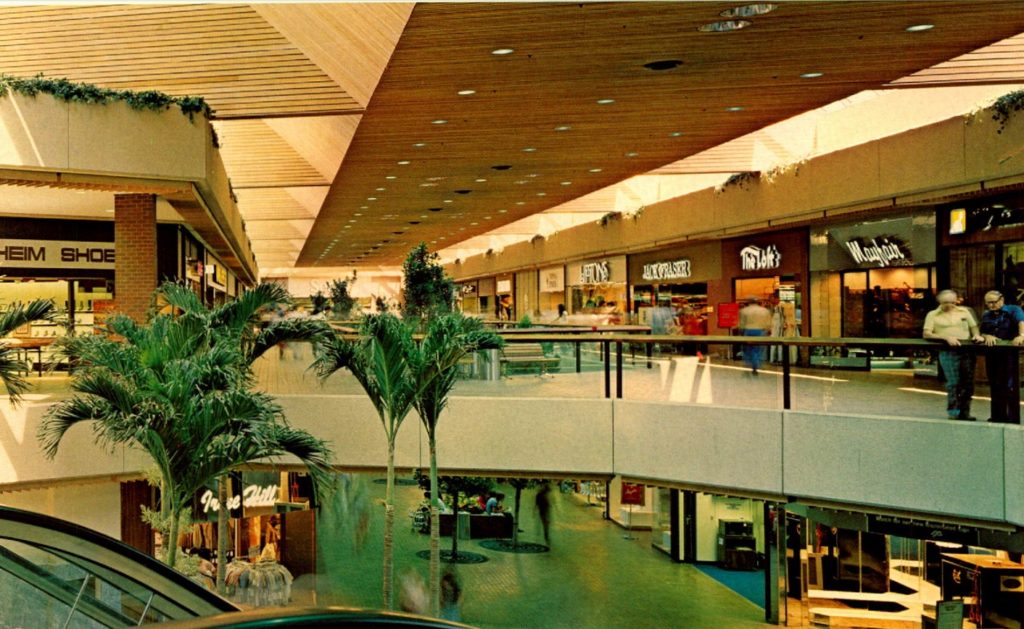 The mall was advertised as being built to feel like summertime in Edmonton year-round. Its center court was adorned with palm trees and waterfalls, and it boasted over 20,000 sq. ft. of glass, used in the building's skylights.
Todd Miller grew up in the nearby Ermineskin neighbourhood, walking distance to and from Heritage Mall. Although he was only three years old when it first opened, he remembers growing up with the mall, "It's likely that I was at the grand opening in a stroller."
"I can still remember the sounds of the water once you walked in the doors.", said Todd of the mall's prominent water feature, touted as Edmonton's largest continually running waterfall. It fell from a height of four stories, beginning at the ceiling's skylight, plummeting down in a series of three falls separated by floor. The first landing was in a shallow pool on the upper floor of the mall concourse, surrounded by lush, green foliage. The water would drop down again, spilling into a shallow pool on the main floor of the center court.
Heritage's footprint spread out from the center court in three separate directions, towards its three anchor tenants: Eaton's, Sears, and Woolco. These classic department stores were the three main tenants which accounted for much of the mall traffic and success. One might then find it fitting, if not somewhat tragic, that all three suffered the same fate:very much like Heritage Mall, none of them exist today.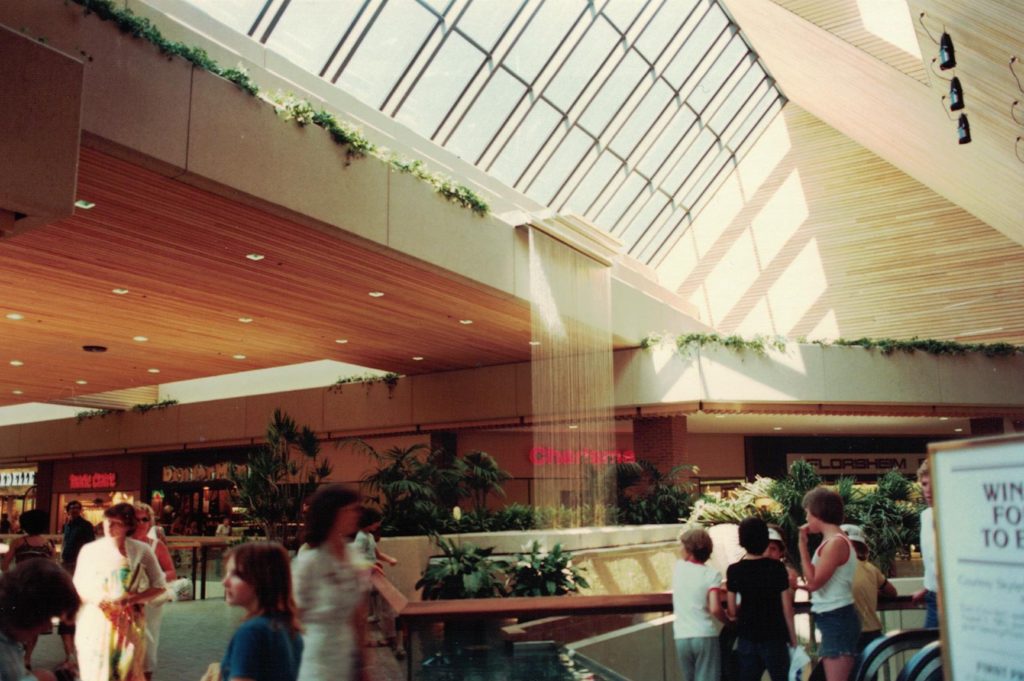 Kim Dugay, whose mother worked at Sears, grew up at the mall as a self-proclaimed "Mall Rat". "It wasn't just a mall," said Kim, "The people that worked there… became family." Later in life, Kim joined that 'family', taking her first job at the San Francisco Gifts location within Heritage.
For the first decade of its life, Heritage Mall was a popular and successful retail center. Widely known for its unique promotional and community events, the center hosted functions which attracted large crowds, starting with its very first day. An estimated 120,000 people visited the mall on August 5th, 1981. Edmonton Police even asked for special radio announcements to be made, as traffic was backed up for twenty-eight blocks.
On its tenth anniversary occasion, Heritage Mall once brought in hundreds of pounds worth of sand. "It was a lot of sand; it was not fun to clean up," Brenda recalled of the event, in which customers were challenged to find buried coins with metal detectors. "We still tease the promotions manager about that one today," she said, noting that they are still in contact.
Heritage also proudly carried the spirit of Klondike Days, known today as K-Days. Brenda remembered their free community pancake breakfast was a highly anticipated event, noting that "like the whole city, we used to do the storefronts in theme." The upper parking lot was transformed into a mini pioneer town to celebrate the arrival of Edmonton's summer festival, with Brenda adding that even K-Days mascots "Klondike Kate and Cisco Kid would come in!"
However, as time went on, the success of Heritage Mall wasn't meant to last.
Not long after its initial debut of Heritage Mall, Daon Developments went bankrupt, and Ivanhoe Cambridge acquired the property. Later in the 1990s, Woodwards – which was a partial owner of the neighbouring Southgate Mall – also went bankrupt and was acquired by Ivanhoe Cambridge as well.
Once the two, formerly competing, malls were owned by the same company, the operational strategy changed. As vacancies started opening up in either mall, tenants were moved from Heritage to Southgate. As it became clear that the two malls would not be able to thrive in such a close area, Ivanhoe Cambridge chose to support its more successful mall, Southgate, which meant sacrificing Heritage.
Despite attempts to modernize the center, including painting the hemlock façade a fresh shade of white, by the end of the 1990s and into the early 2000s, Heritage Mall was largely empty. It was in May of 2000 that Brenda Hall, who had worked as lead hand in the food court for close to two decades, was told she was being let go from her position.
Safeway had been moved from within the center to a stand-alone location outside the mall, and though efforts were made to bring in a movie theatre as a tenant, these proved unsuccessful.
With only 28 stores left in operation, and no enduring anchor tenants, the remaining leases were terminated in early January 2001.
In the years that followed, the large, empty shell of what was once Heritage Mall sat stagnant, in stark contrast of the active nearby shopping centers and busy commuter roads that had overtaken the former farmland. The aging boarded up exterior and crumbling two-level parkade of the mall became an eyesore in the otherwise bustling community. Eventually, the slow process of demolition began, and the area was transformed into a vast parking lot.
Early plans for the redevelopment of the property showcased a large, community-centric mixed-use development. Yet, nearly 20 years after its closure, the land primarily remains a parking lot servicing the LRT at Century Park station which opened in 2010, previously touted as "Coming Soon" back in 1981.
Brenda Hall looked back on her time with a warm heart, noting that, "A lot of the friendships I made over the years at Heritage Mall are still ongoing. We were like a family, the staff that ran that mall. We knew the community and watched out for them."
To this day, Brenda and those who forged friendships at the mall still regularly communicate via a Heritage Mall Facebook Group with over 150 members. Regular posts from former employees and patrons spark memories and conversation among the group. Todd Miller is among them, "To this day, we still talk about it."
"We close our eyes… and try to remember."
Matthew Dutczak © 2020